The big news is that the terrifying Thanos returns to the Marvel universe this week! Now, you folks who only know him by the stinger during the Avengers' movie credits may not know why he's so scary, especially since he spends most of his time trying to impress his girlfriend. Here's the problem: His girlfriend is Death. And that's only one of the calamities you'll find in this week's comics!
New Issues
Dark Horse:
• Abe Sabien: Dark and Terrible #1: The mutated Abe Sabien heads through monster corpse-littered America while being chased by the BPRD.
• Snow Angel: An all-ages one-shot about a little girl who becomes a crime-fighting superhero every time she makes an angel in the snow.
• Other releases: Last of Us: American Dreams #1, Star Wars: Dark Times: Fire Carrier #3.
G/O Media may get a commission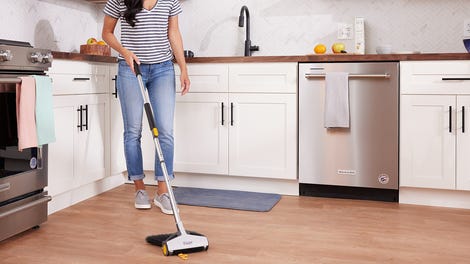 BOGO 50% Off
Flippr - BOGO 50% Off
DC:
• Green Lantern #19: In order to save the universe from the First Lantern, both Hal Jordan and Sinestro must make the ultimate sacrifice.
• Phantom Stranger #7: The Phantom Stranger is dead! That was quick.
• Earth 2 #11: Dr. Fate makes his first in this alternate DC Universe.
• Other releases: Action Comics #19, Ame Comi Girls #2, Animal Man #19, Batwing #19, Detective Comics #19, Dial H #11, Fairest #14, Green Arrow #19, Legends of the Dark Knight #7, The Phantom Stranger #7, Smallville Season 11 #12, Stormwatch #19, Swamp Thing #19, World's Finest #11.
IDW:
• Godzilla: Half-Century War #5: Ota Murakami has fought Godzilla for 50 full years, and today is the day this war will end... one way or another.
• Kill Shakespeare: Tide of Blood #2: Hamlet, Othello, Romeo and Juliet arrives of Prospero's island, but what can they do when the very island wants them dead?
• Other releases: G.I. Joe Special Missions #2, Joe Palooka #5, Locke & Key Omega #4, Memorial: Imaginary Fiends #2, Transformers Spotlight: Trailcutter #1.
Image:
• Invincible Universe #1: The remaining heroes of the Invincible universe try to pick up the pieces after Dinosaurus' attack and the events of issue #100.
• Snapshot #3: Jake and Allie try to figure out who framed them for murder by infiltrating a mysterious gated community.
• Other releases: Bedlam #6, Blackacre #5, Glory #34, Great Pacific #6, Mice Templar IV: Legend #1, Mind the Gap #9, Repossessed #4, The Savage Dragon #186, Son of Merlin #3, Spawn #230, Super Dinosaur #18, Witchblade #165.
Marvel:
• Thanos Rising #1: The bizarre origin of the demi-god Thanos revealed!
• Superior Spider-Man #7: As Peter Parker battles for control of his body, Doc Ock's erratic behavior may get Spidey kicked off the Avengers.
• Deadpool #7: Deadpool is hit by an ice cream truck… falling from the sky.
• The Indestructible Hulk #6: Bruce Banner moves his workshop to Jotunheim, where he runs afoul of his new neighbors – the frost giants.
• Other releases: Age of Apocalypse #14, Age of Ultron #4, All New X-Men #10, Castle: A Calm Before the Storm #4, The Dark Tower: Gunslinger: Evil Ground #1, Red She-Hulk #64, Ultimate Comics X-Men #25, Venom #33, The Winter Soldier #17.
Other:
• Miss Fury #1: The pulp heroine gets lost in time, but she still has to find a way to stop World War II single-handedly!
• Princeless Vol. 2 #1: Now free, Princess Adrienne is determined to free her sisters with the help of Bedalla the blacksmith and her dragon Sparky.
• Harbinger Wars #1: Harbinger, Bloodshot, and the rest of the Valiant universe collide when 24 super-powered children escape into the world.
• Other releases: Archie #642, Army of Darkness #12, Bettie Page in Danger #12, Caligula: Heart of Rome #4, Dark Shadows #15, Hypernaturals #10, Masks #5, Polarity #1, Shadowman #6, Steam Wars #1, The Lone Ranger #14, User #0.
Trade Paperbacks and Hardcovers
Dark Horse:
• Brody's Ghost Vol. 4, The Savage Sword of Conan Vol. 13.
DC:
• Punk Rock Jesus: A clone of Jesus stars in the world's moist popular reality show in this brutally funny, sacri-licious story by Sean Murphy.
• DC Universe by Alan Moore: All of Alan Moore's greatest stories about the heroes of the DC universe, including Superman, Batman, Green Lantern, and more.
• Other releases: Adventures of Superman, DC Universe: Secret Origins, G.I. Combat Vol. 1: The War That Time Forgot, Superman: Secret Identity.
IDW:
• G.I. Joe: Cobra Civil War Compendium: When Cobra Commander is killed, there's only one way to determine the new leader of Cobra — see who kills the most Joes.
• Teenage Mutant Ninja Turtles Classic Vol. 4: The Turtles travel through time and space to rescue April in ancient Egypt then join a pirate crew.
• Other releases: Dungeons & Dragons Vol. 3: Down, Kiss Vol. 2.
Marvel:
• Iron Man Vol. 1: Believe: Tony Stark's greatest creation, Extremis, is loose, and Iron Man will have to battle enemies all over the world to prevent catastrophe. Luckily, he has a few new suits that might help…
• Red She-Hulk: Hell Hath No Fury: Captain America and X-51 hunt down Red She-Hulk, who is determined to destroy every super-powered being she can find.
• Other releases: Iron Man Season One, Iron Man: Extremis, Iron Man 3: Prelude, The Punisher: Nightmare.
Other:
• Battle Angele Alita Omnibus Vol. 1:The first adventures of the tragic cyborg girl that James Cameron will never get around to making a movie about.
• Sailor Moon Vol. 10: The final showdown against Queen Nehelenia begins!
• Armies: This epic of fantasy warfare by one of the creators of Heavy Metal magazine apparently got pushed back to this week.
• Other releases: Attack on Titan Vol. 4, Barrage Vol. 2, Bleach Vol. 56, Certain Scientific Railgun Vol. 7, Complete Peanuts Vol. 19: 1987-1988, Disney Fairies Vol. 11: Most Precious Gift, Fairy Tail Vol. 24, Library Wars Vol. 9, The Lone Ranger Omnibus Vol. 1, Love Hina Omnibus Vol. 1, Mobile Suit Gundam Origin Bol. 1: Activation, Toriko Vol. 15, X-O Manowar Vol. 2: Enter Ninjak.
As usual, here's the list of everything being released to comic stores tomorrow, and you can find your nearest comic retailer here.