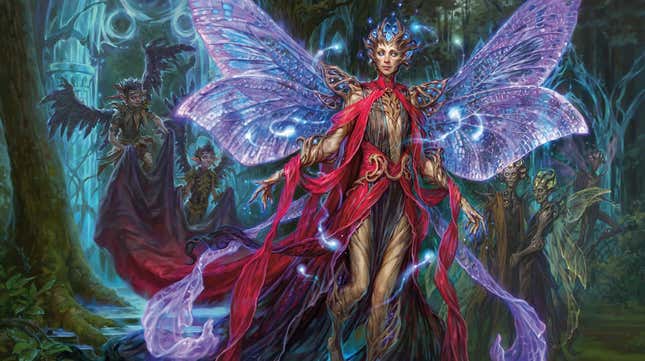 Wilds of Eldraine, the newest set from Magic: The Gathering, invokes a storybook feel alongside fantasy villainy. In a press meeting, Wizards of the Coast senior communications manager Elizabeth Stewart said the set takes "universal fairytale tropes and subverts expectations." Roy Graham, the game designer and story lead for Wilds of Eldraine, and Ian Duke, the principle game designer, were also there to explain what's going on.

Wilds of Eldraine ventures beyond the original scope of the Eldraine mythos, which had its roots in chivalry and Arthuriana, and heads into the wilds, a setting described as a "fairytale landscape" full of giants, witches, fae, and even living gingerbread men.
Essentially, Wilds of Eldraine is the first set in a multi-year story arc, much like the Phyrexian invasion. If you're lost after the Phyrexia arc and want to catch up? There's a free ebook for that. While Elesh Norn may not have successfully invaded the multiverse in the Phyrexia arc, the aftermath of that invasion is "felt" in this new set. According to the designers, the multiverse is both "healing and hurting," and Eldraine is the first plane to be explored in the wake of the battle.
One of the "consequences" of the Phyrexian invasion was a sleeping curse that caused the invaders to fall asleep. But the curse has continued and "grown beyond the control" of its original crafter. Twins Will and Rowan are now Legendary Creatures, and (with opposite color alignments) are attempting to reunite Eldraine, either by diplomacy or force. They have lost their "spark" and are no longer Planeswalkers. There are five chapters of the Eldraine story out now on the site.
With regards to some of the specific mechanics and cards brought back, Adventure cards return, where you can cast a card twice—once for an instant or sorcery, and a second time for a creature or permanent. Some Adventure cards are now off-color, which means the instant or sorcery adventure is a different color than the card itself. (Decadent Dragon and Frolicking Familiar in this slideshow that follows are examples.)
One of the new cards introduced for Wilds of Eldraine are Roles. These are aura tokens that let a card enchant another creature, giving it new abilities—most are positive, and they are created by various creature cards, like Syr Armont the Redeemer. A new mechanic, which is twist on the Kicker, is Bargain, where instead of paying extra mana, players will have to sacrifice any one of their permanent cards on the field gain extra benefits. The final new mechanic is Celebration, as seen on Ash, Party Crasher, which gives bonuses when multiple permanents enter the battlefield.
Each of the 10 two-color pairs (Red/Green, Blue/White, etc.) are individually associated with a classic fairy tale story and feature legendary creatures that emphasize that inspiration. Red/Green is Little Red Riding Hood, White/Black is Snow White, Green/Blue is Jack and the Giant Beanstalk, and so on. The designers decided these stories early on in order to coordinate the mechanics, art, and kind of "story" each two-colored deck will tell.
Additionally, with the art for Wilds of Eldraine, there will be Enchanting Tales cards in each draft, set, and collector booster pack. These are "non-Standard legal" fan-favorite Enchantment cards that have a unique border and Enchanting artwork. Examples in this slideshow include Curiosity, Greater Auramancy, and Doubling Season. Additional storybook frames will be on Adventures, such as on Cruel Somnophage, which can be found in draft, set, and collector boosters.
Full art lands will also be available in draft, set, and collector boosters. There will also be borderless anime versions of artwork, including Necropotence and Aggravated Assault. There is also a special "confetti foil" treatment for the borderless anime enchantment cards, which will only be found in collector boosters.
Preview a selection of cards from Magic: The Gathering Wilds of Eldraine in the following slideshow. The set will have its prerelease events on September 1 at local game stores, then it will go on sale September 8.