As of Tuesday, the venerable Windows XP operating system is going kaput. Microsoft is pulling update support for the OS, leaving it vulnerable to rapidly mutating cyber threats. There's precious little time to make sure your computer isn't left to the wilds of the Internet. Here's how to make the jump to the modern era of personal computing.
Wait, What's Going on Now?
On April 8th, 2014—that's Tuesday—Microsoft will halt its user support and security updates to the Windows XP operating system. The OS build has been in service since 1998, and is among the most widely distributed OS builds on the planet. But with the rollout of Windows 8, Microsoft decided to put XP out to pasture—or rather take it out back behind the tool shed.
By dropping security updates, the OS will become immediately vulnerable to new cyber threats and exploits making the system its running on a giant, pulsating bullseye for hackers. It's not that you can't run XP anymore—heck, banks are paying big bucks to continue to do so—but you really, really shouldn't.
How to Make the Switch
If you prefer not to roll the dice and ride the Internet bareback aboard XP, there are a number of OS alternatives available.
G/O Media may get a commission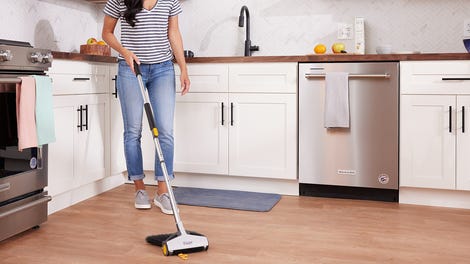 BOGO 50% Off
Flippr - BOGO 50% Off
Upgrade to Windows 8.1
One of the main reasons that Windows is killing off support for XP is the hope that all those OS orphans will migrate to the latest and greatest OS out of Redmond: Windows 8.1. And so long as your computer has at least a 1 GHz processor, 1 GB of RAM, 16 GB of hard drive storage, and can run display resolutions of at least 1024 x 768 (anything DirectX 9), you totally can.
First off, you'll want to run the Windows 8 Upgrade Assistant to confirm that your rig is indeed robust enough to handle the new operating system. You'll also do well to double check that your computer's firmware drivers can all be updated as well. This information should be readily available on the component manufacturer's website. Also, while most programs will port to 8.1 without a hitch, if you use specialized programs for work for work or a custom joystick/mouse for gaming, double check that it's compatible with the new system.
If everything on your end checks out, you'll need to next shell out $120 for the Windows 8.1 upgrade DVD direct from MS, or you can pick up a copy from your local Best Buy and other big box retailers. Before you go wiping your hard drive to make room for the new operating system, be sure to backup your existing content to an external USB drive. You can also transfer them to the cloud prior to reinstalling the OS—Microsoft recommends its own SkyDrive service, but your existing Dropbox, Box, iCloud, or Google Drive will all work equally well for this purpose.
You'll notice that your Windows 8.1 install kit comes with two discs, one for 32-bit processors and one for 64-bit. You should already know what your computer uses from the Upgrade Assistant report, and it's very important you use the right disc otherwise you'll run into installation issues. However, aside from that, all you really have to do is plop the DVD into your systems disc drive and follow the onscreen instructions. And unless you are an advanced user (in which case, you probably aren't reading this), opt for the standard install package.
Once Windows 8.1 has successfully been installed on your rig and you've run through the initial first-boot account setup, you'll want to update the system drivers and files. Navigate to the desktop (click the Desktop tile on the app screen), click Settings, and then Change PC settings. From there navigate to the Windows Update menu and run the program. This should automatically update any security holes and driver installs that have been released since the disc was created.
And if you were using an older desktop email program on XP—say, Outlook Express or Windows Live Mail—you'll need to import those as well (directions for doing so can be found here). It may not have the blissful rolling hills background that you're used to but all in all, Windows 8.1 is a far superior OS to what you've been using.
But Why Not Windows 7?
Windows 8.1 may be the newest OS build from Microsoft, but it's far from the the only active one. Both the intermediary Windows 7 and Windows Vista OS are semi-viable options, but there are a couple of reasons why you're better off skipping them. First, Vista is terrible—this steaming pile of half-baked OS is perhaps the worst build Microsoft has ever released (yes, even worse than Win 98) and should therefore be avoided like the plague.
Windows 7 is a better option—if you can find an install disc, that is. As part of Microsoft's 8.1 marketing push, the company has made Windows 7 exponentially harder to come by. You can still find it as an OEM option on select laptops—like the Dell Latitude 3330 and Acer Aspire V3—or buy the install discs from Newegg, but they do not include Windows customer support (security updates will remain active through 2020 though). Plus, now that MS has announced that Windows will be getting its Start Menu back on April 8th—the same day XP expires—the primary reason for using Windows 7 (read: avoiding the Metro tiles of Windows 8) will soon be nullified.
Or You Could Jump Ship Entirely
Of course, there's nothing that says you have to stay within the Microsoft ecosystem at all, if you don't mind learning a new operating system (which you were basically going to have to do anyway).
Apple's Mac OS is a powerful and popular alternative to Windows, and the company offers in-store tutorials for new users, showing them the ropes of their new systems. If, on the other hand, you'd prefer a rig that's a little more gentle on your wallet at the expense of performance, Google's affordable line of Chromebooks (put your hand down, Pixel) are solid alternative. The switch from desktop programs to browser-based apps may be a bit jarring at first, but $200-300 for an ultrabook is hard to pass up.
No matter which OS route you choose, just make sure that you decide before Tuesday rolls around and you're left behind the times. [WSJ - Microsoft]