Imagine this: One night, after coming home and falling asleep, you are violently awakened by your significant other stabbing you with a sword and at least two other knives. How would you react?

Well, this exact scenario happened to Alex Lovell from Camas, Washington, a self-described "Ethelete" who often logged 12 to 13 hours a day in PlayerUnknown's Battlegrounds, who a recently survived just that. And he's... pretty chill about it.
After waking up and realizing what was going on, Lovell remarked, "I saw the look in her eyes, and it scared the living poop out of me." Despite almost losing three fingers and suffering from multiple slashes, Lovell credits his martial arts background as the reason why he managed to endure the attack.
"I've been preparing my whole life for something like this," said Lovell
during a interview with the Oregon Live over Facebook Messenger. He said, "I was able to wing chun my way to survival," before adding "I was just so proud for beating this samurai wannabe crazy lady with hate in her heart."
Apparently, the attack was inflicted by his girlfriend, Emily Javier, who had been frustrated by Lovell's frequent and prolonged gaming sessions. But things didn't really escalate until, according to a police interview, Javier discovered the Tinder dating app installed on Lovell's phone, along with mysterious red hair in the couple's shower drain. Javier's hair was dyed green.
G/O Media may get a commission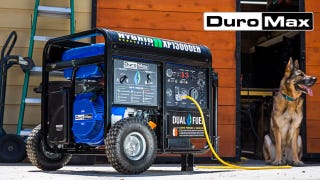 Black Friday Sale
DuroMax Generator Sale
This prompted Javier to go to the mall and buy a samurai sword, along with two other knives, which she taped to the side of her bed before allegedly ambushing Lovell in the wee hours of March 3rd, she reportedly told police. Then, only after fearing he was dead, Javier called 911, and emergency personnel and police rushed to the scene to find "walls splattered with blood and Lovell curled up in ball" according to the police report.
To his credit, Lovell told Oregon Live, "I barely had time to hang out with my girlfriend, let alone another girl. I didn't see it coming, but it makes sense that it happened. She obviously didn't want anyone else to have me, so—samurai sword."
However, even after all this, it seems Lovell still has mixed feels about his (presumably former) girlfriend, who pleaded not guilty to first-degree attempted murder charges this week. "She called the authorities and saved my life, I hope that counts for something," he told Oregon Live before adding that things are "a bit complicated. Regardless, I assume she needs some serious help."
Look, it's hard not to feel some sympathy for a girlfriend who felt neglected and betrayed while her boyfriend spend his days playing video games. However, I think we can all agree that solving domestic issues with a fucking sword is entirely off limits.
Somehow, it seems Lovell has remained unusually upbeat, who according to Oregon Live may not be able to walk for six months and will require extensive physical therapy to regain the full use of his hands.
"The feeling I had when I won the fight with my bare hands is just absolutely the best feeling," he said. "I've played all the sports, won big games, landed some decent tricks on my snowboard. This was better."