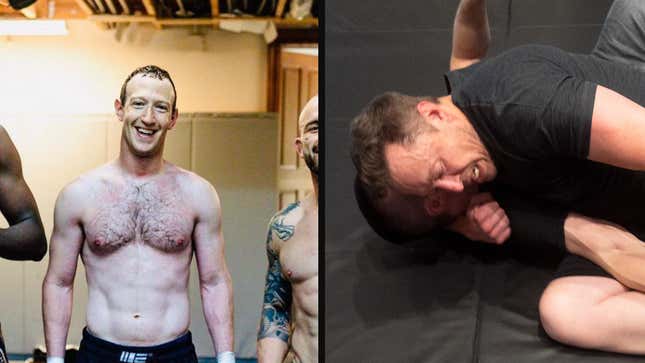 For the last month, Mark Zuckerberg and Elon Musk danced around the idea that they might finally contribute something of value to the world in the form of a head-to-head Las Vegas cage match, and no, if you haven't been paying attention, that isn't a joke. As the weeks dragged by, Zuck, at least, seemed completely serious, but now it seems more like we'll never see the fight of the century. At an internal meeting at Meta on Thursday, Zuckerberg said he's "not sure" if the match will happen. As painful as it is to report, it's possible this marks the end of technology's last interesting era.
Is Threads a Threat to Twitter? | Future Tech
According to a transcript of the meeting, an employee asked Zuckerberg when the cage match will happen. The CEO responded:
I don't know. I don't have any kind of official update on this. I mean, as you all know, I love fighting. It's maybe a second place pastime for me beyond building things, where building things is my number one love, fighting might be number two. So yeah, I really like doing this. I've done ju jitsu competitions. I would love to do an MMA competition at some point. I wasn't expecting this to be the one that I did. I'm not sure if it's going to come together, but I just think that it's a great sport overall.
Leading up to the June release of Threads, Meta's Twitter rip-off app, an increasingly salty Musk, who bought Twitter for $44 billion, jumped on his floundering app for a series of mocking tweets. "I'm sure Earth can't wait to be exclusively under Zuck's thumb with no other options," Musk tweeted on July 20th. "Better be careful @elonmusk I heard he does the jiu jitsu now," a user wrote back. Musk played along. "I'm up for a cage match if he is lol," he wrote.
That could have been the end of it, but it is a weird reality that Zuckerberg is indeed exploring the martial arts. He's famously a very competitive man. These days, when Zuckerberg isn't busy stealing your data, he's working with world-class trainers, winning ju jitsu tournaments, earning himself a blue belt, and getting absolutely shredded in the process. On Instagram, the billionaire creator of Facebook shot back in late June with a screenshot of Musk's tweets captioned with the chilling words "Send Me Location."

Reporter Alex Heath confirmed that Zuckerberg wasn't kidding about the proposition. Musk responded almost immediately with, one has to admit, an unusual level of self-awareness. "Vegas Octagon," Musk tweeted. "I have this great move that I call 'The Walrus,' where I just lie on top of my opponent & do nothing."
Over the following weeks, Musk made the pretense of preparing for a fight. He accepted an offer for training from UFC champion Georges St-Pierre, and claimed he'd already had a practice round with podcaster Lex Fridman. That part wasn't a joke. Fridman tweeted pictures of himself grappling with the billionaire and said he was "extremely impressed with [Musk's] strength, power, and skill, on the feet and on the ground."
I was born with a weak heart, and while I've been hurt before, I'll admit that I allowed myself to dream as I stared across the bleak expanse of my keyboard, if only for a second. Dana White, president of the UFC, told reporters the tech executives were making real moves towards a fight and that his organization was ready to assist with the event, going as far to suggest he planned to charge $100 a ticket. Zuckerberg's trainer Alex Volkanovski told TMZ "I guarantee you, you guys would be very surprised," at Zuck's abilities. "I'm telling you he's serious," Volkanovski said. "I don't know how serious Elon is, but I'm telling you, he's training!"
Apparently, things are still up in the air, but it's starting to look as though the hype surrounding this matchup was just that. Quantum theory suggests there are many alternate universes where the fight will happen, and if nothing else, you can join me in taking some solace in that idea. Meta confirmed the meeting where Zuckerberg made Thursday's comments took place, but didn't share anything further.
Still, there is already very real but much less exciting business battle between the billionaires raging on as I type this sentence.

Threads launched on July 6th, and almost immediately became the fastest growing app in history with over 100 million sign ups in just five days. In a move that should come as a surprise to no one, Musk responded with petty insults. Musk Tweeted "Zuck is a cuck." (Cuck, a recent insult of choice for conservatives, is short for "cuckold," a word for a man who allows his wife to sleep with other people.) Eight hours later, Musk proposed "a literal dick measuring contest." He has yet to reply to Zuckerberg's apparent dismissal of their cage match.
Zuckerberg didn't seem particularly bothered. After a former Meta engineer posted that the word "Threads" appeared to be censored from Twitter's Trending topics, Zuckerberg responded "Concerning," a mocking reference to one of Musk's go-to replies on Twitter.

The bad news for Zuckerberg is that Threads is extremely boring. That may not be a bad thing given the chaos at Twitter, which Elon Musk now wants you to call X, that has cost the company more than half of its advertising revenue, according to Musk.
Still, Threads' early momentum stagnated. At Thursday's meeting at Meta, Zuckerberg reportedly told employees the app lost half the users it gained in its early weeks. Zuckerberg said that drop off was "normal," and he expected the situation to improve as the company adds more features to Threads, such as a desktop version of the site and the ability to search for posts.
Update, July 28, 2:43 pm EST: This article has been updated with the full quote from Mark Zuckerberg about the cage match.