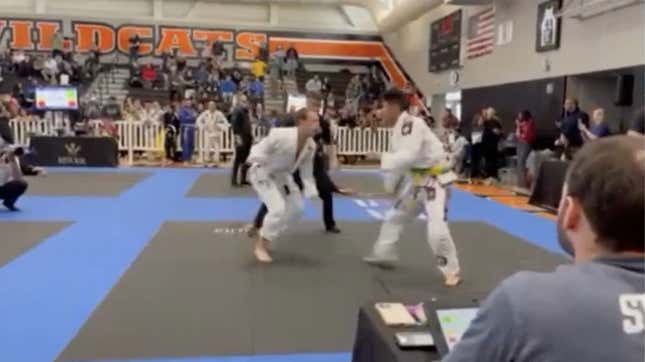 Yesterday, Gizmodo put out a call to action to track down the video of Meta CEO Mark Zuckerberg's highly publicized Brazilian jiu-jitsu match where he may or may not have been choked out by a competitor. Now, that video has been shared...just not with us.

The video of Zuckerberg's match, which occurred last month in Woodside, California, was shared by NPR. The match has been highly publicized as conflicting reports emerged regarding whether or not Zuck was choked out by his opponent. According to The New York Times, referee, José Lucas Costa da Silva, a veteran fighter, halted the match after he heard Zuckerberg snoring, a sign that he had passed out. Zuckerberg vehemently denied he conked out, writing to the Times simply "That never happened." Unfortunately, the newly released video doesn't make it much clearer.
In the video, you can see a brunette Zuckerberg flailing against his unidentified opponent, who is wearing a yellow and green belt. About 16 seconds into the recording, Zuckerberg hits the floor and remains there as his opponent shifts his grip around Zuckerberg's chest and neck. Costa da Silva hovers around the two as the Facebook founder tries to free himself and maintain the upper hand by wrapping his legs around his opponents torso until Costa da Silva eventually calls the match.
For the majority of the video, both fighters are faced away from the camera, making it hard to discern whether or not Zuckerberg truly lost consciousness. However, while Zuckerberg's legs are wrapped around his opponent, the latter appears to hop onto his tiptoes, seemingly shifting his weight further onto Zuckerberg's neck. Zuck's legs appear to go limper and limper with each passing second, and it is only when his opponent lifts off him that the CEO slumps off the mat.
"C'mon Microsoft!" a voice behind the camera teases. "You got a good story for later," another says, apparently to the person recording.
Elana Widmann, a spokesperson for Meta doubled down on Zuckerberg's denial to The Daily Beast last week, claiming "At no point during the competition was Mark knocked unconscious. That never happened." Widmann also claims that a Meta employee who watched the competition says that Costa da Silva apologized to Zuckerberg for calling the match early.