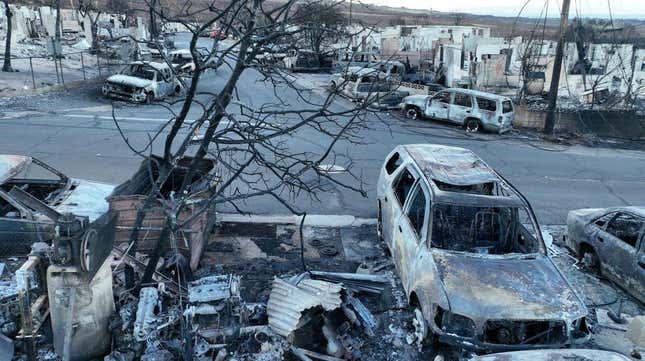 Maui County filed a lawsuit against Hawaiian Electric Company this week over the fires that destroyed thousands of structures and killed over 100 people this month. Officials said that the utility company did not shut off power during the dangerous combination of high winds and dry conditions that helped spark and spread the devastating fires.
Meet Microsoft's New Surface Laptops
The lawsuit was filed this Thursday in the Second Circuit Court. The county is suing for civil damages caused to county property by the Maui fires. "The lawsuit alleges that the Defendants acted negligently by failing to power down their electrical equipment despite a National Weather Service Red Flag Warning on August 7th," a statement from the county said.
The lawsuit filing also says that it is the electrical company's duty to maintain transmission lines and keep the vegetation near power lines trimmed. "Defendants also knew that if their overhead electrical equipment ignited a fire, it would spread at a critically rapid rate," the filing explained.
The lawsuit comes after authorities learned that downed power lines likely sparked the fires earlier this month. The power lines were damaged by the strong winds when Hurricane Dora traveled over 500 miles south of Hawaii in early August. A security camera in the Maui Bird Conservation Center captured how the fire may have been sparked by damaged power lines, the Washington Post reported. A video posted on the conservation's center Instagram account from August 7, shows a large flash of light between nearby trees. The facility lost power soon after and by the time the generators turned the cameras back on, some of the trees in the distance were on fire. Electrical sensors in Maui also recorded incidents from the grid that day too, The Washington Post reported.
The combination of damaged power lines and strong winds was only made worse by the dry conditions throughout the county this summer. Almost all of Maui County is under some sort of drought condition this month, according to data from the U.S. Drought Monitor. Most of the county is experiencing a range from abnormally dry conditions to severe drought conditions.
The fires in the Lahaina and Kula areas of Maui burned more than 3,000 acres, destroyed about 2,200 structures, and caused more than $5 billion in damage. The official death toll is currently at 115 people, and many more are still missing as a result of the fires. Six people who died from the fires were recently identified by local authorities, KITV Island News reported.
Want more climate and environment stories? Check out Earther's guides to decarbonizing your home, divesting from fossil fuels, packing a disaster go bag, and overcoming climate dread. And don't miss our coverage of the latest IPCC climate report, the future of carbon dioxide removal, and the un-greenwashed facts on bioplastics and plastic recycling.