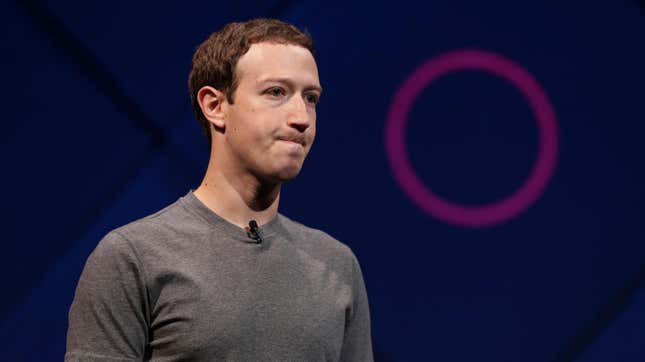 Meta has had a lot to prove about its future ambitions. First it was all about the "metaverse," but now it's AI. Before, the company could sit back and let the ad revenue roll in, until regulators, along with Amazon and Apple, said it couldn't. Fortunately for Meta and its CEO Mark Zuckerberg, the company managed to exceed expectations in the first quarter of 2023, signaling what Bloomberg's calling a recovery in digital advertising.  
"We had a good quarter and our community continues to grow," Zuckerberg said in the company's first quarter press release. "Our AI work is driving good results across our apps and business. We're also becoming more efficient so we can build better products faster and put ourselves in a stronger position to deliver our long term vision."
In the hours after Meta released its first quarterly earnings report for 2023 Wednesday, shares surged as much as 11% after trading. This is the Facebook-parent company's first reported sales increase in nearly a year. Analysts and Meta itself expected revenues to hit around $27.67 billion and the company didn't disappoint. The company's $28.65 billion in reported total revenue was slightly up from estimates. 
Financial analysts were expecting Meta's prospects to rise in the new year thanks to its "year of efficiency" cost-cutting spree. Meta's stock has been on an upward trajectory from last year's lows thanks in part to those cuts. To get into these financial analysts' good graces has meant drastic cuts to personnel. The tech giant axed around 11,000 staff late last year. After those layoffs, Meta promised there wouldn't be any more layoffs. Then came 2023, and Zuckerberg confirmed in March the company was going to cut 10,000 staff by year's end. The first portion of those planned layoffs came in April with around 4,000 workers given the boot from the company's social media app and Reality Labs teams. The next round of layoffs could come as soon as May.
Meta's staff cuts have also reared alongside hints of a push to get workers back into offices, though Meta has previously told Gizmodo it is still "committed" to remote work.
The big question has been, and continues to be, whether there can actually be broad interest in the metaverse as it's currently (ill)conceived. Trivia wonks on Jeopardy didn't even know about Meta's notion of a shared digital space despite its full throated endorsement and recent ad blitz.
The company has tried to refocus its efforts on AI along with basically every other major tech company in Silicon Valley and beyond. A Reuters report from this week based on leaked internal memos and anonymous internal sources details how Meta has had to completely restructure its business in an effort to get in front of the AI trend, even going so far as looking into making its own AI training chip like Microsoft reportedly has. This move has led to a dramatic 23% increase in expenditures in 2022 compared to 2021. With the language model LLaMA and a few other AI projects under its belt, the company is likely to try and release some kind of user AI product this year. Hopefully it's not another dull "AI Persona" like the company announced earlier this year.