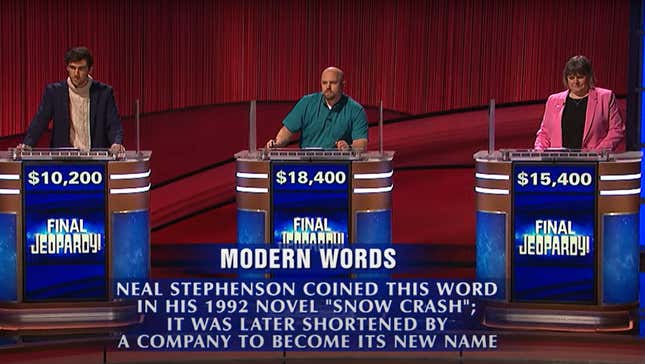 Mark Zuckerberg isn't the only person who's lost a lot of money on the metaverse. On Thursday, three additional public figures made the mistake of betting their cash on the concept. All of the contestants on the April 20, 2023 episode of Jeopardy failed to correctly answer the final prompt of the game, and all of them had wagered thousands on it.

In the category "Modern Words," host Ken Jennings read the Final Jeopardy clue aloud: "Neal Stephenson coined this word in his 1992 novel 'Snow Crash'; It was later shortened by a company to become its new name."
"The Winchesters" Star Meg Donnelly's First Comic Con
The correct response: "What is metaverse?"
The responses the contestants gave:
"What is powder?"
"What is Uber?"
"What is avalanche?"
On "powder", architectural designer Devin Lohman lost $8,300. With "Uber," Emma Hill Kepron, a librarian, sank $4,000. "Avalanche" crashed history professor Sam Claussen's earnings by $12,401. Small potatoes compared to Zuckerberg's billions in losses, but still not nothing! Entering the round, Claussen was in the lead. But Hill Kepron clinched the winning spot simply by virtue of betting smaller than her competitors.
It was a rare moment in a gameshow where usually, someone on the stage has the question to the answer. But maybe also it's a good reminder that the metaverse is a verified money pit that nobody really understands.
What IS metaverse?
Well, in Zuckerberg's 2021 words, "the defining quality of the metaverse will be a feeling of presence—like you are right there with another person or in another place...In the metaverse, you'll be able to do almost anything you can imagine." It also could be "the next evolution of social connection," depending on the day.
According to Stephenson's Snow Crash, it's the dystopian evolution of the Internet wherein people live large segments of their lives plugged into a virtual reality that gets hijacked by a virus.
But in the actual world—Earth 2023—Meta's metaverse efforts have basically just amounted to an oddly rendered Second Life dupe. Bonus: Meta wants you to buy some really expensive headwear to get the full experience.
Zuckerberg rebranded his whole entire company as Meta to prioritize the in-development technology. But now, less than two years after Facebook's name change, Meta is pulling back from its virtual reality ambitions. In lieu, the social media giant is pivoting (once again) to what it hopes will be greener pastures in artificial intelligence.
Elsewhere, the metaverse ventures of other companies and intergovernmental organizations that hopped on the hype train have fizzled out too. Disney scrapped its entire metaverse sector last month. The "military metaverse" is no more. The European Union could hardly get anyone to show up to its pricy metaverse party. Even the brands couldn't rally much consumer enthusiasm.
So, what is "metaverse"? Well, it's a sci-fi creation, a tech buzzword, a "place" on the Internet, a bad investment, a sort of video game where you float around looking like a Mii, and a missed Jeopardy response. It may be a modern word, but on the timescale of tech hype, it's ancient terminology. No offense to Jeopardy, but in this case, the better question about the metaverse is probably: "Who cares?".