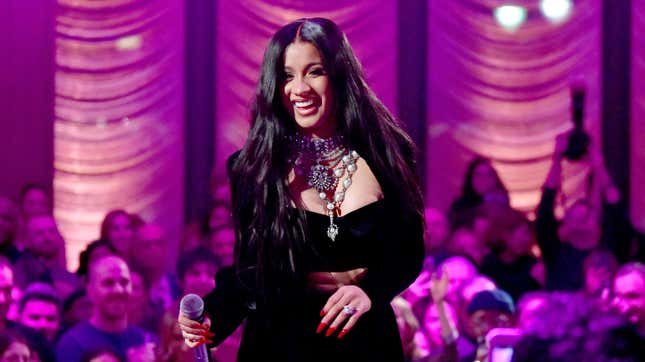 The saga of Cardi B's microphone retaliation in Las Vegas has come to an end. After an audio technician began an auction last week for the mic the rapper threw at a fan, it's now sold for almost $100,000 on eBay, with the proceeds being split between two charities.
Unexpected, Poignant, and Beautiful | The Last of Us Review
The device was listed on eBay shortly after Cardi chucked it at a concertgoer that threw a drink at her during a performance at Drais Beach Club in Las Vegas on July 29. Scott Fisher's company The Wave provided audio services to the club for Cardi B's performance, and Fisher scooped up the microphone and listed it on eBay last week. The auction closed Wednesday, and the piece of hip hop history has been purchased for $99,900 (with $20 shipping) after 122 bids. Fisher says in the listing that the proceeds will be split between Friendship Circle Las Vegas, a charity helping special needs children and their families, and The Wounded Warrior Project, which helps wounded and disabled veterans.
"I was encouraged to sell the mic but decided I would try to do something good," Fisher wrote in the listing. "If you want a piece of hip hop infamy and what has now become national and world news then please bid whatever you are willing to spend....thanks." Fisher did not immediately return Gizmodo's request for comment.

While Fisher initially listed just the microphone on eBay, his good deed did not go unnoticed by other companies in the industry. Fisher updated his post on August 3 to inform prospective buyers that LM Cases, a company that provides protective outer coatings to audio equipment, would be building a custom case for the microphone. On August 7, Fisher updated again claiming that a rendering of the case he received from LM would have a fancy crushed velvet interior.

The listing notes that the microphone has the same identifiable white tape stuck around the base of the device, which is consistent with videos of Cardi B performing at Drais. At the event, a concertgoer threw a drink at Cardi B while she was performing her 2018 hit "Bodak Yellow" before the rapper hurled her microphone at the culprit. According to Fisher in the posting, the microphone still works.
Clips of Cardi B launching her microphone quickly proliferated across the internet, catching attention in the wake of several celebrities becoming targets of projectiles while on stage. On June 18, while performing at The Rooftop at Pier 17 in Manhattan, an audience member threw an iPhone at pop singer-songwriter Bebe Rexha, which hit her just over the right eye, sending her to the hospital and promptly ending the show. Around the same time, artists Ava Max and P!nk had unnerving encounters, with Max being slapped by a fan and P!nk receiving the ashes of a fan's mom. As we've re-emerged from covid-19 lockdowns, concert etiquette has been thrown out the window, with fans desperate for a viral moment they can post to TikTok. While many artists are left bamboozled by raucous concertgoers flinging objects at them, it would appear that Cardi B was not one to stand idly by.