Sometimes wondrous beauty can surprise us by being made with the most mundane materials. Such is definitely the case with artist Yasuaki Onishi's 2012 installation entitled Reverse of Volume RG.
This wondrous display recalls images of mountain ranges and torrential downpours, all suspended eerily above the gallery floor. It was made by draping plastic sheets over cardboard boxes, then dripping hot glue from the ceiling to freeze the plastic in space.
The time lapse video below shows the process from start to finish.
G/O Media may get a commission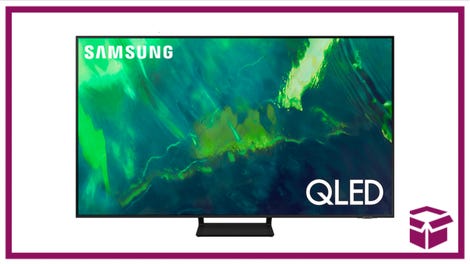 35% off
Samsung Q70A QLED 4K TV
Save big with this Samsung sale
If you're ready to drop some cash on a TV, now's a great time to do it. You can score the 75-inch Samsung Q70A QLED 4K TV for a whopping $800 off. That knocks the price down to $1,500 from $2,300, which is 35% off. This is a lot of TV for the money, and it also happens to be one of the best 4K TVs you can buy right now, according to Gizmodo.
The installation is a commission for the Rice University Gallery in Houston, and is on display until June 24, 2012. If you are in the area, go check it out! [Vimeo / Rice University Gallery via My Modern Met]
Images: Nash Baker © nashbaker.com