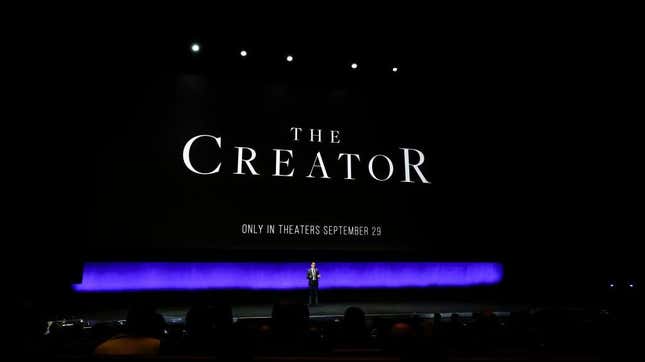 It doesn't happen every year, but one of the coolest things that can occur at CinemaCon is a new discovery—when a studio plays footage from a movie that you knew nothing about and you instantly can't wait to see it. That happened in 2016 when Paramount screened footage from a movie called Story of Your Life which was later renamed Arrival, and it happened again Wednesday when Disney shared footage from a film called The Creator.
Reuniting With Diego Luna
The Creator is the new film from Gareth Edwards, whose last film was called Rogue One: A Star Wars Story, and who previously made Godzilla and Monsters. In the trades it had been referred to as "True Love," which has now been changed, and it stars John David Washington (Tenet) and Gemma Chan (Eternals). It opens September 29, moved up a week from its previous October 6 release.
But that much you can read on Wikipedia. What you can't read is about the trailer that Disney, which is releasing the film through 20th Century Studios, showed at CinemaCon. It's set in a distant future after a "catastrophic and apocalyptic war" between humans and artificial intelligence. First we see Washington and Chan's characters rolling around in bed in a beach house. It could be anytime. But later, a more disheveled Washington is on a train with a child who is wearing a wool skull cap. The child is asking him what heaven is. The man says heaven is a place in the sky. At this point we see a sleek starship flying away from Earth and docking somewhere in the sky, a place that could maybe be mistaken for heaven if you were a child. The child asks if the man is going there and the man says no. Only good people go to heaven. The child then says they're the same. The man can't go to heaven because he's not good, and the child can't go because he's not human.
Cut to a shot of why the kid is wearing that skull cap. The back of his head is non-existent. Instead it's a big metal opening, sort of like Ex Machina. "They're coming to get me," he says.
As this is playing we see all the beauty of Edwards' rundown sci-fi world. Grown-over temples with technological advancements. Tribal nations. Giant metal space stations in the sky that both dock ships and shoot lasers. Washington's character describes himself as a bodyguard and says to the child, "I'm getting you out of this."
We see another android, this time an older man, with the same head as the child. Maybe the child's father? A prison. A border. Giant beams of light quickly moving across the ground. The text "Humanity evolves" come onto the screen and after a montage of more action, the man's thought about saving the child is finished: "I promise."
It's impossible to know what, specifically, is happening here. How all these characters are related, and how Chan's character fits in, we don't know. But we do know that sometimes you see a trailer for a movie that has the potential to be special, and The Creator is exactly that.
It opens September 29 and we'll have more when it's available.
---
Want more io9 news? Check out when to expect the latest Marvel, Star Wars, and Star Trek releases, what's next for the DC Universe on film and TV, and everything you need to know about the future of Doctor Who.