Launched in September 2010 by Harvard Business School pals Katie Beauchamp and Hayley Barna, Birchbox is the mystery-box subscription service that for $10/month sends a box containing jumbo-size new and novel cosmetics samples to each of its 100k subscribers. So far, Birchbox has been essentially ladies-only. The boxes, made of recycled materiels and embossed with the company's logo and name in hot-pink ink, typically include items like mascara, nail-art decals, and shimmery body oil. For their 1-year anniversary, they sent everyone a little charm necklace. "Lady stuff," agreed?
So, now, the company is getting ready to launch a monthly Men's Box, which, at $20/month, will cost twice as much as its "female-friendly" counterpart and promises to deliver "top-tier grooming products in addition to lifestyle accessories ranging from hip socks to tech accessories." (These boxes will have the logo in a strong masculine navy blue, but that's sort of beside the point.)
Why is it always the guys that get the gadgety tech stuff, while girls are taught to dress up and play house with the Easy-Bake Oven? Full disclosure: I have been a Birchbox subscriber for going on a year now, and the closest any of my boxes has come to including a gadget or tech-type sample has been...wait, nothing. I think I got a URL to download some exclusive mix, once, maybe.
Per the web site's "about" page: "The women's subscription includes everything from skincare to makeup, as well as fun non-beauty extras." My non-beauty extras have mostly been chocolate candies and Luna bars. And that anniversary necklace.
G/O Media may get a commission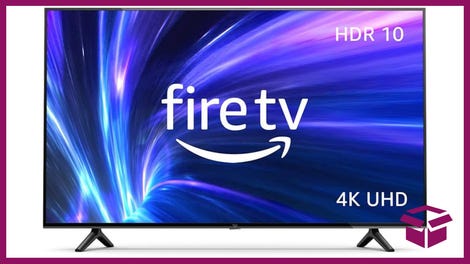 42% Off
Amazon Fire TV 50" 4K Smart TV
Obviously Birchbox isn't around to eradicate gender stereotyping and challenge social constructs, but, c'mon. Women are just as capable of enjoying and appreciating a good pair of headphones. Actually, I'd much rather get a bad pair of headphones than another shitty-flavored Luna bar. [All Things D]