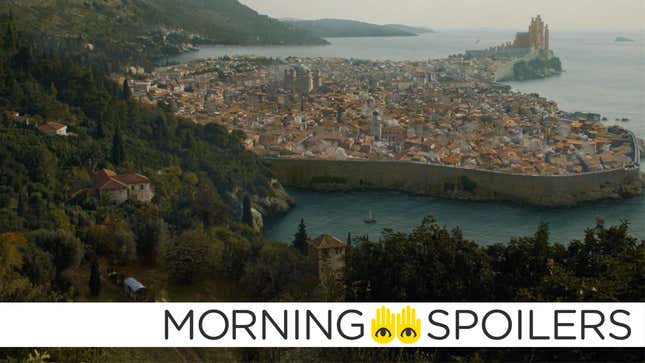 Simon Pegg clarifies who's working on Star Trek 4's script. Ryan Reynolds shares his excitement over X-Force. If there's a sequel to Solo: A Star Wars Story, Jonathan Kasdan wants a familiar bounty hunter to appear. Plus, new footage from iZombie and The Terror, and Guillermo del Toro is heading to Netflix with a spooky new series. Spoilers get!

Taylor Lorenz Talks "Extremely Online"

Prisoners of the Ghostland
Nicolas Cage is attached to star in Sion Sono's English-language debut about a criminal named Hero (Cage) rescuing a kidnapped girl from a parallel dimension called Ghostland, "an East-meets-West vortex of beauty and violence." [Bloody-Disgusting]
---
Birds of Prey
Heroic Hollywood reports Birds of Prey aims to begin production next year with an "all-female crew."
---
Star Trek 4
Speaking with Coming Soon, Simon Pegg clarified that he will not be part of the writing team on Star Trek 4, which will be written by J.D. Payne (Godzilla vs. Kong) and Patrick McKay (Star Trek: Beyond).
You know what, I'm not developing the next Star Trek at all. I think that's a bit of confusion because I'm working on something with Doug at Bad Robot but it's not the next Trek.

Yeah yeah, that's just crossed wires. The script for 4 is being written by Payne and McKay and then also obviously Quentin [Tarantino] turned up at the office a couple of months ago and said, "Hey, I've got an idea!" So that's in the hope for further down the line. It's a good time for Star Trek, I think.
Pegg also offered a few insights on Tarantino's rumored Trek movie.
Everyone sort of assumes it's gonna be like Pulp Fiction in space, but I think his devotion to Trek and his understanding of it… It won't be ordinary, it'll have him all over it, but it won't be anything a Star Trek fan will have to worry about. He has an acute understanding of the story and he'd never do anything to tear it down. I haven't read the treatment yet, but I might be able to in the next couple of weeks, so I'm excited about that.
---
X-Force
Speaking with Collider, Ryan Reynolds discussed his excitement working with Drew Goddard on an X-Force spinoff movie.
I just wanna work with Drew. I mean, I love him and he has such an interesting take on where he wants to take that world. I see it being a real ensemble on a lot of levels just because I think it's interesting for Deadpool to kinda function in the way he does in his own universe. You always get to sort of find some way to position him as the underdog or take everything away from him, but for him to function in an ensemble [in X-Force] is a lot of fun. I think there's a real opportunity to not burden the narrative by shattering Wade's life, so then at the beginning our movie you get to have him just be part of the team, which is obviously a very challenging prospect for someone like Wade Wilson. So, I'm really excited about that. I'm excited about a couple new characters that we're talking about. And I'm really especially excited to work with Drew. He's just amazing.

There's a storyline that everyone's happy with, but there isn't a script yet. That's yet to come.
---
Nightwing
Director Chris McKay debunked the rumor Zac Efron has been cast as Dick Grayson on Twitter.
---
The Predator
Taking a page from the Kenner toy line, Den of Geek reports the latest film will include "two new varieties" of Predator with "much more advanced" technology than any of the previously seen Predators. According to the outlet, of the new subspecies is confirmed to wear a device on its gauntlet allowing it to control electronics remotely, "including his own ship."
---
Gambit
The 17 millionth time's the charm: Simon Kinberg says that production on the long-delayed Gambit film is set to start in the summer.
---
Suspiria
Luca Guadagnino's stomach-churning Suspiria remake opens November 2nd.
---
Han Solo 2: Smuggler's Boogaloo
Jonathan Kasdan promises that any potential sequel to Solo: A Star Wars Story will include an appearance from Bossk, and possibly some of the other alien bounty hunters who made their debut in The Empire Strikes Back.
I was trying to get [the bounty hunters] in the movie, you know, very hard. And I think that if there's ever another one of these, you're going to have to either kill me or Bossk will be in it.
---
Mission: Impossible - Fallout
The latest poster heralds tomorrow's trailer.
---
Resident Evil
Speaking with Variety, Constantin Films CEO Martin Moszkowicz stated the Resident Evil reboot could very well be a TV series.
For us, the main thing is to get it right creatively so people don't think it's more of the same. That's what it's all about these days, a fresh, different approach.
---
Wonder Woman 2
Filming begins "shockingly soon" on Wonder Woman 2, according to Patty Jenkins at Cannes.


---
Upgrade
Blumhouse has released two new TV spots for Leigh Whannell's upcoming sci-fi action film.
---
Game of Thrones
Watchers on the Wall and Los Siete Reinos have a new roundup of set pictures and reports that indicate that King's Landing is in for a rough time in the final season (perhaps even more so than you know, having a whole sept blown up and whatnot). New set pictures from the King's Landing set show controlled explosions being shot as well as burn damage and signs of the cities' defenses being breached being added to structures... maybe Dany and her Dragons come knocking?
---
10 After Midnight
Netflix has ordered an original horror anthology series of personally curated stories from Guillermo del Toro.
---
Lost in Space
Good news! Netflix has renewed Lost in Space for a second season. [TV Line]
---
The Handmaid's Tale
Spoiler TV has a brief synopsis for episode 6 of the season, "First Blood."
Offred finds unexpected allies and obstacles in her search for a way to protect Hannah. The Commander prepares for the dedication of a new Red Center. Nick struggles with his new assignment.
---
Preacher
Collider has three new images of Jeremy Childs as Jesse's childhood nemesis, Jody.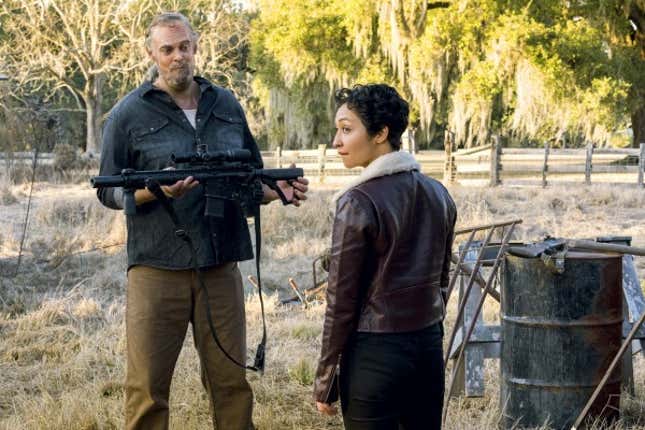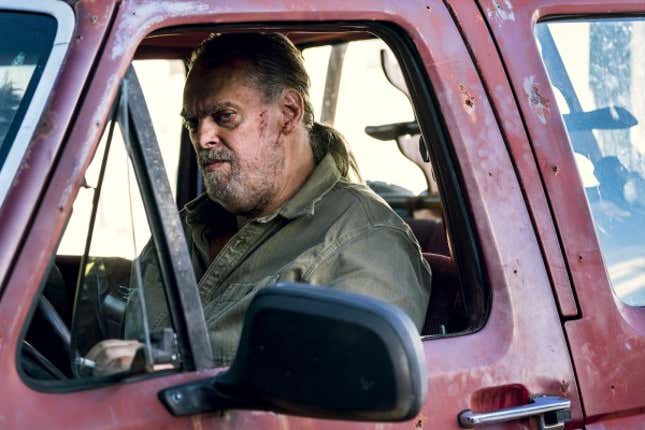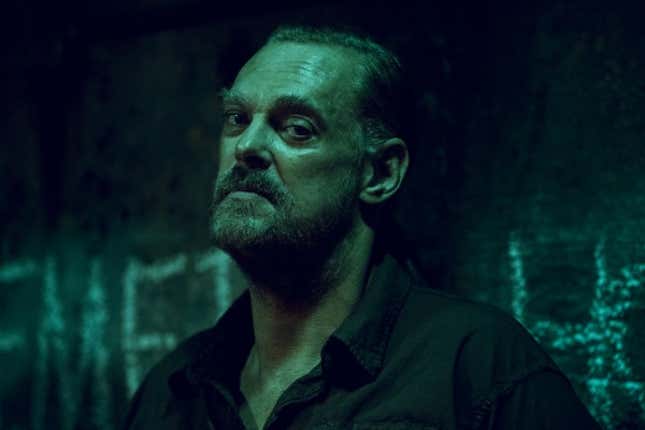 ---
The Terror
AMC has released a trailer for the season finale, "We Are Gone."
---
iZombie
Liv must surrender to Fillmore Graves in the trailer for next week's episode, "You've Got To Hide Your Liv Away."
---
James Cameron's Story of Science Fiction
James Cameron talks to Guillermo del Toro about monsters, angels, and UFOs in a clip from next week's episode.
---
The Passage
Fox has already released a trailer for their new series based on Justin Cronin's The Passage.
---
12 Monkeys
Syfy has released a very brief trailer for the final season of 12 Monkeys.
Showrunner Terry Matalas has also shared a new poster on Twitter.
---
Supergirl
Finally, Jimmy Olsen is unmasked as Guardian in the trailer for next week's episode of Supergirl, "The Fanatical."
---
Banner art by Jim Cooke.