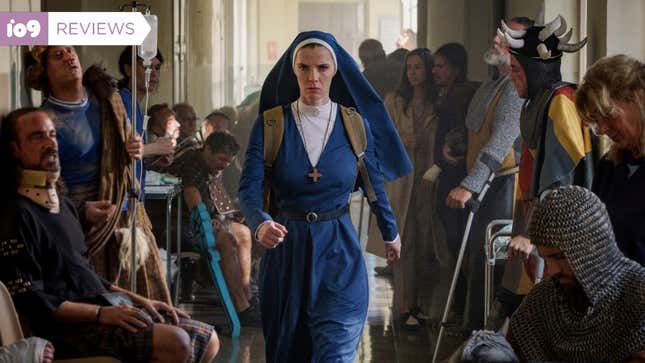 Whatever you expect from Mrs. Davis, the new show coming to Peacock on April 20, you're probably mistaken. The series description will tell you it's about a nun, played by Glow's Betty Gilpin, who sets out to take down an artificial intelligence called Mrs. Davis, which has become a pseudo-replacement for God in a near-future society. That's true, but only at the start.
The Boogeyman's Sophie Thatcher Reveals What Draws Her to Dark Characters | io9 Interview
What Mrs. Davis does with that story is borderline shocking. It constantly folds onto itself and recontextualizes everything you've seen before, taking the story to places so random and wild, you might think the show is joking. "Surely, they're not going to do that!" you could say. But it does, it's wonderful, and by the end of its eight-episode first season you can't help but think the show might have been a little too out there. A little too out of the box. And, maybe, if it had reined things in just a bit, it could have been more cohesive and powerful. Nevertheless, that admirable ambition makes it delightfully distinct and endlessly entertaining.
Mrs. Davis was co-created by Tara Hernandez (The Big Bang Theory) as well as Damon Lindelof, a name that surely intrigues sci-fi fans. Lindelof, of course, wrote on or created some of the best sci-fi TV in recent decades, such as Lost, The Leftovers, and Watchmen. And, in a way, Mrs. Davis is kind of an amalgamation of all those. It deals with fascinating mysteries as well as the implications of religion, wealth, and social issues, all interspersed with lots of exciting, violent action. However, while the show surely has Lindelof's fingerprints all over it, it also has a distinct humor and absurdity that set it apart, which feels very much like Hernandez's mark.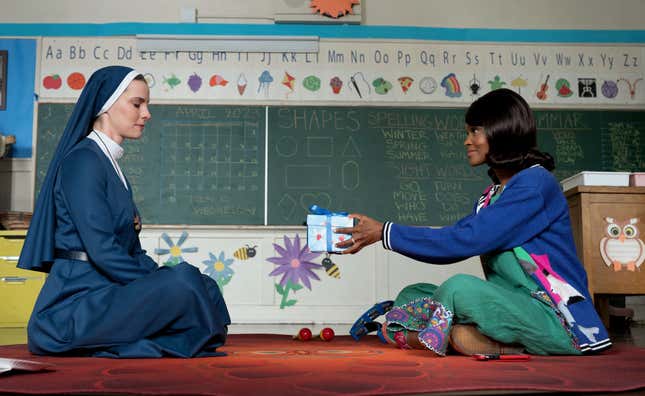 All of that centers around Simone, played by Gilpin. Simone is an extremely capable nun who loves to do good but is also completely cut off from technology. That seems to be why, at the start, Mrs. Davis really, really wants to speak to her. And that's where the show's unique blend of tones begins to reveal themselves. Mrs. Davis is an app—an app that sees everything, knows everyone, and can do anything. So, if Mrs. Davis wants to talk to a nun without a cell phone, all it has to do is, say, tell someone walking past her on the street it wants to talk to her. Or change traffic so she gets stuck. Or any number of things. Mrs. Davis also has this potential to do truly evil things, which adds a nice creepy subtext to the show.
Along the way we learn how and why Simone became a nun, where she came from, the truths behind her aversion to Mrs. Davis, and a whole bunch more. And while the show, especially at the beginning, will leave you with many, many more questions than answers, Hernandez and Lindelof do their best to pay off or answer seemingly every single big question in this first season. Which is nice.

But it's the questions you never see coming that really make the show special. Simone's parents, played by David Arquette and Elizabeth Marvel, drive some of that, as does her childhood friend Wiley (Jake McDorman)—who, along with a friend played by Silicon Valley's Chris Diamantopoulos, leads another group of people who are also trying to stop Mrs. Davis. Whether any of that is a coincidence, well, the show teases a lot but we come to learn that as ubiquitous as we imagine Mrs. Davis to be, she's way, way more prevalent than even that.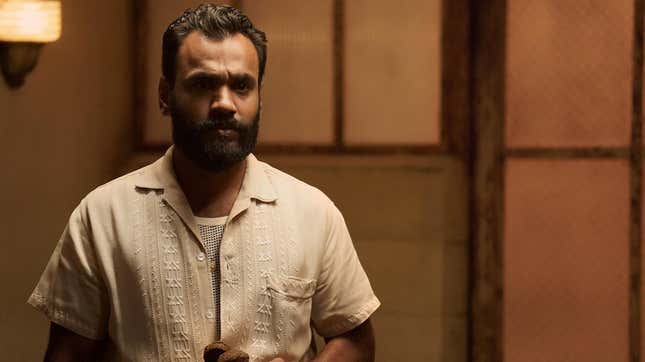 This does lead to that one big issue with the show which is that things can get a little too out there. After about half a season of already huge leaps in the narrative, the show almost feels like it gets drunk. A comfortable level of humor and levity get wildly overblown and things get exponentially weirder and more random. You can almost picture the writer's room all turning of age halfway through the season and just having like, a non-stop, booze-filled rager as they wrote the final few episodes. At times, that feels like the only explanation for what you are watching. Which is actually kind of cool. You'll see things on Mrs. Davis you've never seen before, and will never see again. It's just that near the end the core of the show,—this question of can artificial intelligence replace religion and what Simone is really after—often gets lost in the show's big, home run swings.
That's purely in regard to the show's narrative, though. Everything in Mrs. Davis is held together by the performances, which as a whole expertly tip-toe the razor's edge that separates each and every tone. That includes the expansive supporting cast, many of whom play characters too spoilery to even name, but Gilpin most of all. Simone is a role that demands not just every emotion imaginable, but an imposing physical presence, self-awareness, as well as earnest innocence. She is, after all, a nun and you don't devote yourself to that life without an incredible morality, all of which Gilpin conveys in every scene. Even McDorman, who is hilarious and mysterious as the second lead, doesn't have half the complexities to carry that Gilpin does, and the show is better off for it.
If you like shows that make your jaw drop and brain spin, then Mrs. Davis is for you. It's sure to not only spawn lots of conversations but certainly some anger too, and that's definitely by design. This is not a show that you easily categorize. It's got drama, comedy, sci-fi, action, fantasy, horror... kind of a little bit of everything. And if you're willing to buy into the ride, it's one you'll certainly enjoy.
The first four episodes of Mrs. Davis debut on Peacock April 20. Find it here.
---
Want more io9 news? Check out when to expect the latest Marvel, Star Wars, and Star Trek releases, what's next for the DC Universe on film and TV, and everything you need to know about the future of Doctor Who.