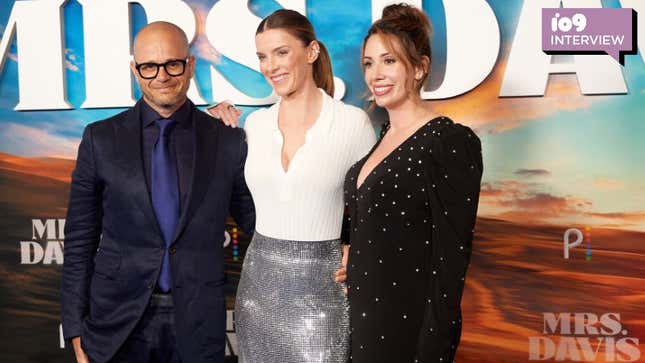 A renegade nun is tasked by an all-powerful artificial intelligence to hunt down the Holy Grail, and that's just the first episode. Peacock's new show Mrs. Davis, which debuts April 20, is as wild and surprising as any show you've seen in recent memory. So, when given a chance to talk to co-creators Damon Lindelof and Tara Hernandez about it, io9 didn't have to be artificially intelligent to say "Yes."
Chris Pratt and Bryce Dallas Howard Nerd Out About Jurassic Park's Returning Heroes
Lindelof most of you probably know. He was one of the co-creators and main drivers behind a little show called Lost and from there went on to make both The Leftovers and Watchmen. Hernandez isn't as well known, but her work sure is. She wrote almost 200 episodes of The Big Bang Theory and Young Sheldon before penning a script about a nun which found its way into Lindelof's hands. The two talked about it, and one day, when they were riffing about an app that could do literally anything and what that might mean, the two ideas synced up. What would a nun think of an app that's a replacement for God?
That's the first kernel of what would become Mrs. Davis, named after the AI in the show, but it goes way beyond that. We mentioned the Holy Grail, but other elements include rebellious Germans, David Arquette as a magician, sneakers, chain restaurants, the Vatican, the Super Bowl, it's all truly wild. Suffice to say, we had to know how all this came together. Here's how that went. (And yes, we brought up Lindelof's Star Wars movie. Kind of.)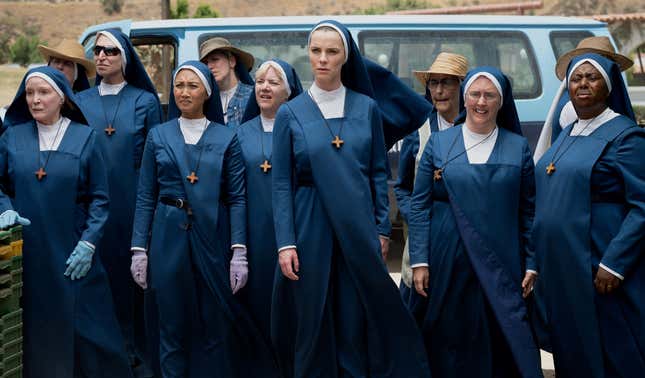 Germain Lussier, io9: I have to start and say I really loved the show. It kept me guessing the whole way. And I read where the original idea came from for the nun and the AI, but of course it goes way beyond that. So at what point did the gloves come off, and you really decided to go all out and go crazy with it?
Tara Hernandez: It's such a great question. "What was the moment we sort of found the line and said, 'Maybe it's over here.'"  
Damon Lindelof: "Were the gloves ever on?" Is probably a better way of presenting that.
Hernandez: No, I mean, of course they were. Because I think you have to know where to convey tone—and specifically one that is as out there and maybe untapped as Mrs. Davis, which is equal parts bananas and bonkers and heart and heartfelt. You have to know sort of what what you're aiming for. We always wanted to do something with levity and joy to it, so we knew that we were going to push the boundaries of things that just brought us joy and entertained us and our writers in the room. And I think one of the earlier things that gave the show an identity was naming "Mrs. Davis," "Mrs. Davis." I think we've all sort of been brought up in cinema with it's HAL or it's Skynet or...
Lindelof: Or Mother.
Hernandez: The Matrix or Mother, right. Just really intense and terrifying depictions that convey a certain tone of this AI. And so Damon had always said "I really think that it, or she, is self-female-identifying;" giving the name "Mrs. Davis" just felt like an out-there, zany, way past Siri or Alexa, sort of title. It really opened up the possibility of pushing the envelope for us.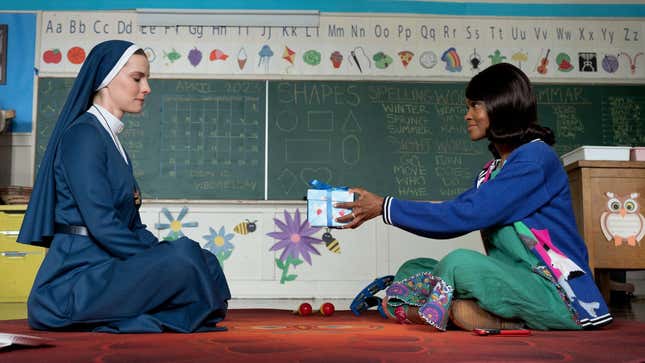 io9: Yeah, and I mean that's believable compared to what happens later in the series, which I, of course, won't spoil. But was there a line? Did you find the line? And what kind of things were pitched that maybe didn't make it?
Hernandez: Believe it or not, there is a cutting room floor. There is stuff on it.
Lindelof: There were definitely plenty of ideas, even ones generated by the two of us, where it was like, "Okay, now we know where the line is because that's over it." But we did find ourselves increasingly sort of delighted and surprised by giving the writers homework. And in the beginning, it basically would start with okay, it's a grail quest. So where is it? Where is its final resting place? And there were a lot of good ideas bandied about. But then someone would come forward and say, "I think it's in a [REDACTED]" and obviously please hold that spoiler for later.
io9: Oh, it's redacted, yeah. [Note to reader: If I left the answer in there you wouldn't believe it anyway.]
Lindelof: Suddenly you could just feel the entire energy in the room change. And these are sort of like informal focus groups, right? Tara constructed a room that was not made to rubber-stamp our ideas. They were there to feel some sense of authorship themselves. So if you could get all eight or nine people to sort of sit up and go, like, "What did they just say?," then we knew that we were on to something. And then you have to do the work of like, "Okay, if that's where it ended up, how did it get there? And what are the rules that sort of govern it?" I think, using an Indiana Jones in the Last Crusade construct, you start with the fact that the Grail is basically being overlooked by this old man who is one of the original Knights of the Templar, but that in our room would have led to three days of where does he go to the bathroom? What is he eating, you know? How long has he been there? What's his name? And a lot of that stuff doesn't end up on the screen, but it's definitely in the iceberg below the surface of the water.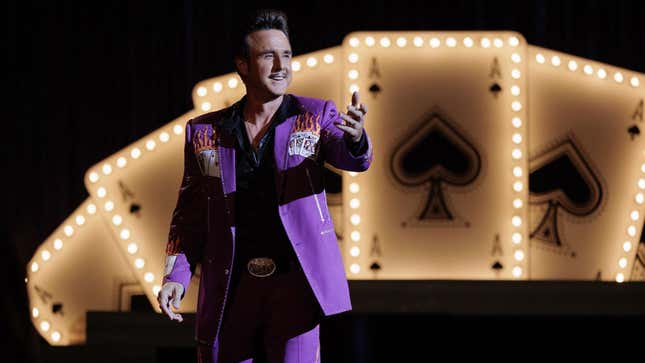 io9: I've thought about those questions with the Grail in Indy way too much.
Lindelof: Yes.
io9: There are so many surprises and reveals throughout this thing. So I'm curious, how much care is there in crafting it to go like, "Okay, if you watch the series again and you know X, that scene in episode two or three would play differently?" or something like that. Especially in an era of streaming where all the episodes are so easily accessible.
Hernandez: So Peacock, on April 20th, is releasing the first four episodes, and by the end of that block there is a reveal made that I think will make people want to go back to the very beginning of the pilot and it's going to present the pilot in a new context. So looking at it through that lens, I think is a really fun, it's like beyond an Easter egg at that point—an ostrich-sized egg—because, you know, it's going to recontextualize a piece of the story that we presented as a potentially real, authentic flashback and turns out to be something else entirely.
So I think the show has those moments where it sort of just overturns its cards. From the pilot where Mrs. Davis gives Simone her quest, and the only clue she has is a Queen of Hearts. Well, of course, at the top of episode two that reveal is going to be made. So if we did our jobs right, we've hopefully brought the viewer on a journey that feels like those reveals are happening in the right time and when people need them. But I think we're both fairly confident to say that by the end of the series, all or most of those big questions will be answered within the context of these eight episodes.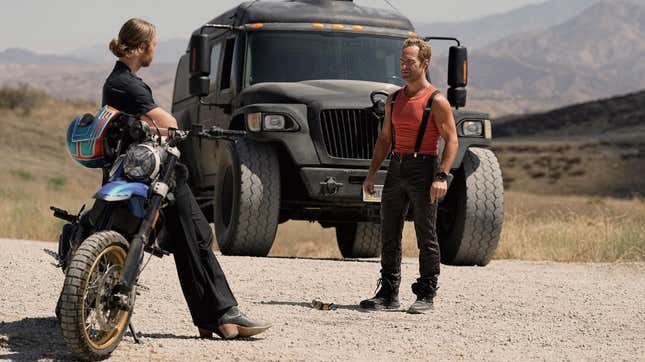 Lindelof: Yeah, and I would say that there's some degree of arrogance in, you know, there's so much great television out there and saying, "You really need to see it twice to appreciate it!" [All laugh.] But Germain, I'm sure you're like we are, in that I consume recap culture. And so the idea of, you give the recapper something to sink their teeth into—and there are entire YouTube channels dedicated to video recaps and then there are great recappers who just write about shows. When we wrote the script for the pilot, the script says "It's very pretentious" and "If it's feeling a little bit over the top in its violence, trust that feeling." But when you watch the show, none of that is getting conveyed. And so things that are happening in the pilot that may seem over-the-top or derivative, like the Germans are sort of like a little bit too Coen brothers. Then you realize in hindsight, oh, the resistance, they've just really like The Big Lebowski.
io9: Right.
Lindelof: If we were actually presenting actual Germans hunting for the actual Holy Grail, we're not actually reaching the bar of success, but [we do] because it's part of a broader construct. The show is designed like The Prestige, which is like, it's pretty exciting the first time you watch it, but then the second time you watch it and it starts with the top hats, you're basically like, "Oh my God, I know what that is this time." And it does reward subsequent viewings.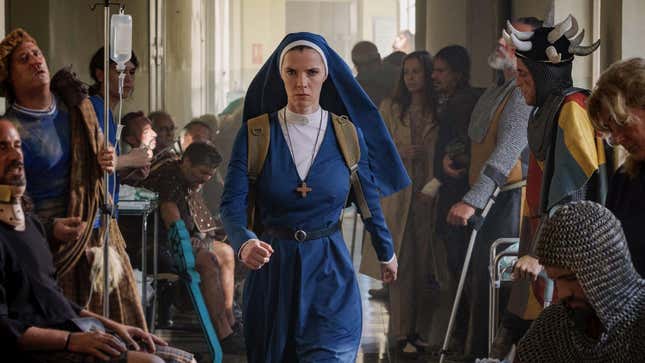 io9: Oh absolutely. And the last thing, though I wish I could talk more with you, is you mentioned that the season does pretty much answer all your big questions. You could have obviously left some things open. So talk about the decision to kind of wrap up as much as you did and if we are lucky enough to do more, do you have ideas for where it could go?
Hernandez: Yeah, I think to Damon's point, there's so much amazing content out there and it is a commitment to ask viewers to even make the eight-episode journey. So we as storytellers, our own personal taste is to feel really satisfied and feel like the Holy Grail story has a nice conclusion and that subsequent episodes of Mrs. Davis would presumably be about something else. And I think that's really exciting for us. It means that we have to sort of bang our heads around and get even more creative if we're so lucky to continue this journey. But I think eight episodes in this day and age with so much going on and baseball season starting, we're just lucky if we get people on board for eight hours.
io9: Right. Well, I have to wrap—wait actually, Damon, about Rey Skywalker... sorry, never mind.
Lindelof: Ha! Thank you.
Note: Peacock specifically asked that all questions be related to the show so we honored that request, but there was no way we weren't going to joke about the fact Lindelof was writing, and has since been relieved of duties on, what we now know to be a movie about Rey returning to Star Wars.
The first four episodes of Mrs. Davis debut on Peacock April 20. Find it here.
---
Want more io9 news? Check out when to expect the latest Marvel, Star Wars, and Star Trek releases, what's next for the DC Universe on film and TV, and everything you need to know about the future of Doctor Who.