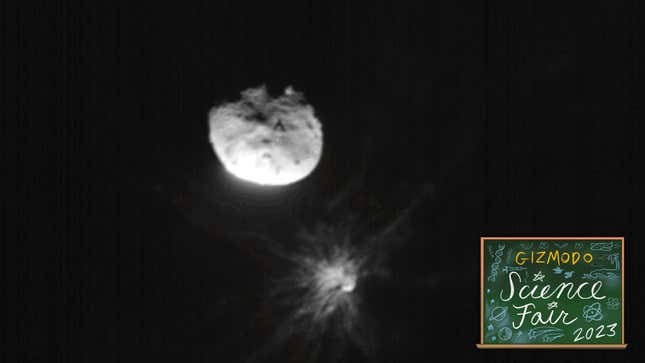 NASA's Double Asteroid Redirection Test (DART) is a winner of the 2023 Gizmodo Science Fair for crashing a spacecraft into an asteroid and altering its orbit, in a pioneering test of planetary defense.

Astronomers Could Soon Get Warnings When SpaceX Satellites Threaten Their View
The Question
Is it possible for puny humans to change the orbit of an asteroid to protect Earth from a future impact?
The Results
The DART team sent a fridge-sized spacecraft on a collision course with Dimorphos, a 525-foot-wide (160-meter) asteroid that orbits a larger space rock. The spacecraft slammed directly into Dimorphos at speeds reaching 14,000 miles per hour (22,500 kilometers per hour) on September 26, 2022.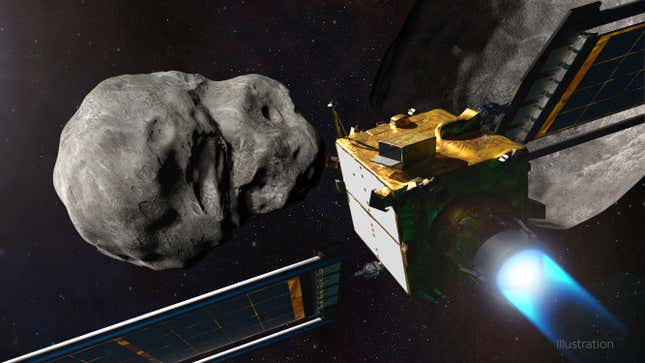 There were two big questions at the start of the mission. "The first was, do we really have what it takes to be able to take a spacecraft and intentionally slam it into a small asteroid?" said Terik Daly, instrument lead for the spacecraft's DRACO camera. "The second question was, how is the asteroid going to respond?"

"We thought it was going to work," said Andy Cheng, DART investigation team lead from Johns Hopkins Applied Physics Laboratory. "We convinced ourselves, but we also convinced NASA, and that's why we got the chance to try." The team sought to learn the degree to which a kinetic impactor could influence the orbital trajectory of Dimorphos, but they also strove for a quick deployment. "You have to expect that, in a real emergency, you're going to have to move quickly, which we also considered a part of the test," he explained.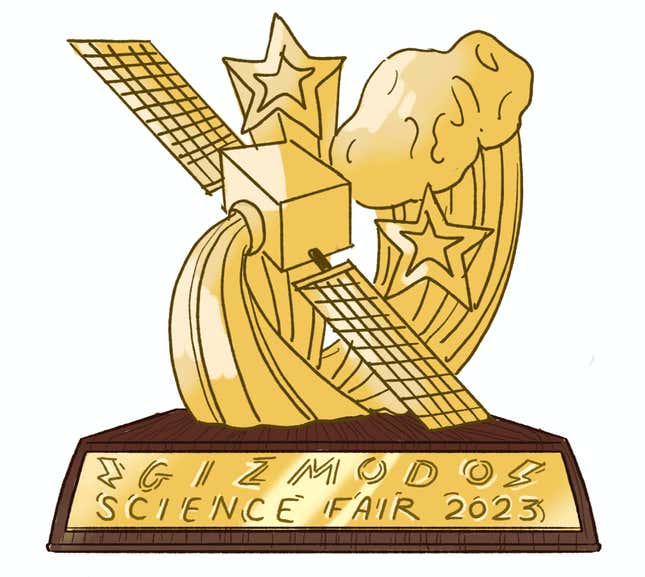 The Didymos-Dimorphos system was ideal for the experiment—a pair of small and non-threatening asteroids located 7 million miles away. Dimorphos passes in front of Didymos from our perspective on Earth, allowing ground-based observatories to measure alterations to its orbital period.
The $308 million DART experiment worked, and to a degree that surprised the scientists themselves. They hoped to change Dimorphos's orbital period by around 72 seconds. They achieved a whopping 32-minute alteration.
Another surprise was how the recoil effect came into play. Dimorphos is likely a rubble pile asteroid—a loose conglomeration of rocks, pebbles, and dust—and it spewed a tremendous amount of material, or ejecta, into space as a consequence of the impact. "It's kind of like a little rocket engine—you have a recoil, a reaction force from throwing off all the material," Cheng said. "This increases the amount of push that you get, and it turned out that the push was almost four times greater than a spacecraft hitting a body but with no ejecta being produced, so it's sort of a bonus of high efficiency for the deflection that you get."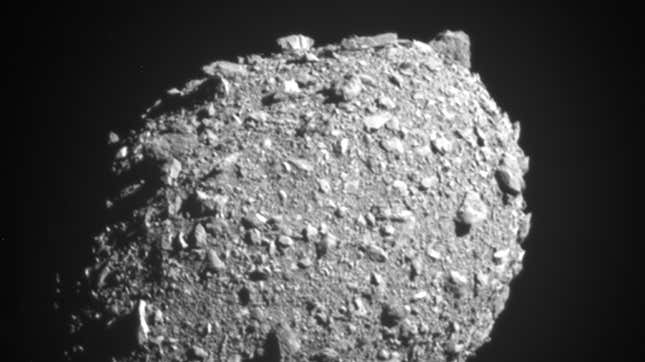 Why NASA Did It
Simply put, they did it to test a strategy for deflecting an asteroid that might threaten Earth.
"The problem with planetary impacts is that you don't really see the asteroid until it's late in the game," said Elena Adams, mission systems engineer and spacecraft systems engineer for DART. Engineers would need to make sure that they're actually hitting the rock in the right spot. DART moved Dimorphos more than expected, and "we would want to know that ahead of time," Adams said, adding that "these are the types of things that we weren't thinking about so much beforehand, but going forward it's something I'll really be thinking about."
Why the DART Mission Is a Winner
Impact day will go down in history as the moment our species began to adjust the relative positions of solar system objects. The DART team did so on an exceptionally small scale, but it's a proof-of-concept that will likely lead to more, ahem, impactful exercises, including future tests of kinetic impactors and—possibly—actual missions to deflect dangerous asteroids.
Humans have achieved impressive feats in space over the last half-century, but DART is a project with existential implications. DART showed it's possible to deploy such missions quickly and even under stressful or problematic conditions; some of the most mission-critical stages of the project happened at the height of the covid-19 pandemic, yet the team managed to pull through.
"We can rehearse and we can rehearse and we can rehearse, but then, what if everything goes wrong?" Daly said. A distinct possibility was that, because we had never seen these objects from up-close, DART's navigation system would get confused and crash into the wrong asteroid.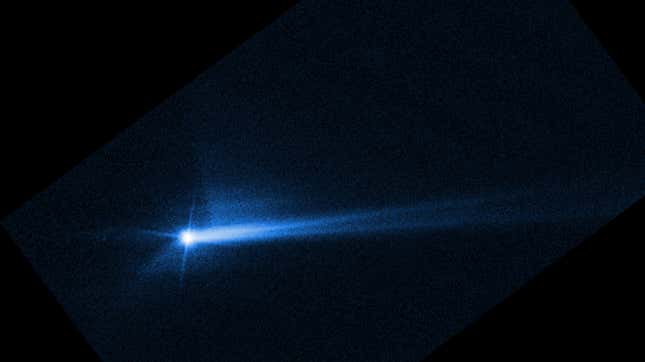 "The things that really kept me up at night were various interactions between the subsystems that we hadn't anticipated," said Adams. "I'll just tell you this: In July 2022 our probability of impact was about 50%. That is not a high number, and not a high number for any mission."
Thankfully, the mission was a resounding success.
What's Next
Scientists continue to analyze the DART data, with several papers expected in the coming months. These papers will address important questions having to do with Dimorphos's composition, structural integrity, shape, and new orbital period. As Cheng said: "We hit it pretty hard, and now we'd like to understand what that tells us."
The European Space Agency's Hera mission, scheduled for launch in October 2024, will revisit the Didymos-Dimorphos system to further evaluate the results of the DART experiment. Of particular interest is the resulting crater. As Cheng pointed out, the crater might be so large that it doesn't look like a crater at all; DART might've taken a huge chunk out of the affected side. Another question has to do with the object's rotation state; Dimorphos was tidally locked to Didymos prior to the impact, but the impact had the potential to put the asteroid into a chaotic tumbling state. Hera will investigate this and other outstanding questions.
The Team
It takes a village to slam an a spacecraft into an asteroid. Hundreds of scientists, engineers, and other experts were involved in the DART mission, including teams from Johns Hopkins University Applied Physics Laboratory, NASA's Jet Propulsion Laboratory, NASA's Goddard Space Flight Center, Northern Arizona University, University of Maryland, and other institutions. The complete list of contributors can be found here.