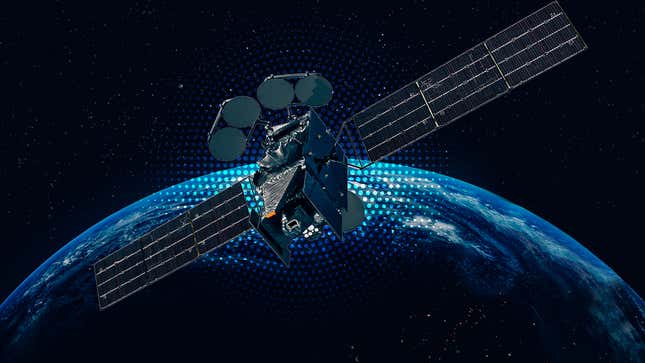 A soon-to-launch NASA mission is set to offer more data on North America's air quality than researchers and public health programs have ever had available before. A new monitoring instrument hosted on a commercial satellite will offer continent-wide, hourly updates on air pollution, at about a four square mile resolution, according to the space agency and partner groups behind the project.
What Is Carbon Capture? With Gizmodo's Molly Taft | Techmodo
The Tropospheric Emissions Monitoring of Pollution (TEMPO) instrument will keep tabs on the air quality in a region stretching from the oil sands in Canada to south of Mexico City, and from the Atlantic to Pacific coasts, according to a NASA news statement.
The device will use advanced imaging to collect detailed light scattering data (i.e. hyperspectral data) on sunlight reflected off of Earth's atmosphere at varying levels. Using this information, scientists back on the ground will be able to translate those wavelengths of light into local concentrations of different pollutants in the air, explained Dennis Nicks, director of payload engineering at Ball Aerospace–the company that NASA contracted to design and build the TEMPO instrument, during a Wednesday press briefing.
TEMPO is not the first spacecraft to look at air quality. NASA and NOAA already have multiple instruments in orbit that gather pollution-related measurements. The difference though, according to multiple NASA-affiliated researchers, is that these other tools are trapped in low Earth orbit, where they're limited. At LEO, other devices like the Ozone Monitoring Instrument on Aura spacecraft and the Orbiting Carbon Observatories can only capture one air quality reading per day per location—and those readings come at a fixed time, which is a big deficiency. Air quality fluctuates a lot throughout the day (just think of the difference in polluting emissions being pumped out during morning rush hour on a major highway versus the early afternoon). Plus, these other devices tend to capture their readings at a lower resolution, about 100 square miles, said Karen St. Germain, head of NASA's Earth Science Division, in the press briefing.
To really understand what's happening with air pollution throughout time and space, we need more data points. And TEMPO will certainly offer more. Again: The new instrument provides readings every hour at a four square mile resolution. This is made possible because the instrument will sit in geostationary orbit (not LEO), positioned at 91 degrees west, said Jean-Luc Froeliger, an executive overseeing Intelsat's space systems department, to reporters on Wednesday.
For the privilege of that vaunted position, NASA has paid tens of millions of dollars to space tech company Maxar and satellite service provider Intelsat. For you see, TEMPO has been installed on the geostationary Intelsat 40e satellite, which launches tomorrow. The agency spent about $70 million to integrate TEMPO into the commercial spacecraft, do ground testing, and for operations, per Kevin Daugherty, the project's manager at NASA. Daugherty further said that working with the commercial sector allowed for "greatly reduced costs when compared to building and launching our own satellites."
Regardless of how much money was or wasn't saved via these commercial contracts, TEMPO is a big investment. But it's one that could offer a lot of benefit to us Earthlings. Air quality is one of the most important environmental factors when it comes to humans' long-term health. When people are routinely exposed to high levels of pollution, it can cause lots of problems–from breathing issues to developmental delays in children and stillbirths. Air pollution is also deadly, killing millions every year.
Obviously, scientists, federal agencies (like the EPA), and private companies already collect lots of air quality data at ground-level through monitoring stations on Earth. Yet still, there are holes in the data and monitoring available on pollutants. Ground-level instruments can be unreliable, particularly when intense pollutants like smoke overload their detection ability and take them offline (or when wildfires straight up destroy them).
Here, too, TEMPO will be a boon, said Xiong Liu, the project's lead researcher, based at the Harvard and Smithsonian Center for Astrophysics, in an email to Gizmodo. "There are a lot of gaps between these sites," explained Liu, particularly in underserved communities–be it rural areas or economically depressed neighborhoods in cities. "One needs to interpolate between sites or use [models] to fill in the gap," he added, but these models come with big uncertainties. The hope is that these space-based data points from TEMPO "can be integrated with ground-based observation…to improve air quality monitoring and prediction," the physicist explained.
The NASA instrument will specifically be monitoring multiple EPA criteria and hazardous air pollutants known to have major consequences for human health, including nitrogen dioxide, ozone, sulfur dioxide, formaldehyde, and aerosols–down to an accuracy of parts per billion, said Liu. Federal agencies from EPA to NOAA have already expressed enthusiasm for TEMPO and signed up to be early adopters of the data, which they plan to use to inform public air quality alerts and other tools. Because of the high data resolution, Liu added that TEMPO could even help track down troublesome, otherwise unidentified sources of pollution.
TEMPO, attached to Intelsat 40E, is scheduled to blast off from Cape Canaveral aboard a SpaceX Falcon 9 rocket sometime between 12:29 a.m. and 2:30 a.m. ET on the morning of Friday, April 7, with backup launch windows scheduled at the same time for subsequent days, just in case.
The baseline mission is scheduled to last 20 months following commissioning, but Daugherty noted it could have a much longer lifetime as its host satellite is expected to last for 15 or more years. Plus, TEMPO was built for the long-term, similar to the Korean GEMS instrument which tracks pollution over the Asia-Pacific region and launched in 2020, he added.
Assuming all goes well with this week's launch, the instrument will power up at the end of May or beginning of June and begin its commissioning process after the commercial satellite is set up. NASA expects it to begin transmitting usable data beginning in October, which will be verified and made publicly available starting about April 2024.
For more spaceflight in your life, follow us on Twitter and bookmark Gizmodo's dedicated Spaceflight page.