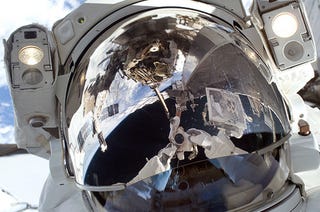 Space: The final frontier—for Nikon, anyway. The camera company's relationship with NASA has just got steamier, as they're supplying 11 D3s DSLRs and seven AF-S NIKKOR 14-24mm f/2.8G ED lenses for their space photography.
It's not the first time they've worked together, with the Nikon Photomic FTN actually used on Apollo 15 back in 1971, but it's nice to see that NASA's taste in camera models has got more expensive over the years.
The D3s, unveiled back in August, normally costs $5,199.95, and features a whoppingly large ISO range of 200 - 12,800 (though it can be expanded up to 102,400). NASA will be using the cameras to photograph the happenings at the International Space Station, and apparently are so happy with the D3s and NIKKOR lenses (which cost $1,830 each) that there's no need to modify them to make them more space-friendly.
Over 700,000 photos have been taken by NASA using Nikon cameras to date, though with a total cost of over $70,000 for this latest order, they better be taking a lot more snaps to get their money's worth. [Nikon via Akihabara News]