Firefly stars Nathan Fillion and Alan Tudyk have rejoined forces on Con Man, a new Indigogo-funded project about a struggling actor living in the science fiction convention world. io9 sat down both actors to discuss the show, their careers, and the Mexican restaurant that first brought them together.
io9: Nathan, can you tell us a little bit about what drew you into acting?
Nathan Fillion: It was the only thing I found some success in that consistently interested me. I fell ass backwards into a soap opera where I used to go to my favorite Mexican restaurant and my waiter was none other than Alan Tudyk.
Really?
Fillion: Yeah, when we met up years later in 2000 to do Firefly together I thought "Oh my God, we've got Alan Tudyk! This guy is a movie star!"
G/O Media may get a commission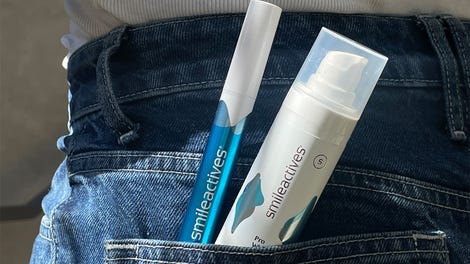 58% off
Whitening Powerhouse Pen & Gel Duo
Alan Tudyk: And when I first went back to New York, Nathan told me I had to go to this Mexican restaurant and I said "I used to wait tables there!"
Fillion: And then I remembered that this was the guy who always gave me pinto beans instead of black beans.
And you, Alan? How did you get into acting?
Tudyk: In Texas, they like competition. So they always had a way to compete against other people in speech tournaments. I would do improv, group improv, interpretation, all these different categories. I started winning trophies and that it was about for me. I was like, "Acting? Who wants to go into acting? I want a trophy!"
I wasn't going to be an actor. I was going to be a hotel manager. And then my drama teacher said "oh, you're going to be a hotel manager? Let's talk about that..." and about 20 minutes later I decided to become an actor.
So tell us about your new project, Con Man.
Tudyk: It's about my character, Wray Nerely, who was on a sci fi show called Spectrum that was canceled too soon and now, 10 years later, he's struggling in his career to get his next big break. He's a big star in the scifi world and he goes to scifi conventions every free weekend, but in his acting career he can't seem to get any traction. Meanwhile Nathan's character, Jack Moore, is rockin' it. He's a big star. And they're best friends, so Jack is a daily reminder of what Wray wishes he had.
Sounds like something Firefly fans will relate to.
Tudyk: The Indiegogo funding goal covers the first three 10-minute episodes, but the stretch goal can take us all the way to 12. Since the show-within-a-show, Spectrum, is Wray's entrance to the convention world, there has to be evidence of this show. So, by episodes 10, 11 and 12, the lost episode of Spectrum gets released and you get to see that show and its cast and you get to see me flying a spaceship and Nathan captaining...I 'm very excited.
You have a lot of Joss Whedon alums in Con Man. How have your experiences with Joss affected your working relationship with each other and the rest of the cast?
Fillion: Joss Whedon assembled a group of people that are so incredible. On every job I've ever done, I've always pulled at least one lasting friendship. From Firefly it was 25. Twenty-five birthdays, twenty-five Christmas cards. He assembled a group of people that are so fantastic, I can't do without them now. This is a chance for us to work together, but we've always been together. That's Joss. He brings people together. He brought this family together. It's an amazing experience.
Tudyk: It certainly changed my life. It introduced me to the convention world which I didn't know before Firefly. The convention world is an amazing place. People don't judge each other the way people judge each other in the world. It's remarkable. They're there to have a good time. If you want to be Wonder Woman, you are Wonder Woman. They're celebrating whatever their love is. I don't know any other place that's like that.

Fillion: Things that would get a person ostracized in real life make them revered at a convention. It's fantastic to see.
One of your other co-stars is James Gunn, who folks will know as the director of Guardians of the Galaxy. Will he be playing himself or a character?
Tudyk: A character. The one I want him to play requires a Dutch accent which he said he's not good at, but I don't care. I want to see him attempt it. I can write it phonetically.
Fillion: I did Slither with James and I also did Super, which was all cheesy over-acting. Alan and James did a [short] film called PG Porn which was all Emmy-award quality, super-sincere stuff. He's a very capable actor.
Tudyk: And an enthusiastic one.
One final question. Alan, your birthday is March 16th and Nathan yours is March 27th. Mine is March 17th. How do you account for the uncanny charm, intelligence and rugged good looks of men born in March?
Fillion: Ha! I think it has something to do with Jupiter. Actually, when we were born, the position of Uranus... which they're going to change the name of because everyone makes fun of it…
Tudyk: Especially when you say "the position of Uranus." That doesn't sound good.
Fillion: You're supposed to ask me what they're going to change it to.
Tudyk: What are they going to change it to?
Fillion: Urbutthole.
You can read more about Con Man and contribute to the project at Indiegogo.

Audio of this interview is available on the Natter Cast.