This week, a Fox News contributor claimed that the US Navy SEALs had tested the border wall prototypes near San Diego and couldn't breach them. It sounded too incredible to be true. And that's because it wasn't true.
"Special Forces operatives and members of our Navy SEAL community were asked to try and breach the wall prototypes and they could not do it," Fox News contributor Katie Pavlich said in a video clip that recently went viral.
"Interesting," an empty suit could be heard saying off camera.
"So that tells you that they're doing the job that they're supposed to do,"Pavlich continued.
But a US Naval Special Warfare Command spokesperson stationed in Coronado, California is calling bullshit. He told the San Diego Union-Tribune that, "no U.S. Navy SEALs were involved in the testing of the wall prototypes."
G/O Media may get a commission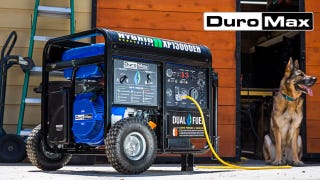 Black Friday Sale
DuroMax Generator Sale
Apparently some members of US Customs and Border Protection and some US military members did take jackhammers and saws to the barriers that are currently sitting near the US-Mexico border in recent weeks. But there's no indication that any of those people were given military grade gear, let alone that any Navy SEALs were involved.
The border wall, which President Trump has taken an "all or nothing" approach to of late, has been a contentious issue. But one suspects that if US Navy SEALs were actually asked to get through Trump's wall with the proper equipment, they wouldn't have a very hard time.
As we've pointed out before, CBP's own promotional videos that were shot using drones point to one key weakness of the entire border wall concept: The camera-drones themselves show that you can get over the wall pretty easily with unmanned aerial vehicles. And since drug smugglers have been caught using drones to go over pieces of the existing wall, that's going to be a problem if you care about "drugs pouring into our country" from Mexico.
Oops.