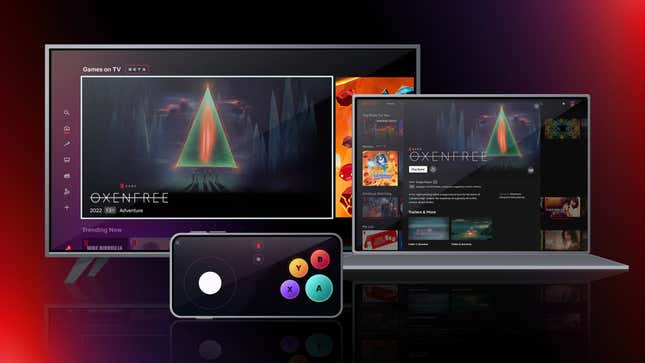 Finally, Netflix is offering something truly new for its subscriber base beyond ordering them to stop sharing passwords. The company has finally followed up on rumors and announced it's testing out the ability for users to stream some of its mobile game catalog right from the main Netflix app.
Netflix Passwords, ChatGPT Can't Detect AI, and No More CoTweets | Editor Picks
Mike Verdu, Netflix's VP of its gaming division, wrote in a Monday blog post that more users will soon have access to a sampling from the company's large and surprisingly hit-worthy mobile gaming selection from devices other than their phones. Select users in Canada and the UK will be able to access games from their TVs through the Netflix platform. Those same users should gain access to those games through the app on PCs and Macs in the coming weeks. The only games available in the beta are the adventure game Oxenfree and Molehew's Mining Adventure.
To play the game on TVs, users need to scan a QR code shown on their TV, which will access a separate Game Controller App. Netflix released this beta app last week for anyone to download, but it won't actually operate anything on the TV without the added beta functionality. Netflix games running on computers can simply use a keyboard and mouse, which is a much better way to control most of the games on offer.
Users should be able to access games through the Netflix app on Amazon Fire TV, Chromecast, LG TVs, Nvidia Shield, Roku, Samsung Smart TVs, and on Walmart ONN, though the company promised it will add more services as it goes forward.
The Game Controller App will be the only way to play Netflix games on TV, at least for now. The interface resembles the face buttons of a traditional controller (the pronounced "A" button is reminiscent of the Nintendo Gamecube controller) plus a single widget to act as a joystick. Gizmodo reached out to Netflix's gaming arm about any future plans for 3rd party controller support, but the company said it would be focusing on perfecting the app.
This could be a missed opportunity, as some games in Netflix's catalog have seen console releases and already work well on controller. Some games in Netflix's catalog are specifically built for mobile phones. Games like Wonderputt Forever and Poinpy rely on the aspect ratio and touch controls of mobile phones. Before Your Eyes makes use of a phone's cameras to monitor eye tracking. We will have to wait to see whether Netflix allows these games on larger screens, and if so, how well they play with the company's limited interface.
Netflix's gaming arm has been around since 2021, though there's been relatively little fanfare for the nascent feature. Some of the streaming company's initial foray focused on tie-in titles to Netflix's biggest shows, but starting in 2022 Netflix pivoted their model and focused on both indie and big-budget IPs known to the gaming scene. Netflix has also bought out some well-known indie developers such as Night School and Spry Fox.
Netflix's game library is extensive and includes some real bangers in the mix. There are adventure titles like Oxenfree, Oxenfree II: Lost Signals, Valiant Hearts: Coming Home, and Kentucky Route Zero. There are some ports of beloved action and strategy titles like Into the Breach and Moonlighter, but there are just as many boring card games and block-breaking titles you would typically find clouding up the Google Play Store or App Store.
The bigger problem for Netflix's gaming catalog so far has been that few users know it exists. Users need to find them by searching on their respective app store, which lets them log in using their Netflix account.
Netflix keeps getting more expensive, but the benefits of having a subscription keep getting slimmer due to the cancellation of beloved series and the removal of whole subscription tiers. If Netflix can keep up acquiring some quality indie games, it might keep customers like me from simply canceling my account when I run out of shows to watch.