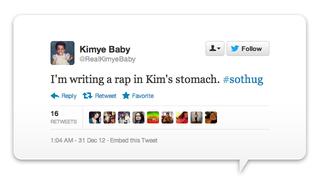 Arizona is considering a bill that could penalize the creators of parody Twitter or Facebook accounts with jail time if they have "malicious intent."
The law—proposed by Republican state Rep. Michelle Ugenti—would criminalize online impersonation. If passed, making a web page, sending a text, or sending an email in someone else's name would be a felony.
While it's not exactly a novel idea, considering California, Texas, and New York already have similar laws, it might not be a very good one. In theory, outlawing impersonation is smart because it would prevent some identity theft and online bullying, but this law might be a little half-baked. A fake account would require consent from the person being lampooned, and the who's to say what's malicious or not? I could make an account called @TinyWeenKanye and only tweet "I'm Kanye and I have a tiny ween," but I wouldn't mean any harm because in reality, I love Kanye West.
On top of those concerns, regarding similar legislation, the Electronic Frontier Foundation has pointed out that it may horn in on your First Amendment rights and clamp down on social commentary. But it is important to note that the bill provides that there must be harmful intentions, which means no end to the the truly noxious faux handles like @BindersofWomen or @FakeEliManning. Sigh. [FirstCoastNews]