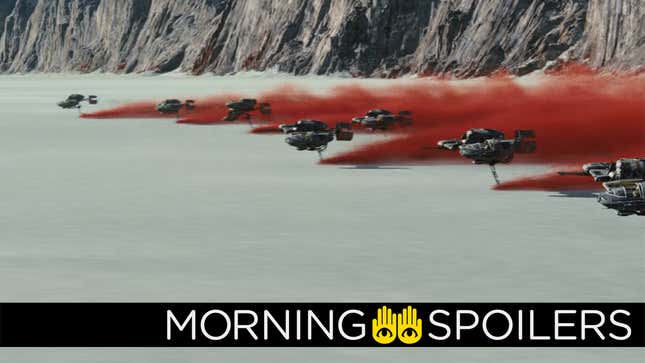 James Gunn is already on to teasing Guardians of the Galaxy Vol. 3. The first story details for Dwayne Johnson's Rampage movie are here. There's a very ridiculous amount of speculation about a villain for the Batman movie. Plus, behind the scenes on Once Upon a Time's musical episode, and a very crunch clip from Doctor Who. Behold, Spoilers!

Taylor Lorenz Talks "Extremely Online"

Star Wars: The Last Jedi
Making Star Wars has a new report about a bizarre chase sequence that takes place on the "casino planet" in the film, Canto Blight, that involves Finn, new character Rose, and... a space horse?
Yes, really. The space horse—apparently called a Falthier—becomes Finn and Rose's trusty steed after they find themselves on the run from a group of mysterious interlopers in fancy speeders and formalwear. Finn allegedly smooth talks a jockey in a nearby stable to gain access to the Falthier, so he and Rose can ride off in a chase sequence that culminates with the pair beating their predators and finding refuge in an alien coffee shop—described as a "neon Starbucks" by the site to meet a contact. Take this all with a pinch of salt, but space horses sound pretty coo..
---
Rampage
An official synopsis for the video game adaptation has been released.
Primatologist Davis Okoye (Johnson), a man who keeps people at a distance, shares an unshakable bond with George, the extraordinarily intelligent, silverback gorilla who has been in his care since birth. But a rogue genetic experiment gone awry transforms this gentle ape into a raging monster. To make matters worse, it's soon discovered there are other similarly altered alpha predators. As these newly created monsters tear across North America, destroying everything in their path, Okoye teams with a discredited genetic engineer to secure an antidote, fighting his way through an ever-changing battlefield, not only to halt a global catastrophe but to save the fearsome creature that was once his friend.
[Collider]

The Rock also recently posted this set picture of himself alongside Jason Liles, the 6'9 actor who plays George, the silverback gorilla.
---
Aquaman
Filming has officially begun on Aquaman, and at least one scene will take place on either a boat or submarine, which I'm sure is a total surprise for a movie named Aquaman.


---
Guardians of the Galaxy Vol. 3
James Gunn confirmed on Twitter that the third Guardians movie will be set after the events of both Infinity War and Avengers 4.


---
The Shape of Water
Guillermo del Toro's latest monster-laden period piece has received and R-rating from the MPAA.


---
Spawn
Todd McFarlane has updated the Spawn faithful on his progress on the long-in-gestation-and-totally-still-happening movie— the current draft is 136 pages long.
---
The Batman
War for the Planet of the Apes director Matt Reeves spoke to the Los Angeles Daily News about his take on Batman, while still bringing it around to his current project, War for the Planet of the Apes.
It's a strange thing to be involved in the two franchises which were the two that I was connected to most as a child. I just was obsessed with Batman when I was a kid. What I find so interesting about him as a character is that, as far a superhero goes, he's not superhuman, he is a person. And he is a tortured soul who is grappling with his past and trying to find a way to be in a world that has a lot that's wrong with it and trying to find a way to reconcile all of that.

That is a really powerful character, in the same way that Caesar [in Planet of the Apes] is such a powerful character.
Meanwhile, Josh Gad has tweeted a picture of the Penguin sans context, so yeah, let's start speculating wildly that he's going to play Penguin in The Batman, right?
---
Guardians of the Galaxy Vol. 2
Here's a new featurette on the film's villains: Ayesha and the Sovereign, and Taserface and the Ravagers.
---
Avengers: Infinity War
Get a tiny glimpse of the set (and confirmation that Tony Stark is gonna get beat up at least once during this movie, given Robert Downey Jr.'s bloodied face) in this Omaze campaign video offering a chance to visit the set.
---
King Arthur: Legend of the Sword
Following yesterday's bonanza of clips, everyone has nice things to say about Charlie Hunnam in this featurette for the movie.


---
The Dark Tower
Coming Soon has a couple new character posters of Idris Elba and Matthew McConaughey.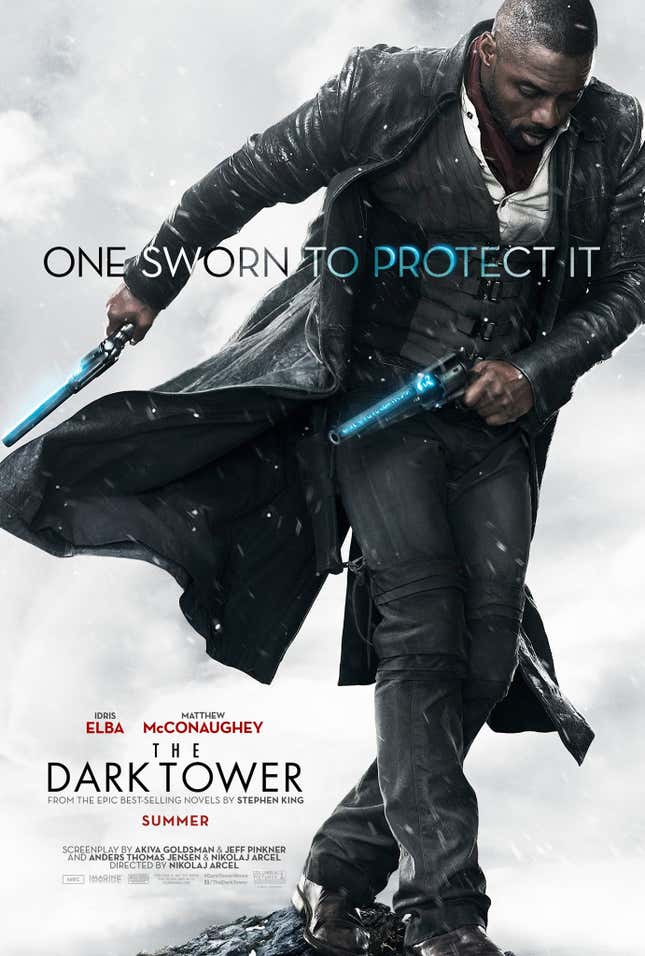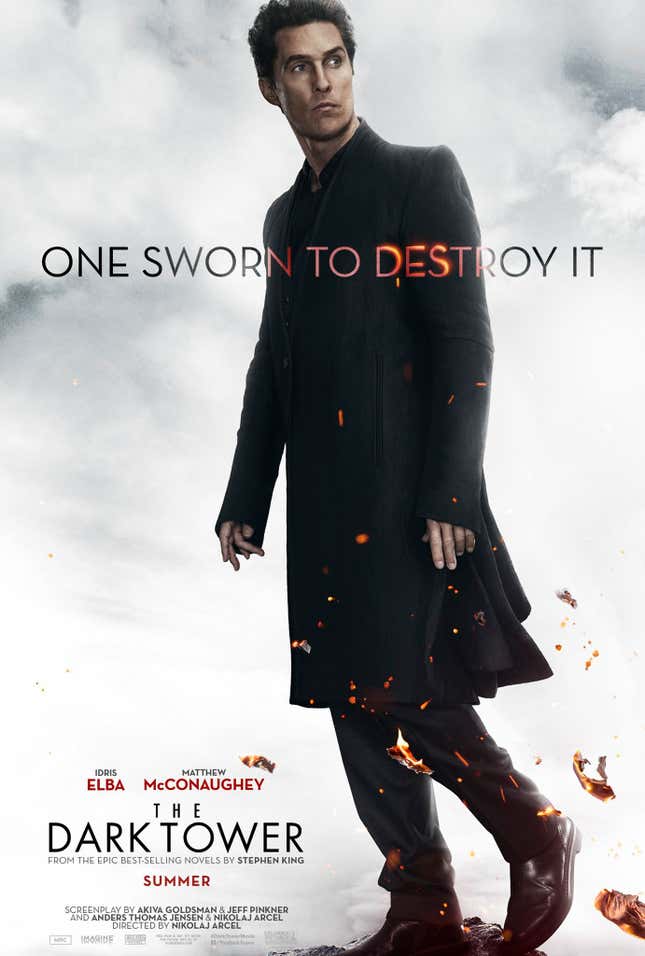 ---
Inhumans
A new poster featuring Black Bolt's costumed livery has been released.
---
Once Upon a Time
Here's some behind-the-scenes B-Roll from the upcoming musical episode of the show.
---
Doctor Who
Finally, here's a brief, totally bizarre clip from next week's episode, in which Peter Capaldi eats a crisp very loudly.


---
Additional reporting by Gordon Jackson. Banner art by Jim Cooke.