Just got our hands on the Nokia N91 aka the Music One. Little little piece of work. Like its brothers-in-GSM, it's comparatively heavy and beefy, but it's got a 2-megapixel camera and 4 lovely gigabytes on board. I'm trying to figure out how to iSync it and get some MP3s on there, but here are some preliminary shots.
Thus far we've gotten the Nokia PC Suite to work on our XP machine and we're able to browse the drive as an external disk in OSX. The iSync profile we tried isn't working quite well, but that's for another day, I suppose. If anyone has gotten it to work, drop me a line at johnb at giz. I'm sure it's just a matter of editing the plist, which I did to no avail.
G/O Media may get a commission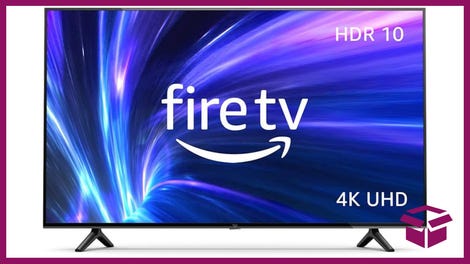 42% Off
Amazon Fire TV 50" 4K Smart TV
As we can see, the keypad is tiny. The UI is very slick, though and there's a dedicated Symbian menu key on the side is an excellent touch. It's about as big as a standard 4G iPod and comes with a stand, charger, software, and audio out cable for hooking up to your stereo.
The audio is very good when docked. It's "listenable," which was more than I was expecting. I've had some minor issues with reception and sound quality mid-call, but nothing that didn't clear up immediately. I believe the camera on this model is slightly improved because some of the pictures I took were actually better than the N90.