These are Maggie and Kyle. Look at them. They are so happy. It's not surprising. When this photo was taken, Kyle had just asked Maggie to marry him. Using Pandora no less. And she said yes. True love!
Kyle had been going out with Maggie for six years before realizing it was time to pop the question. He wanted to do it in a very special way, but he didn't know how to until "she bought a Hyundai Veloster with the Pandora app built in." He saw a perfect opportunity:
I fired off a general support request to Pandora to see if it was possible, and what an overwhelming response of help did they want to offer.
The Pandora people loved the idea, so they worked out a way to play an ad in her Pandora at the right time: just before arriving to a restaurant for his graduation dinner:
I told her I made a "Midnight City" by M83 station and I wanted her to hear some of the songs that played on it. I started counting the number of songs that played in my head as we got closer to the restaurant. Right when I got on the service road, the ad fired off. I was the most calm and collected person up until that point. My knees became shaky, my voice felt weak, and I had forgotten everything I thought I was going to say. She heard her name, and then heard it again, and she started picking up things in the car because she thought I was playing a joke on her… then she realized that this was actually happening and she just looked at me in awe with a smile on her face. When the ad ended with a pause I said, "I know this isn't the most traditional proposal, but Maggie, will you marry me?"
G/O Media may get a commission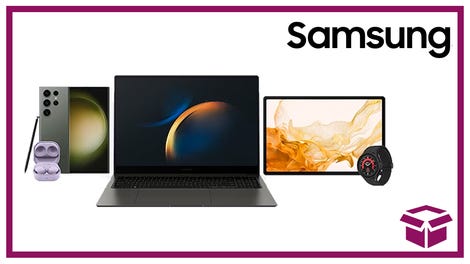 24 hour deals
Discover Samsung - Daily Deal
The answer was yes. Cue in the thousand violins playing on the radio.
Here's hoping you will be happy forever, kids!—said the guy who has been married three times and still hasn't lost hope. [gotaylored]