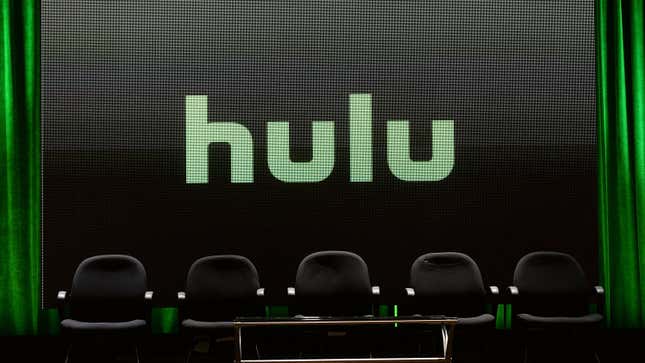 An already cheap subscription just got cheaper.

Say what you will about Hulu's cable-rivaling, ever-spiking Live TV pricing, which saw another jump in cost just last week. But Hulu's most basic plans are actually a pretty good deal for what you get. Its ad-supported tier costs $6 per month, or you can pay $12 per month to go ad-free. The plans offer a mix of live and on-demand content—and quality content, too, rather than just an alphabet soup of B-movie titles and series that were canceled after one or two seasons (cough Netflix cough).
Twitter Is Shifting Right | Future Tech
This year, though, Hulu is bringing back its Black Friday promotion that offers new and eligible returning subscribers a chance to get its ad-supported tier for $2 per month for 12 months, a deal that'll save them $48 over the course of the year. Hulu told Gizmodo by email the deal will start at 12 a.m. on Thanksgiving morning and will extend to 11:59 p.m. on Cyber Monday.
Unfortunately, the promo will not be honored if, say, you decide to switch to the ad-free version of the service during that 12-month period. A spokesperson told Gizmodo that if a user chooses to switch during the promotional cycle, Hulu "would prorate for the remainder of that billing cycle then charge the $11.99 monthly for the next cycle." Womp.
Is this the kind of year-over-year savings that's going to pay off your mortgage or send your kid to college? No, probably not. But $48 is nothing to sneeze at, particularly if you're already subscribed to more services than you reasonably should be (it me). Personally, I'll take those savings wherever I can get 'em—especially because streaming fees just keep going up, up, up. Save where you can, you know?