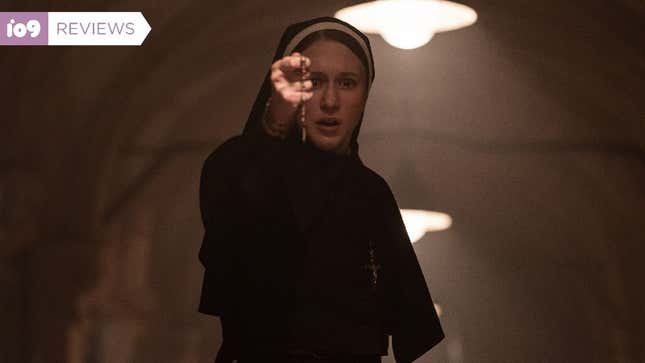 The Nun II does almost everything right. It continues the story of its predecessor in a logical but exciting way; ups the ante in terms of scares, gore, and stakes; and even adds some interesting mythology to its world. Everything is going so well until... it isn't. If this was a sports movie, you'd say it fumbles at the one-yard line. As a horror movie, you could say it drives the stake in but misses the heart.
Vizio's Latest TVs Go All Quantum
When we last left the world of The Nun, Sister Irene (Taissa Farmiga) had defeated the demon Valak (Bonnie Aarons) with the help and sacrifice of a local farmer named Maurice (Jonas Bloquet). But, in the final scene, we saw that Valak wasn't defeated. Instead, she transferred her essence to Maurice in an attempt to get out into the world. The Nun II picks that story up on both fronts. Maurice is now the handyman at an all-girls boarding school while Irene continues to live her life in the church while keeping her heroic past a secret.
Using those two threads, the screenplay by Akela Cooper (Malignant, M3gan), Ian Goldberg, and Richard Naing (Fear the Walking Dead) is basically structured as a detective story. Maurice's story goes on about how you'd expect it would if an evil demon was running amok in a place with young children. Kids in peril, kids being assholes, lots of mysterious creepy happenings, etc. Meanwhile, after a series of horrific deaths, Irene is called upon once again to hunt down and stop the entity, this time with the help of the similarly fearless and defiant Sister Debra (Storm Reid). As things get worse and worse at the school, Debra and Irene slowly piece together Valek's previous exploits, all while facing their own unique horrors along the way.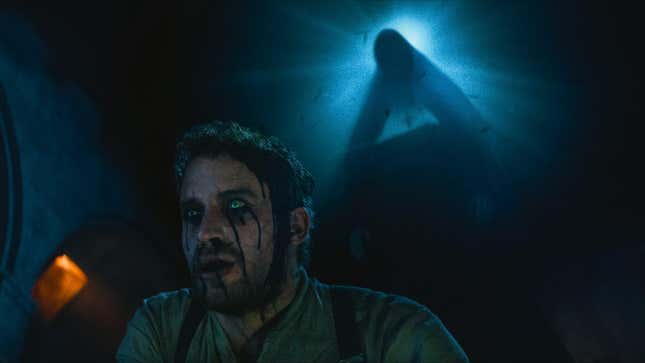 That simple, clean parallel structure does wonders for The Nun II and director Michael Chaves (no stranger to the Conjuring world, having directed The Curse of La Llorona and The Conjuring: The Devil Made Me Do It) keeps things moving. One story gives us all the scares and kills we want, the other all the intensity and mystery we want. Each bounces beautifully off the other, creating tension, drama, and fear. There are even hints of romance, thanks to a school teacher played by Anna Popplewell, whose daughter Sophie (Katelyn Rose Downey) befriends Maurice.

With all that on the table, eventually, the two stories come together and things get taken up a notch. There are new terrors, new surprises, bigger scares, and some truly gross, sick, awesome stuff. This all works even better because the film embraces and buys into Irene as an almost superheroic demon slayer. We're not quite talking Ash from Evil Dead, but that's sort of the vibe. Farmiga uses what you remember of her character from the first film and evolves it to a whole new level. Her confidence and presence as Irene elevate everyone around her so that you can't help but cheer as she faces down Valek in all manner of ways.
The problem though, as mentioned at the beginning, is that The Nun II doesn't quite know how to end. We won't get into specifics here but after a movie that was so simple and digestible narratively, the finale feels like there were six or seven different ideas, and instead of just settling on the best one, they tried to jam them all in. The result is a messy, confusing conclusion that dampens the rest of the movie. Also, the fact that other Conjuring movies beyond The Nun II have shown this story from further in the future undercuts a bit of the finality.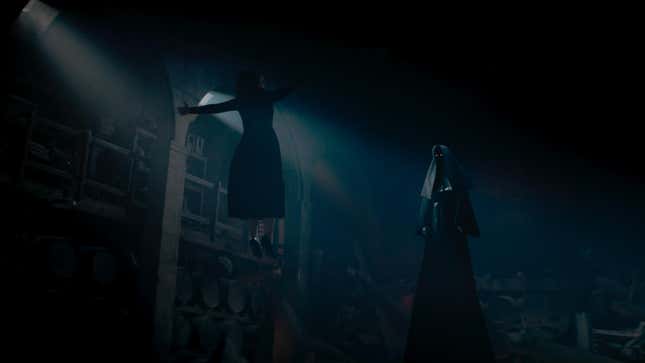 To be fair, the ending itself isn't terrible. Out of those six or seven ideas, there are a few solid ones that help make the climax feel like a suitable escalation of what's come before. Then there's also the bigger picture to think about. That The Nun II—a horror sequel and the ninth film in a larger franchise—is good at all is a minor miracle. You tend to forgive that it's got a big flaw, especially if you're a fan of this world. Plus, if you aren't, you probably aren't watching The Nun II in the first place. And so, ultimately, thanks in large part to its smart simplicity and the lead performance of Taissa Farmiga, The Nun II does its job. It scares us. It delights us. It leaves us wanting more, even if it doesn't quite stick the landing.
The Nun II is in theaters Friday.
---
Want more io9 news? Check out when to expect the latest Marvel, Star Wars, and Star Trek releases, what's next for the DC Universe on film and TV, and everything you need to know about the future of Doctor Who.