The biggest event in the tech world this week was, of course, the Apple event. But there was plenty going on outside of the Cupertino fruit stand. Here's the best stuff we wrote this week, including a visit to the place where NYC sends all of its poop.
In Greenpoint, Brooklyn, the Newtown Creek Wastewater Treatment Plant borders Newtown Creek and Long Island City to its North. The facility opened in 1967 and, since then, has undergone several renovations and expansions—including its massive silver digester eggs—to accommodate NYC's constant growth and evolution.
G/O Media may get a commission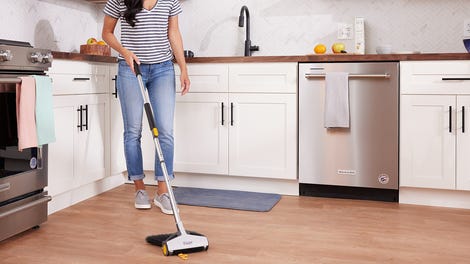 BOGO 50% Off
Flippr - BOGO 50% Off
The original Moto X, which debuted last year, was a different breed of smartphone. Rather than trying to build a beast with the best screen and the most horsepower, Motorola focused on the user experience above all else. The result was a phone that was so intelligent and comfortable to use that it almost didn't matter that it was out-gunned in a lot of ways. Well, the 2014 model is here. Not only does it retain that same sublime user experience, it comes out guns blazing.
Early this year when Google first announced Android Wear, it teased us with the Moto 360. It was by far the best-looking smartwatch we'd ever seen. Many months later it's here at last. It's the best Android Wear device yet, but with the Apple Watch looming on the horizon, it's no longer clear if that's good enough.
While You Weren't Looking, Dell Made Android Tablets Interesting Again
Apple! Apple! Apple! Yesterday, you were probably too busy gawking at Cupertino's precious new watch and giant smartphones to notice anything else that happened in the world of technology. There's no shame in that. But if you were paying attention to the 2014 Intel Developers Conference in San Francisco, you might have gotten a glimpse of a pretty intriguing tablet. Michael Dell himself walked out on stage to announce the device.
We've all been there. The train is coming into the station, and you grab your MetroCard and quickly try and swipe it at a turnstile. "Please Swipe Again." "Please Swipe Again." "Insufficient Fare."
After flying a surveillance plane over the South China Sea last February, the Philippine government saw how China was constructing islands in order to bolster its claim to the territory. (See above.) It even suspected that China might plan to build a military air strip to protect them. Looks like they were right.
Windows 8 has been limping through its existence for just about two years now, and despite the fact that its continual updates have improved it a fair bit, the numbers aren't encouraging. Microsoft knows this, and the rumors surrounding Windows 9 show that it's going to be a move back to more familiar territory. Here's what we think might be coming.
This is Apple's biggest year yet—the line may sound trite, but at least this time, it actually holds some weight. Yesterday, not only did Apple finally give in to a (way) bigger iPhone, but after years of what's seemed like years of will-they-or-won't-they, Apple has finally entered the smartwatch game. And at least from what we've seen so far, the whole bunch is pretty damn impressive.
When I say I had an Apple Watch hands on, I mean literally that and not much more; it went on my wrist, and cycled through some display modes. But after wearing it, and seeing a trained-up Apple professional put it through some delicate paces, it's clear that the Apple Watch could live up to its promises.
I hate to be the person to break this to you, but the iPhone 5S in your pocket or purse is tiny. It's so small by today's smartphone standards that Sony released a compact version of its flagship that's still a whole lot bigger than the 5S. It was time to grow up. And the iPhone 6 has done that beautifully.
Say hello to Apple's 5.5-inch powerhouse smartphone, the iPhone 6 Plus. It's the largest phone that our favorite Cupertino fruit company has ever produced, and we just got our hot little hands on its big, honking chassis. Seriously, compared to any iPhone you've ever held, this handset is HUGE! It's amazingly thin, and incredibly solid compared to the competing plastic builds from Samsung and LG, but it still barely fits into my hand at all. Just see how those fingers struggle to grasp the new iPhone in the picture above.
Another year, another new iPhone. In fact this year, there are two new Apple flagships, the 4.7-inch iPhone 6 and the 5.5-inch iPhone 6 Plus. That adds just another layer of confusion to the many configuration options you're going to have to parse. So which iPhone should you buy when pre-orders open at midnight tonight?
If you're due for an upgrade, iPhone day is a lot of fun. Look at this shiny, new thing that can be mine for just a few bucks or even totally free! But if you're not eligible for an upgrade, it's a little more Look at this thing I cannot afford! It doesn't have to be that way.