The Japanese are a funny bunch, bless their hearts.
They re hosting the 2005 World Exposition (through Sept. 25) not far from the town renamed for its biggest employer, Toyota, which has a magnificent show at the Expo featuring musician-robots and cars out of Star Wars. They offer a special robot exhibition hall offering a glimpse of a robot-enhanced life in the year 2020. They even suggest that Africa s problems of famine and overpopulation can be solved by putting a robot in every hut.
Just don t try to get a straight answer as to when, where and for how much you might pick up one of these babies.
"These were only done for the show. We don't know when we will start to sell them, but we are considering starting with robots that would help care for senior citizens," explained Junnosuke Kambe, a spokesman at the Expo's Toyota Group Pavilion.
OK, this is a legitimate priority, as care for the elderly is a major social issue in Japan, where the birth rate has declined to record lows (1.12 million in 2003) as the elderly population has grown. The ratio of those aged 65 and over, only 4.9 percent in 1950, surpassed that of children in 1997 and climbed to 19 percent in 2003, says the Japan Foreign Press Center.
Ah, but the toys in the Toyota Pavilion were cool (although the six-hour line was not). Like the i-unit a car for one that shifts from an upright position to a sportscar shape as you accelerate. Or the i-foot, a battery-operated, joystick driven egg-shaped chair with robot legs that walk up stairs.
G/O Media may get a commission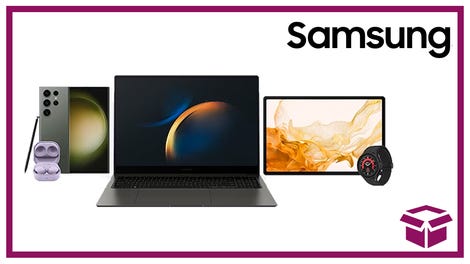 24 hour deals
Discover Samsung - Daily Deal
"Our aim is to further reduce the size and weight of the i-foot and let the passenger get on directly from their bed and move around the town," says Toyota. These vehicles were the stars of Toyota's Cirque du Soleil-style show, in which dancers got into and out of the i-units (which can operate remotely and move without their driver inside) and sped around the arena. The show's opening act featured a rapping, deejay robot and seven robots that played wind instruments; four of these robots were R2D2 clones that rolled on wheels, the other three were more the C3PO variety, although their white casings also bring storm troopers to mind.
Make no mistake about it while these guys were built solely for Toyota to strut its stuff, so to speak, they were hatched by a unit of Toyota that's developing robots for household use.
"We think that a robot made to assist human activities could take many forms," said Kazuhiko Tsuda and Masao Kawase, the chief engineers of Toyota's Robot R & D Team. "The two-legged, walking model can function in the same environment as human beings do, and the wheeled, rolling model can move quickly in small spaces Our goal is to develop partner robots that we would like to have around for assistance."
One of Japan's key emissaries in garnering international participation in the 2005 World Expo is Taizo Watanabe, an ambassador in Japan's Office of the Commissioner General.
Watanabe laments that, although the expo seems to be meeting its goal of 15 million visitors, it seems to be getting far fewer than its goal of 10 percent of visitors from foreign countries.
"We are not so happy. We would like to see more," Watanabe said. "We want people to say: 'Come to Aichi or you will be behind the times. It is the talk of the town.'"
Watanabe concedes that the Expo's theme, "Nature's Wisdom," is ironic given the country's excessive industrial push since World War II. He says the country is learning from the errors of its ways, and wants to share that learning with the rest of the world.
"Problems like contamination of the ocean can't be solved by one country's efforts," Watanabe said. "We have to have a shared mission."
Watanabe said he lived in Kenya for a few years, and noticed that many families had children only because they needed the labor, a mindset which exacerbates the country's problems of famine and overpopulation. If many of those families could be given robots, those problems could be minimized, Watanabe offered.
"It's not science fiction at all," Watanabe said. "An increasing number of robots are being experimented with for care of the elderly. As the technology develops, we'll see them in hospitals. But they can never replace human beings."
That's a clich d line from every other science fiction movie and as we know it's not true. After all, the Expo showcases robot artists, dance partners, windshield washers, and various humanoid robots, including a few who look like women. One of these robots works an information booth and answers questions in whatever language a person first uses to greet it. Another can work as a receptionist or office clerk.
As part of Japan Week festivities, the country's New Energy and Industrial Technology Development Organization (NEDO), from June 9 to 19, exhibited 65 robots under the theme "A 2020 City: Living with Robots."
The robots were manufactured by research labs at various universities, industries and corporations in cooperation with NEDO's "Project for the Practical Application of Next-Generation Robots," which has an annual budget of 1.5 billion yen ($13.7 million). The facility used to showcase the special robots was a novelty in itself. Held in the Morizo & Kiccoro (the Expo's two furry mascots; the Japanese love their kawaii, which means "the cute") Exhibition Center, the robots were presented in "lifestyle displays." A robot fish and snake swam in an outdoor pool; a robot that can hit a fastball played in the outdoor zone. The high-priced android made small talk in the bar.
"Within several years, she could work as a receptionist at a building," said Yousuke Manabe, a machinery developer for NEDO.
Like several other exhibitors, Manabe laughed apologetically when asked where someone could buy a female android today.
"Right now, she costs several hundred million yen to create," Manabe said. "The general thinking is, if it costs more than five million yen ($46,000), it cannot be commercialized."