New Wonder Woman details tease Diana's team of ragtag soldiers. Richard Kelly is interested in making a new Donnie Darko. Finn Jones teases Danny Rand's costume in Iron Fist. Plus, Talia al Ghul makes her full debut in Arrow, new footage from The Belko Experiment, and The Walking Dead's midseason return. Spoilers!

Justice League
While sharing a piece of fan art of the DCEU's take on Deathstroke, Joe Manganiello seemingly confirmed that the footage released of the character by Ben Affleck last year was in fact simply test footage rather than content for either Justice League or (somehow) the solo Batman movie:
While Manganiello is not specific enough to clarify, but many anticipated that the footage was related to Justice League as it appeared to be shot on the set of large new aircraft Batman uses for the League in the movie. This isn't exactly official confirmation, but it seems Deathstroke won't be hitting the big screen until The Batman arrives.
---
Wonder Woman
Speaking to Digital Spy, Ewan Bremner teased his role in the movie as part of Wonder Woman's ragtag squad:
I play a character who's enlisted by Wonder Woman to help save the world as part of a small, unlikely band. He's a shellshocked soldier who's been discharged from the war and is brought back to help on a secret mission.
G/O Media may get a commission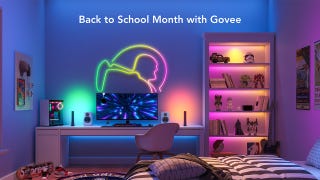 Back to School
Back to School Month with Govee Sale
Perhaps said squad is the group of soldiers with her and Steve Trevor in the photo seen in Batman v Superman and the Wonder Woman trailers?
---
Donnie Darko
Richard Kelly might be interested in directing a follow-up to the cult classic:
I think there's something much bigger and more ambitious to do in that universe. It's big and expensive and I think there's time to get to that. I want to make sure we've got the budget to do it justice and not to compromise anything. Another story in this world needs resources and we need to have that in place. I need to get my next film out of the gate and then we can go back and look at it
---
Tomb Raider
Dominic West has joined the cast as Lord Richard Croft, professional archaeologist/treasure hunter and father to Lara, whose disappearance and apparent fall from grace sparks Lara's journey to uncover ancient mysteries that would clear his name. [THR]
---
The Cult of Chucky
Grace Lynn Kung has joined the cast of the seventh film in the Child's Play series, currently filming in Winnipeg. She'll play Claire, who we know absolutely nothing about other than the fact that she is "hard-edged." [Coming Soon]
---
The Belko Experiment
This third trailer for the film contains a few bits of new footage of the office block-meets-Battle Royale horror film.
---
Iron Fist
In a new video interview with Extra, Finn Jones has confirmed that rapper RZA directed an episode of the series:
So before I started the role, I actually made a playlist on my Ipod of songs that Danny Rand would listen to. It's a lot of kind of 90's hip-hop, like De La Soul, Jurassic 5, Tribe Called Quest, Wu Tang Clan. Like that kind of music is what Danny's really jamming to. And we feature that in the series. And actually one of our episodes was directed by the RZA himself. Episode 6. So yeah there's a very close tie with hiphop and the Iron Fist series.
He also briefly dodges the question of whether or not Danny Rand's classic Iron Fist costume will actually be in the series:
I mean, who says there's going to be a costume? This is a modern... I can't say any more. Marvel are going to kill me. There may be a costume, there may not be.
Check out the full thing below.
---
Game of Thrones
Brendan Cowell has purportedly joined the show for the seventh season. He'll be playing Harrag the Ironborn—the name of a minor character in the books, but probably just taken as a familiar name for a character original to the show—across multiple episodes of the season, including the finale. [Watchers on the Wall]
---
Black Lightning
Spoiler TV reports that Fox has allegedly ordered a pilot for the adaptation of the DC comics character. It's not an official confirmation yet, and Black Lightning has yet to appear in Fox's pilot acquisitions for the season, so take this with a pinch of salt for now.
---
Arrow
Wild Dog's backstory will be revealed, according to the new synopsis for "Spectre of the Gun." Side note: "Tensions run high in the Arrow bunker" should just be a sentence tagged to the end of every Arrow synopsis.
A traumatic attack on City Hall triggers painful memories for Rene (Rick Gonzalez) about his family. Flashbacks reveal how Rene went from simple family man to a hero named Wild Dog. Meanwhile, Oliver (Stephen Amell) must deal with the perpetrator behind the attack and realizes the best way to do so is as Mayor Queen instead of the Green Arrow. Tensions run high in the Arrow bunker.
Also, Talia al Ghul makes her full debut in new pictures from "Second Chances". There's more at the link. [Screencrush]
---
Supergirl
Lena Luthor comes under suspicion in a new synopsis for the show's Valentines episode, "Luthors."
After Metallo (guest star Frederick Schmidt) breaks out of prison and frees Lillian Luthor (guest star Brenda Strong), the police blame Lena (guest star Katie McGrath) for his escape and arrest her. Despite overwhelming evidence, Kara (Melissa Benoist) refuses to believe her friend is guilty and fights to clear Lena's name. Flashbacks reveal how Lena came to be a Luthor. Meanwhile, Alex (Chyler Leigh) and Maggie (Floriana Lima) celebrate their first Valentine's Day together.

Tawnia McKiernan directed the episode written by Robert Rovner and Cindy Lichtman. (212). Original airdate 2/13/17.
---
Riverdale
Jughead campaigns to save a local eatery—because of course he does, he's Jughead—in a new synopsis for episode four, "The Last Picture Show."
When Jughead (Cole Sprouse) learns that an anonymous buyer has plans to tear down the local drive-in, he fights desperately to keep it open. Betty (Lili Reinhart) finds her friendship with Archie on the line after stumbling upon some startling information she's uncovered about Miss Grundy's (guest star Sarah Habel) past. Elsewhere, Veronica (Camila Mendes) confronts her mother Hermoine (Marisol Nichols) about a suspicious meeting she witnessed between her mother and a shady Southside Serpent. Finally, after uncovering Betty's diary, Alice (Madchen Amick) finds the perfect opportunity to destroy Archie's golden boy image. Madelaine Petsch and Luke Perry also star.
---
The Walking Dead
A new promo for the midseason premiere has been released.
---
The Defenders
Luke Cage and Jessica Jones get ready to rumble in new pictures from filming.
---
The Punisher
Jon Bernthal glumly carries a bouquet of flowers in the least exciting Punisher set pictures ever captured. Maybe he's hiding a satchel of grenades in there or something, who knows.
---


The Magicians
The Beast gets rather lyrical in a new clip from "Hotel Spa Potions."
Meanwhile, Quentin and the gang prepare to go up against the beast in a new synopsis for episode three, "Divine Elimination."
Quentin and friends prepare to face The Beast again; Julia conspires with The Beast and their new ally to lure and trap Reynard.




---
12 Monkeys
Finally, a new picture from the table-read for the season three finale confirms that it's titled "Witness."
---
Additional reporting by Gordon Jackson. Banner design by Jim Cooke.