He says he's not obsessive—we'll leave that for you to decide. But Nathan Shedroff certainly has an obsessive eye for good design, prompting him to amass an multi-year collection of stuff you would have found aboard the jet.
Is AI Moving Too Fast? | Future Tech
The enormous collection, picked from eBay offerings over between 2004 and 2007, has landed Sherdoff enough cutlery and plates, for example, to host a supersonic-themed dinner for sixteen.
But dinner is just the start of the material trove. Shedroff has what seems like nearly everything Concorde: bottle openers, coffee makers, letter openers, dishes, towels, binoculars, flasks—it goes on, and on. If you could find it on the plane or buy it in the gift shop, the odds seem likely that Sherdoff has one. Or five.
G/O Media may get a commission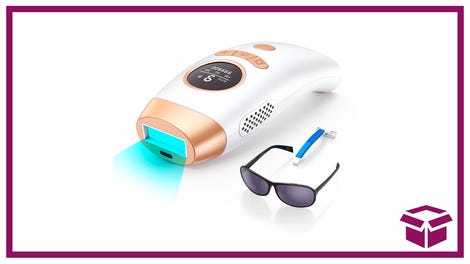 58% Off + Coupon
IPL Hair Removal Device
But Sherdoff isn't a hoarder. He justifies his aesthetic fixation thusly:
The Concorde was one of those few iconic symbols of Wonder and Accomplishment. Sure, the people who could afford the flight had to be willing to fork over some serious money for the trip, but neither the plane nor the flight was about the expense. It was about the future.
I certainly don't have the budget for such a collection (nor the room). And really, my only memory of the Concorde's existence is a faint one, as it flew above me as an 8 year old on a trip to London. But good design defies nostalgia, and we dig that Nathan is keeping it alive. Just don't tell us how much it all cost you. [Core77 via Nathan Sherdoff]