Early last year, in a colossal U-turn, the NIH's National Institute of Allergy and Infectious Diseases (NIAID) issued updated clinical guidelines advising parents to feed peanuts to infants at an early age to prevent the onset of dangerous allergies. More than a year later, parents—who for years were warned to do the exact opposite—are either unaware of the new guidelines or still wary of the recommendations, according to the latest research.
Change takes time. Particularly if that change involves a dramatic shift away from conventional thinking on a matter that involves the health of very young children.
New research published in Annals of Allergy, Asthma and Immunology shows that a discouraging number of pregnant women and mothers still aren't familiar with NIAID's updated guidelines, or they're still operating under the false impression that early peanut introduction is dangerous.
But it's hard to blame them.
Starting in 2000, parents were told to withhold peanuts from their kids until the age of three years to prevent allergies. By 2008, the American Academy of Pediatrics dropped these recommendations owing to lack of evidence, and in 2015 a groundbreaking study showed that early introduction was actually key to staving off peanut allergies. The NIAID issued new guidelines to that effect in January 2017, advising parents on the do's and don'ts of introducing peanuts at an early age. In summary, infants assessed at low-to-medium risk of allergies can eat foods with peanuts starting at the age of four to six months, and infants at high risk (determined by a skin test, and usually a condition that comes in tandem with severe eczema and/or egg allergies) should have peanuts introduced only after it's deemed safe, and under the watchful eye of an allergy specialist.
G/O Media may get a commission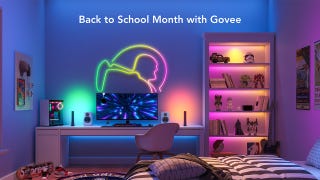 Back to School
Back to School Month with Govee Sale
Either way, the message is clear: Early introduction to peanuts is critical. But the message isn't getting out, as the new research shows.
For the new study, a team led by Matthew Greenhawt, chair of the American College of Allergy, Asthma and Immunology (ACAAI) Food Allergy Committee, surveyed 2,000 pregnant women and new moms, most of them married (80 percent) and most of them white (74 percent). Nearly 30 percent had either no awareness or only a vague conception of the new guidelines. Six in 10 women had either minimal or no concerns about their children developing food allergies of any sort—but 54 percent of respondents felt that the timing of introduction had an influence on food allergies.
Around one in every three of the women surveyed (31 percent) expressed a willingness to introduce peanuts to their infants at six months of age, with 40 percent saying they'd do it after 11 months. By contrast, 60 percent of women said they'd give their infants eggs before eight months, so peanuts are clearly still scary for some parents.
"The new guidelines are a breakthrough for preventing peanut allergy," said allergist Edmond Chan, a co-author of the paper, in a statement. "But we're still working on helping parents and pediatricians understand how important the guidelines are for preventing peanut allergies. Food allergies are scary, so it's understandable that parents would hesitate to introduce a food they might see as dangerous. In our survey, only 49 percent of the respondents were willing to allow their child to be skin tested, and just 44 percent were willing to allow an oral food challenge before a year of age to help facilitate early introduction."
In conclusion, the authors of the new study say parents should talk to their doctors about any concerns they may have about early peanut introduction. But given the mess created by inaccurate—and even dangerous—guidelines, the government and its various health bodies need to do their part as well, launching information campaigns and other measures to get the word out.
It'll take time, but we'll eventually put this sorry episode behind us.