Peak Design's Slide is a camera strap that tries to rise above the glut of cheap, frustrating tethers that come bundled with your camera. How does it do that? It uses a combination of seductive materials, quick adjustments, and a unique connection system called Anchor Links that lets you quickly switch between multiple cameras.
————————
Update #2: Peak Design is now sending fix-it kits to everyone who purchased Slide. They claim the parts in the new kits are 100% reliable. If users don't want to perform the repair themselves, they can send in their Slide to be repaired in-house. Peak Design is updating their Kickstarter page with future announcements.
Update: It appears that some Peak Design straps—not all, but some—are experiencing failure. From an update on their Kickstarter page:
For a certain number of customers (50 and counting), the metal spring in the nylon Anchor Link housing (the connector at the end of all Peak Design straps) has been backing out of position, and subsequently popping out of place and disconnecting from the Anchor. Typically, this is happening during the engagement or disengagement of an Anchor. However, as of last night, we have discovered that it can happen during the use of the strap if the spring is "falsely" in place when the Anchor is disengaged. In these cases, camera drop is a very serious risk, which is what makes this such a serious issue.
G/O Media may get a commission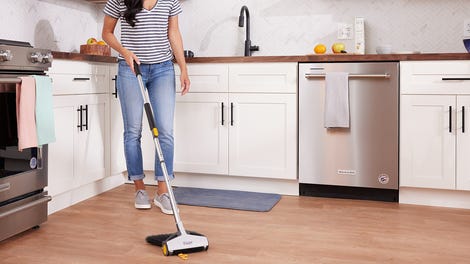 BOGO 50% Off
Flippr - BOGO 50% Off
Peak Design is currently "pausing" its order fulfillments until it can find out more. While we didn't experience this issue in our testing, it goes without saying that you should probably avoid using your Slide until the company has a fuller explanation, or better yet a potential fix. Lots more information here.
————————
Camera-obsessives are notoriously finicky about every single accessory that makes up their gear bag—even something as boring as a strap. Peak Design tries to take boring accessories and make them exciting, and they've succeeded at least twice already. They did so last year with the Capture Clip, which lets you holster your camera more like a gun. This year's Slide may be a $60 strap, but it's a pretty clever one.
Design
Peak Design created Slide out of 45mm seatbelt-style webbing for looks and strength. They hooked it up with aluminum buckles that are meant to be speedily adjusted and dependably secure. It has certainly succeeded in creating a strap that is visually appealing while maintaining those tenets of photographic stealthiness—namely, it's black, and that's a good thing. The seat-belt webbing is silky and malleable, a tactile pleasure to handle. There's also a thin layer of extra padding in the middle of the strap's length, along with rubberized strips meant to hold it in place over your shoulder.
Despite its good looks, you have to be comfortable wearing a rather wide strap. It's cushy, sure, but it also takes up a lot of room and can be unwieldy in a bag. It's no doubt for bigger cameras. For something with a smaller footprint, Peak Design has a more minimal strap called Leash which offers the same system for camera interchangeability.
Using It
Slide sets up super easy. Anchor Links—the little plastic discs that tether to your camera and attach to the strap—do a great job at solving the problem of having multiple cameras and not wanting to buy a strap for all of them. You simply loop the little nylon cords through your camera's eyelets, and snap the plastic discs into Slide's connectors. Press down on the disc and it disengages and slides out. It's an action you could do without looking, but requires enough force to reassure you that the link will never ever unfasten itself. Of course, it is scary knowing your camera is dangling by these narrow strings, but Peak Design says they can withstand 200 lbs of force as well. That should accommodate any reasonable camera payload. I would keep an eye out for fraying, though.
If you have multiple cameras, Anchor Links are a godsend. Instead of buying multiple straps, you can purchase as many Anchor Links as you want ($10 for two pairs) and just use the one single Slide strap for all your cameras. You can even attach the linking system to your own favorite strap. It's an elegant solution.
The one slight downside to Anchor Links is that you have to be OK with having these little dangly plastic things hanging off your camera when Slide is not attached. They make noise when jostled, and it can be a little bit distracting. If you are as anal about the upkeep of your gear as I am, you might be nervous that they will scratch your camera body, though Peak Design claims that will never happen.
There are two ways to connect your camera to Slide. Either you can use both your camera body's strap lugs for a traditional around-the-neck approach. Or you can use the plate that comes with Slide and mounts to the bottom of your camera like a tripod plate would. This creates one connection point on the side and one on the bottom of your cam, which is more comfortable when wearing sling-style over the shoulder. It makes sense for heavier cameras particularly.
The great thing about the metal plate is that the strap connection is a tiny eyelet on the side of the plate, so it doesn't interfere with your ability to mount your camera on a tripod with the strap still connected. This is a real annoyance of many straps that utilize a camera's tripod mount—you have to remove the strap in order to mount your camera on a tripod. Slide's plate is only compatible with tripods that use Arca type plates, but I wouldn't be surprised if Peak Design released other plate types in the future.
Once you're all set up, Slide makes for a comfy fit around your neck or shoulder. It moves freely enough thanks to the silky webbing, and folds up relatively easily for packing away quickly. I could do without the added layer of padding in the strap's center area. It's too thin to make any difference in comfort and makes the strap spring open when you try to fold it up. The strips of rubbery material to prevent slippage don't do much either. Maybe an optional padded attachment would be good, but I think the bare webbing is plenty comfortable on its own.
Adjusting length is one of the biggest headaches of cheap camera straps. You want a fast and secure way to quickly change the way your camera hangs. Slide accomplishes this with two aluminum adjusters on each side. You simply grasp the unfolding part of the buckle and give it a tug with some opposing force on the other end. The strap changes length swiftly and then—this is key—stays snugly where it is without the need for a locking mechanism. It works nicely and I never found the strap loosening over time when I didn't want it to. Another strap that I really like, the Joby SlingStrap, has a similar kind of slider, but I found that unless you use its locking mechanism, the camera's weight causes it to loosen.
If there's a problem with Slide's adjustment method, it's that there are two buckles to adjust. To unfurl the strap to it's longest length, or tighten it to its shortest, you need to use two hands and adjust two different buckles, as opposed to the single quick move some other straps provide.
Like
Slide has a great look and feel without being flashy. It is comfortable and when adjusted, stays in place tightly. The Anchor Link system is excellent for trading straps between multiple cameras.
No Like
The wide strap and metal buckles can be a bit unwieldy. Big changes in length require two separate adjustments. The Anchor Link system leaves ugly dangly plastic things hanging off your camera.
Should You Buy It
For those who care about a strap enough to spend $60 for one, Slide is definitely among the most functional and versatile ones around. If you aren't feeling the strap itself, give the Action Link system a try. It's worth it.
There are other options that will get you a damn fine strap around the same price, and this kind of thing really comes down to personal preference. BlackRapid straps are extremely popular with a whole range of models for $40 and up, but lack the style of Slide. The Joby UltraFit Sling Strap is one that we love and only costs $30. The biggest selling point of Slide is the Anchor Link system, which you won't find from any other strap maker.