The United States military temporarily grounded all of its F-35 jets, the Defense Department's priciest fighter jets, for inspection Thursday following a crash in South Carolina last month. The cause of the crash is believed to be the result of a faulty fuel tube, though inspections of all F-35 planes operated by the U.S. and its allies were scheduled to be conducted this week.

"We are actively partnering with the Pentagon's F-35 Joint Program Office, our global customers and Pratt & Whitney to support the resolution of this issue and limit disruption to the fleet," Lockheed Martin, the defense contractor that makes the F-35, said in a statement following the announcement.
The decision to ground the fighter jets follows a nonfatal crash of an F-35B near the Marine Corp Air Station Beaufort on September 28. CNN reported at the time that the pilot was able to safely eject from the aircraft. Nonetheless, a fleet-wide inspection of all F-35s overseen by a Navy aircraft mishap board was expected to be completed within the next couple of days, a Pentagon spokesperson said Thursday, and any suspect fuel tubes would be replaced.
According to CNN, there are collectively more than 240 F-35s in inventory between the Navy, Air Force, and Marines.
The grounded jets also included those of 11 international program partners, NBC News reported. Joe Dellavedova, the director of public affairs for the F-35 program, said that it would "take every measure to ensure safe operations while we deliver, sustain and modernize the F-35 for the warfighter and our defense partners."
G/O Media may get a commission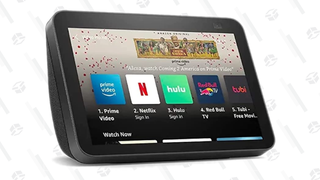 This is hardly the first incident involving the F-35. The flight program has a mile-long laundry list of deficiencies and problems that involve glitches with its radar systems, operational performance flaws, and maintenance issues. But Dellavedova told NBC News that the incident would not affect the Pentagon's decision to continue doing business with Lockheed. In fact, in spite of expensive and frequently missed deadlines, Reuters reported, Lockheed is expected to deliver 91 jets this year at a cost of $90 million a pop.
That's a hell of a lot of money for a plane that keeps fucking up. Then again, the president of the United States seems to think the thing is literally invisible, so there's that.