I want an army of MyDeskFriend Pingo robot penguins. They'll dance around alerting of Facebook updates, read news, sing songs, and give weather forecasts. We'll be bestest friends and play together until they decide to kill me. Updated: In-Action Video
While we've gotten a look at the MyDeskFriend gadgets before, Pingo is the first one to actually be released. He's bringing a lot of cuteness, an internal speaker, a microphone, some freaky LED eyes, two proximity sensors, three ground sensors, and a two-wheel drive.
G/O Media may get a commission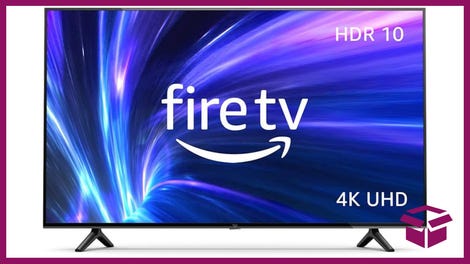 42% Off
Amazon Fire TV 50" 4K Smart TV
Basically this penguin bot is a ridiculously interactive alert system for news, email, Facebook updates, and whatever else you set him to check for. I say "ridiculously interactive," because Pingo reacts to pokes, shakes, and voice commands and can be nurtured and played with as if a pet. I'm sure all of those things would turn more annoying than useful or entertaining quickly, but the damn thing is way to freakin' cute for me to care.
At $149, Pingo is definitely more expensive than the Furbies it acts and looks like, but—never mind the features—the minimal creepiness is worth the price difference.
A FACEBOOK FRIEND YOU'LL NEVER IGNORE: MYDESKFRIEND, A TINY ROBOTIC PENGUIN, PLAYS, READS, CONNECTS TO WEB AND FACEBOOK

New York, NY ( December 7, 2009) – Pingo is one Facebook friend you'll never ignore.

Tiny and irresistibly cute, Pingo is the first official mydeskfriend, a tiny robotic penguin launching today at www.mydeskfriend.com.

An ideal holiday gift for anyone passionate about the latest in gadgets, robotic toys, and consumer electronics, the interactive playmate can zoom around desktops, express moods, respond to voice commands, sing songs, and read aloud email messages, headlines, stock quotes, and weather.

The device integrates into its owners' Facebook account via a Facebook application that allows users to give their device its own name, profile, and personality, as well as nurture its moods and manage its daily life.

Owners can set mydeskfriend up to read RSS newsfeeds from their news sites and blogs, spoil it with food and vitamins from a Facebook gift page, and lull it to sleep by gently rocking it in their hands. Pingo can follow fingers around a desktop, while sensory devices ensure that it never falls off a desk when moving around on its own.

Friends who have their own devices can play and communicate via Facebook, including poking, sending messages, and giving Facebook gifts directly from one Pingo to another.

The device can fit in the palm of hand and displays its moods, like happy and angry, by changing the color of its LED-lit eyes.

mydeskfriend retails for $149.99 and is available for purchase at www.mydeskfriend.com. Orders must be placed before December 14th in order to arrive by December 23rd via priority delivery service. The device is compatible with the following systems: Mac OS (10.5 and 10.6), Windows XP, Vista, and Windows 7.

mydeskfriend is developed by Arimaz, a Switzerland-based company specializing in creating entertainment robotic devices and Internet-connected toys.

"mydeskfriend is the first of a new generation of Internet-connected robotic devices," said Pierre Bureau, the CEO of Arimaz. "It's fun, entertaining, and helpful, keeping you connected to the Internet and Facebook even when you're not online."

About Arimaz

Arimaz SA is a company active in the fields of entertainment robotics and interactive toys. Arimaz creates, develops and market products integrating the latest technologies in domains such as electronics, wireless communication and artificial intelligence. For information, contact www.arimaz.com.
[Arimaz]