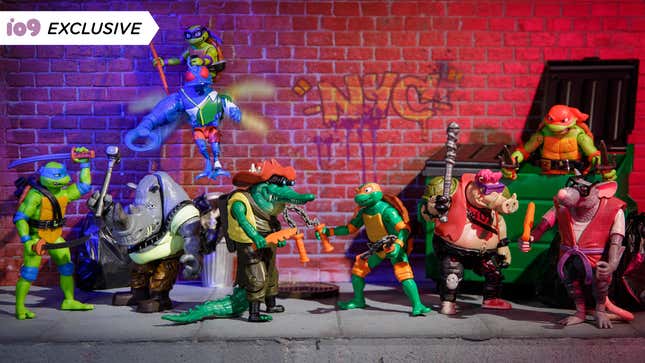 A new Teenage Mutant Ninja Turtles movie means new TMNT merch—and thanks to the gorgeous animated stylings of Mutant Mayhem, Playmates' accompanying toys look as slick and as stylish as their movie counterparts. As this fresh take on the turtle brothers gets ready for the spotlight, we've got a look at some of the mutant menaces they'll be facing.
io9 has got your exclusive first look at five new figures from Playmates' upcoming action figure series for Teenage Mutant Ninja Turtles: Mutant Mayhem. Although you can see the new versions of Leo, Donnie, Mikey, and Raph hanging out above, any good hero in a half-shell needs both a mentor to guide them and some bad guys to put those ninja skills to the test. And befitting the title, Mutant Mayhem will give the boys plenty of baddies to get manic with!
Click through to see the first look at figures for Master Splinter (voiced by the legendary Jackie Chan), newly created villain Superfly (Ice Cube), and Mutant Mayhem's riff on the classic TMNT villains Bebop (Mutant Mayhem producer Seth Rogan), Rocksteady (John Cena), and Leatherhead (Rose Byrne). Each figure—villain and hero alike—will come with accessories of their primary weapons, as well as a separate rack of extra accessories and gear to go into battle with. Standing at roughly 4-5" tall, Mutant Mayhem figures will cost $10 each and are set to go on sale everywhere on June 25, ahead of the movie's release August 2.