This past weekend, Justin Timberlake totally failed to rock our dystopian future in In Time. But the man who brought sexy back is by no means the weakest singer-turned-actor ever to grace science fiction and fantasy — not by any means. The history of SF and fantasy is littered with tons of musician roles and cameos, with varying levels of quality.
So we've ranked all of the musician roles in science fiction and fantasy, on a scale from David Bowie to Mick Jagger. Where does your favorite singer fall?
Note: We didn't include rappers in this list, because we already created the definitive top 10 list of rappers in science fiction.
G/O Media may get a commission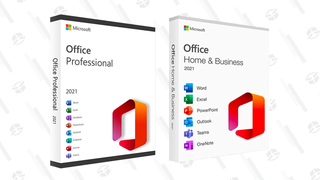 89% off
Microsoft Office Professional 2021 Lifetime License
David Bowie
Won a Saturn Award for his role as Thomas Jerome Newton in The Man Who Fell to Earth, playing an alien who has come to Earth to collect water for the people of his home planet, who are dying in a severe drought. And he rocked the Labyrinth. Bowie is the standard by which all others must be judged. (Oh, and as various commenters have pointed out, he's also quite decent as Tesla in The Prestige.)
Tom Waits
Waits has actually won an Academy Award — for his soundtrack for Francis Ford Coppola's musical One From the Heart. And he's actually a pretty decent actor, especially considering his roots as a beatnik-esque singer. He puts in a decent performance as the Engineer in The Book of Eli, bartering with Eli over charging Eli's battery — see it at left. And also, as Spaceknight mentions, Waits also plays Renfield in Coppola's Dracula. Plus he's the specialist in non-lethal weapons in Mystery Men, as someone pointed out, and he's the Devil in The Imaginarium of Doctor Parnassus.
Billie Piper
Before she was Rose Tyler on Doctor Who, she was a teenybopper pop star in the 1990s — the youngest artist ever to debut at #1 in the UK Singles Chart, thanks to 1998's "Because We Want To." And she went on to be one of the most beloved companions on Who, thanks to her ability to bring that same level of teenage angst and excitement to traveling through time and space.
Chris Martin
The lead vocalist for Coldplay, a band which has received 20 Grammy nominations and seven wins, Martin is married to Gwyneth Paltrow. In Shaun of the Dead, he appears for one split second as a zombie in a room packed with them.
You can see him in this clip at 0:12. He's the zombie standing by the phone, to the right of the screen. It's a pretty awesome cameo, considering that he's just randomly there. Might be just another day in the life for a guy who'd name his daughter Apple.
Kris Kristofferson
Back in the day, he was known for hits like "Sunday Mornin' Comin' Down" and "Me and Bobby McGee," and others. And then he co-starred in Blade, Blade II, and Blade: Trinity as Blade's mentor Abraham Whistler. He definitely seems to hold his own against the acting juggernaut of Wesley Snipes. And as Mathmos points out, Kristofferson also appears in Milennium, based on a John Varley novel.
Shirley Manson
She started out seeming a bit unsure of herself as a T-1001 in Terminator: The Sarah Connor Chronicles, but then as she got more scenes opposite Richard T. Jones, she blossomed and became a strong part of the already-strong ensemble cast. Plus she had more inventive cool ways of killing people than anyone else. And you never quite knew what she was thinking. Thanks for the heads up, Leicester!
Tina Turner
She managed to replace "What's Love Got to Do With It" with "Who runs Bartertown" as the most famous question she's associated with, and for that she deserves a reasonably high ranking on this list. She's definitely campy, not to mention vampy, but she does bring a certain dignity to the struggle for control of pigshit. And she's highly quotable. She's definitely not the worst thing in Mad Max: Beyond Thunderdome, by any stretch of the imagination.
Deborah Harry
The Blondie singer appears in Tales from the Darkside — but more importantly, she's the sadomasochistic radio psychologist Nicki in David Cronenberg's Videodrome, and she acquits herself quite well. She's sexy and uptight and then insane and kind of awesome. And as tethriel notes, she was also in the animated film Rock and Rule.
Meat Loaf
Arguably, Mr. Loaf actually got his start playing Eddie in Rocky Horror Picture Show, although he already had a lot of buzz as a singer at that point. In any case, his performance (see clip) is etched on people's minds forever. But that's not all — Meat Loaf also appears in Uwe Boll's first Bloodrayne movie, playing a Sadean libertine vampire, and it's one of the most amazing performances in an Uwe Boll movie.
Jane Wiedlin
The Go-Gos singer — and creator of the comic book Lady Robotika — also appears in Bill and Ted's Excellent Adventure, playing Joan of Arc. And she rocks out at the mall. We don't know how we missed this — she was on our list originally when we scribbled it on cocktail napkins over the weekend. Thanks to hfree for the reminder! (Also in Bill and Ted: Clarence Clemons.)
Isaac Hayes
We love Chef on South Park — especially when he's coping with a zombie outbreak. But the performer of the "Shaft" theme song and co-writer of "Soul Man" also has a slew of great science fiction roles behind him — including the Duke of New York in Escape from New York, as paultriddel points out. He's a guard in Escape from L.A., and he had a role in the Syfy's Anonymous Rex. But Stargate fans will remember him best as Tolok in Stargate SG-1 as well as the silky narrator of "Teal'c P.I."
Cher
From her earliest appearance in a 1967 episode of The Man From U.N.C.L.E. to her camptastic performance in The Witches of Eastwick, Cher has always been willing to go the extra mile or twenty to bring conviction to writhing on a bed of snakes or being seduced by Jack Nicholson.
Beyonce Knowles
I'm not sure what "good acting" in an Austin Powers movie would consist of. Probably just not showing up Mike Myers too much. In any case, Beyonce plays the blaxploitation spoof Cleopatra Jones in Austin Powers in Goldmember, and she looks pretty and doesn't choke on her own vomit or anything.
Aaliyah
The "Age Ain't Nothing but a Number" singer was supposed to appear in the Matrix sequels, but she died in a plane crash before she could film her role. She did, however, have a memorable turn in the camptastic Queen of the Damned, wearing an epic headdress and swaggering it up.
Nona Gaye
Instead of Aaliyah, the daughter of Marvin Gaye (and singer of the soul gem "The Things We All Do For Love") played Zee, the partner of Harold Perrineau's Link, and she was... okay. Kind of wooden, but it seemed like they put something in the water in Zion that made everybody kind of bland.
Katy Perry
She was perfectly cast as Smurfette in the recent Smurfs movie, and as painful an experience as that was overall, she didn't stand out as being especially worthy of Smurfdemnation.
Grace Jones
We remember the "Slave to the Rhythm" singer mostly for two roles — her insane turn in the James Bond film A View to a Kill, in which she was part of a plot to cause earthquakes in Silicon Valley. And then Conan the Destroyer, in which she holds her own against Arnie himself. But she also had a memorable appearance on the TV version of Beastmaster. Check it out!
Debbie Gibson
You have to give her credit for the bit in Mega-Shark Vs. Giant Octopus, where she has a sex dream that teaches her how to defeat giant monsters. The 1980s pop princess plays a scientist, and doesn't completely throw us out of the Syfy movie, so that's a win. We guess.
Tiffany
The other 1980s pop star who's gone into Syfy movies recently, Tiffany has to have a sexy pie fight with Gibson before they eventually team up to defeat the Mega Python and the Gatoroid. And, you know, she gives it her all.
Sting
Actually, he probably deserves a higher place on this list for his amazeballs performance in Brimstone & Treacle, in which he actually does carry a lot of menace and intensity. But then there's the Frankenstein movie, in which... sigh. And then in Dune, Sting plays Feyd-Rautha, Paul's rival and fellow Bene Gesserit trainee — and this montage of his campiest scenes just has to be watched and appreciated for its wondrousness.
Iggy Pop
The "Lust for Life" singer appears alongside Ice-T in Tank Girl — they both play Rippers, and Iggy's character is named Rat Face. He's pretty entertaining in the scenes he's in. Oh, and somehow we forgot that Iggy was a Vorta on Star Trek: Deep Space Nine, which is pretty amazing — see the clip. (Thanks Haenf!)
Rick Springfield
Springfield plays Zac Adama, the younger son of Commander Adama, who dies while on recon patrol when Cylons destroy his Viper in the original Battlestar Galactica pilot. Starbuck is originally selected for the patrol (alongside Adama's oldest, Apollo), but Zac convinced him to let him go instead. Yes, the genius behind "Jessie's Girl" probably has more nerd cred than you do.
Michelle Philips
This former member of The Mamas & The Papas played Jenice Manheim, Picard's love interest in "We'll Always Have Paris," on Star Trek: The Next Generation. As we mentioned in our roundup of weird Star Trek: TNG trivia, the show also featured Mick Fleetwood of Fleetwood Mac under heavy makeup as an unnamed Antedean dignitary.
Fergie
The Black Eyed Peas singer appears in Grindhouse Presents: Planet Terror as Tammy, the former lover of Dakota, the unhappily married wife of the town doctor, Dr. William Block. She's killed by zombies on her way back to see Dakota. Probably for the best that Fergie doesn't actually get too many lines in the film, and mostly just looks hot before being slaughtered by biochemical zombies.
Gene Simmons
Perhaps the owner of the most famous tongue in the world, Simmons plays Dr. Luther, a psycho genius who has been programming robots to kill in Runaway. Tom Selleck plays a police officer of the future, whose specialty is dealing with malfunctioning robots, or, "runaways." Luther is eventually killed by his own deadly robots, who inject acid into his body in multiple places. (See clip.) There's also a movie out there where Simmons plays an Arab (!) terrorist in the future, with amazing scenery-chewing.
The Spice Girls
They've got girl power, and they met aliens in their big break-out movie Spice World — see the clip. They collectively won the Razzie award for Worst Actress in 1998. And despite being a commercial success, the movie was pretty universally panned by critics.
Justin Timberlake
In Time is a pretty fun movie in general, and as long as Timberlake isn't required to do much, you know, acting, he's basically okay. Still, here's how we summed it up in our review: "You cannot take Justin Timberlake seriously in this movie, and the harder he tries to emote, the more he looks like a Shar Pei that feels bad about not being housebroken." Also, as zenneth points out, he was in the bizarre Southland Tales.
Tom Petty
In The Postman, Petty is the unnamed leader of a post-apocalyptic enclave called Bridge City, and he's pretty unwatchable — just check out the clip. I like the way he just keeps grinning, like "Hey, I'm in a Kevin Costner movie!" The leader is never given a name, but he is supposedly a former celebrity (from before the war/apocalypse).
Kevin Costner: "I know you…you're famous." Tom Petty: "I was once. Sort of. Not anymore."
Mick Jagger
Freejack is 17% fresh at Rotten Tomatoes for a reason, and Jagger is a big part of it. He plays Victor Vacendak, the "hardened but honorable" mercenary from the future who has come to claim race-car driver Alex Furlong's body for the mind of a dead billionaire. And most of the movie consists of Jagger chasing Emilio Estevez around the dystopian world of 2009. Just watch this clip of Jagger saying, "Get the meat." He'll bring the cheese.