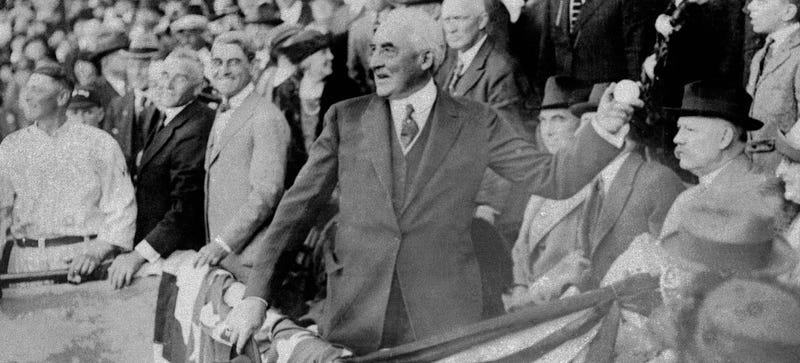 President Warren Harding was one of the least popular presidents of all time. He was corrupt, inept, and just a generally poor leader during his short tenure from 1921 until 1923. He couldn't even come up with an interesting nickname for his penis. He called it Jerry.
When Harding wrote to his mistress of about 15 years, Carrie Fulton Phillips, he would write his letters in code. But writing them in code made them no less sexually explicit.
From the July 7, 2014 New York Times:

The correspondence is intimate and frank — and perhaps the most sexually explicit ever by an American president. Even in the age of Anthony Weiner sexts and John Edwards revelations, it still has the power to astonish. In 106 letters, many written on official Senate stationery, Harding alternates between Victorian declarations of love and unabashedly carnal descriptions. (While Phillips's notes and some drafts of her letters have been preserved, her actual replies were not.) The president often wrote in code, in case the letters were discovered, referring to his penis as Jerry and devising nicknames, like Mrs. Pouterson, for Phillips.
Harding died in office and would be remembered as a terrible commander in chief. Which is perhaps why his family was not terribly excited when, after Phillips' death in 1960, an author wanted to publish the love letters sent from Harding to his mistress.
After going to court, Harding's family successfully had the content of the letters withheld from the 1968 book The Shadow of Blooming Grove: Warren G. Harding In His Times by Francis Russell. But the court ruled that they would be housed by the Library of Congress and made public by the second decade of the 21st century. Guess what decade it is...
You can read more about the letters, as well as the successful blackmailing of a sitting U.S. President (the Republican National Committee and Harding himself paid Phillips off so that she wouldn't release the letters when he was alive) over at the New York Times.
The letters will be released by the Library of Congress on July 29, 2014.
Factually is Gizmodo's new blog of fun facts, interesting photos, and weird trivia. Join us on Twitter and Facebook.
---
Image via the Associated Press: President Warren Harding, throwing out the 1st ball at the opening game of the American League season, Senators vs. Yankees, in Washington, April 13, 1922.