Sometimes, space offers a striking vantage for visualizing the scale of a crisis. Satellite photos of Puerto Rico at night before and after Hurricane Maria roared through show an island stripped of its electricity—and they remind us just how long it's going to take the battered US territory to recover.
Hurricane Maria struck Puerto Rico last Wednesday as a powerful Category 4 storm, but the heartbreaking scale of the crisis is only now becoming apparent, as the first wave of relief workers trickle on to the island. Many of Puerto Rico's 3.3 million residents lost their homes, and are running out of food and clean drinking water. Up to 80 percent of the island's crops have been destroyed, and hospitals are overflowing. Panic is spreading across towns that have had no contact with the outside world and among family members who have had no communication with their loved ones.
Puerto Rico's entire electric grid was also knocked out by the storm, and as the image above—which was captured by NOAA's Suomi NPP satellite early yesterday morning—shows, many Puerto Ricans remain completely in the dark. Experts say it could be months before electricity is fully restored.
For context, here's a nighttime look at Puerto Rico and the nearby US Virgin Islands on July 24th:
G/O Media may get a commission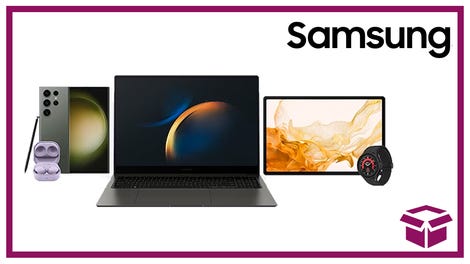 24 hour deals
Discover Samsung - Daily Deal
"This is clearly a critical disaster in Puerto Rico," Governor Ricardo Rosselló told the Washington Post on Sunday. "It can't be minimized and we can't start overlooking us now that the storm passed, because the danger lurks."

Rosselló told CNN more resources are needed for the island, which is on the brink of a "humanitarian crisis." In an address to Congress on Monday, he stressed that Puerto Rican citizens are American citizens and deserve the same treatment as folks in Texas and Florida, who are still reeling from the impacts of Hurricanes Harvey and Irma. In wake of Harvey, Congress allocated a $15.3 billion disaster relief package to the Federal Emergency Management Agency. For now, FEMA is drawing from that same pot of money to bring aid to Puerto Rico, reports the New York Times.
In a visit to the island on Monday, FEMA director Brock Long assured Puerto Ricans that relief was on its way, and that the feds had 10,000 people working "around the clock" to help. Ships and planes have begun to arrive with food, water and medicine, as well as military and law enforcement personnel, the Times reports.
Still, Puerto Rico's leadership is clearly concerned that the US response won't be enough, and that the island's long, potentially multi-year struggle to rebuild will become an afterthought. "We don't have a voice in the Senate unless it's Marco Rubio," Jenniffer Gonzalez-Colon, Puerto Rico's lone, non-voting member of the House of Representatives, said yesterday, according to Politico.
On Monday, five days after the storm hit, President Donald Trump tweeted about Puerto Rico's plight for the first time, but rather than offering consolation or promising more aid, he seemed to blame the islanders themselves.