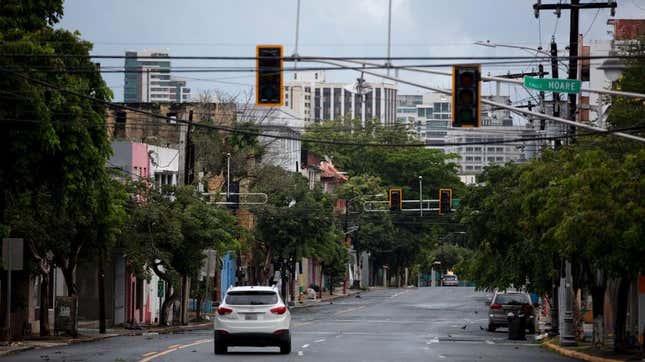 The Caribbean archipelago of Puerto Rico is no stranger to hot weather, but record temperatures have worried meteorologists this week. The region is being battered by a heat wave and dust from the Saharan Desert which has created a dangerous combo for people stepping out of their homes.
Lower Drought Conditions In California | Extreme Earth
This Monday the heat index throughout the island soared above 100 degrees Fahrenheit (37 degrees Celsius). The next day, most of the northern part of Puerto Rico and the nearby island of Culebra again experienced heat indices of more than 100 degrees Fahrenheit, according to the National Weather Service (NWS). Today is another dangerously hot day for the archipelago, and the elevated temperatures are likely to persist for several more days. "Excessive heat conditions will persist through the end of the week and the weekend," the San Juan National Weather Service (NWS) station tweeted this morning.
The northern area of Puerto Rico and the nearby island of Culebra are experiencing the worst of the heat. Those areas are expected to see "prolonged periods of dangerously hot temperatures and high humidity possible with heat indices ranging from 108 to 111 degrees Fahrenheit," according to an NWS alert.
Florida-based meteorologist and climate specialist Jeff Berardelli posted a series of Tweets this Monday, explaining why Puerto Ricans are having to sweat it out. He wrote that a pocket of dust from the Saharan desert is lingering over the Caribbean this week. The dry air and dust have stopped clouds from forming, which has helped raise temperatures. That was combined with a heat dome that formed in the region too, which has been boosted by the warming Atlantic Ocean. "Yes the warm water is partially due to climate change, so it is a factor," Berardelli tweeted.
Puerto Rico is supposed to be warm throughout most of the year. It's in the Caribbean and temperatures rarely dip below 70 degrees Fahrenheit (21 degrees Celsius). But above-average temperatures are dangerous for anyone, even communities that are accustomed to warm weather.
And a high heat index, which is a combination of the actual temperature and the humidity outside, is even more dangerous. It's often used to describe how the heat feels versus the number on an ambient air thermometer. A combination of high heat and high humidity makes it unbearable for people to be outside. The heat makes us sweat, but the high humidity means the sweat won't easily evaporate and cool off our bodies, which makes a high heat index dangerous.
The extreme temperatures this week have also come with outages. Yesterday afternoon, more than 100,000 customers lost power in Puerto Rico, El Vocero reported. Though power has been restored for many residents, about 10,300 customers remain without power this morning, according to PowerOutage.us.
Want more climate and environment stories? Check out Earther's guides to decarbonizing your home, divesting from fossil fuels, packing a disaster go bag, and overcoming climate dread. And don't miss our coverage of the latest IPCC climate report, the future of carbon dioxide removal, and the un-greenwashed facts on bioplastics and plastic recycling.