After renders and box shots, FLO TV is officially airing its Personal TV device (or PTV). The 3.5-inch player broadcasts live terrestrial digital TV. But $250 along with a $9 monthly subscription fee for just a handheld TV?!
The hardware, made by HTC, is pretty run-of-the-mill. The 4.4 x 3.0 x 5.0 inch, 5 ounce device didn't feel too heavy in my hand. And I quite liked channel surfing with a finger on the capacitive touchscreen. My favorite part of the device? It has a kickstand on its back so you can prop it up on a table (none of this having to hang it with a case stuff).
The television service on the Qualcomm FLO TV Personal Television runs smoothly (it is the same thing as Verizon's VCAST, etc). And you get a ton of channels, including ESPN, Comedy Central, MTV, NBC, and Nickelodeon. What you cannot do with the PTV is watch live programming on a plane or subway. You also cannot record any of your shows, even though it does have 4GB of on board storage for your music or movies. So yeah, it is a bit of a dead gadget when there is no service around. And while it has a 3.5mm headphone jack, there is no video out. Balls! No chance of hooking this baby up to your monitor or HDTV.
G/O Media may get a commission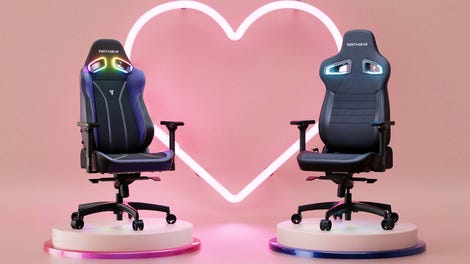 Up to $150 off
Vertagear Gaming Chairs
The device itself has a suggested retail price of $250, but the buck doesn't stop there. You also have to pay the monthly $9 subscription fee for the television service. I guess I see it being worthwhile for those that watch so much FLO TV on smaller screened cell phones. But it seems like quite a load of money to drop on a device that just does TV, especially when you can snag a phone for the same price or lower (like the new HTC Imagio which actually has the FLO TV service). Though, I do see it being useful for keeping the kids quiet during a meal and, oddly, for watching TV on the John (or job). [FLO TV]