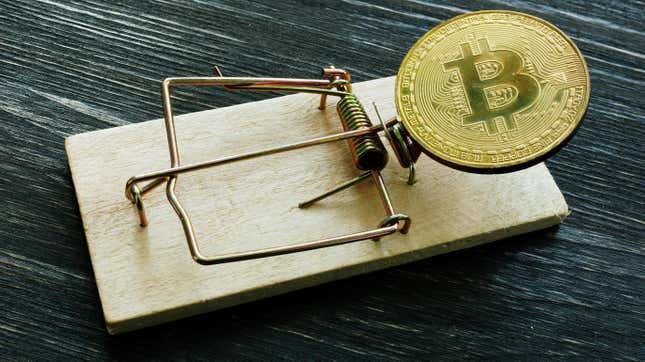 If you were seeking any more reasons to be skeptical of the crypto market, here you go: Nearly a quarter of new coins minted on the blockchain that attained any value in 2022 fit the on-chain characteristics of a pump-and-dump scheme, according to a report chapter from blockchain tracking and analysis group, Chainalysis, released Thursday.
The Biggest Crypto Heists of 2022…So Far
The firm looked at all of the 1.1+ million new coins launched on blockchains in 2022. Most of them, unsurprisingly, never attained any meaningful hold in the market—fizzling out with just a handful of trades to show for the effort. But, of the 40,521 tokens that did manage to take off, 24% displayed hallmark characteristics of being outright scams, according to Chainalysis's assessment. That means that, within their first week of launch, those coins experienced a 90% price drop.
Pump-and-dump scams happen when the holders of most of an asset's value (in this case, the crypto coin creators) hype their holdings to others, triggering buy-ups and artificial inflation of value. Then, once the asset has skyrocketed on the marketplace, the scammers quickly offload what they have in exchange for a more stable token or cold, hard, fiat cash. Victims are left with a valueless shell of the investment they once bought into, hook line, and sinker.
"Unfortunately, pump and dump schemes have also become common in the crypto world. This is largely due to the relative ease with which bad actors can launch a new token and establish an artificially high price and market capitalization for it 'on paper' by seeding the initial trading volume and controlling the circulating supply," Chainalysis wrote. "Additionally, teams launching new projects and tokens can remain anonymous, which makes it possible for serial offenders to carry out multiple pump and dump schemes."

But look, you may have heard that the crypto market has been especially volatile over the past 12 months or so. Maybe it's possible that the creators of these 9,902 tokens weren't intentionally seeking to self-enrich at the expense and harm of others. Maybe these coins just crashed on their own.
Yet that seems a less likely explanation when you consider that Chainalysis compared their data with evaluations from Token Sniffer, another crypto transparency service, and found that all of the coins they backchecked scored a zero for trustworthiness. Plus, many of them contained openly malicious code that prevented new buyers from selling off their tokens—effectively trapping marks with their shoddy investment.
In total, victims lost some $4.6 billion buying into these scams, while the perpetrators made tens of millions of dollars in profit. To add insult to injury, individual scammers enacted the same strategy over and over again. 445 individuals or groups made up about a quarter of all the suspected scams and a single token creator was personally responsible for the launch of 264 suspected pump-and-dump coins in 2022, according to Chainalysis.
But crypto isn't limiting itself to just one type of scam. All manner of crypto crime—from money laundering to stolen funds to pig butchering and other romance schemes—continued to blossom, largely unabated in 2022, according to the full assessment released by Chainalysis so far.
Even excluding some of the most notable cryptocurrency crashes, exchange failures, and alleged crimes from the past year (e.g. the collapses of FTX and Celsius)—2022 was still a record time period for crypto criminality. Illicit crypto activity hit an all-time high of $20.6 billion in volume, according to an earlier portion of Chainalysis's annual cryptocurrency crime report released in January. That number is up more than $2 billion from 2021 and $12 billion from the year before that, even as the value of the crypto market has plummeted in the same time period.
That said, pump and dump scams are particularly easy to pull off and particularly harmful to crypto's reputation, Chainalysis noted. "Pump and dump schemes are uniquely destructive in the cryptocurrency world due to the ease with which new tokens can be launched and the social media-driven nature of crypto investment news and discussion," the firm's report stated. "Many believe that cryptocurrency is approaching an inflection point that could spark mass adoption, but that could be difficult if the general public perceives cryptocurrency as rife with pump and dump schemes designed to prey on newcomers," the assessment added.
Maybe mass adoption of an unregulated financial market so prone to scams, skeevey founders employing bad business practices, and widescale ponzi schemes (never mind that some have called the blockchain itself one big pyramid scheme) isn't such a great idea after all.