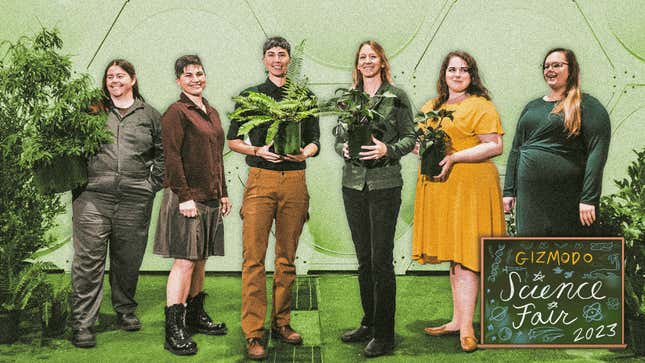 Human composting company Recompose is a winner of the 2023 Gizmodo Science Fair for creating a greener death care option.

Misha Collins on What Made Supernatural Successful
The Question
Can you design a legal, respectful, and efficient way to bury deceased loved ones, without all the environmental harms of current burial methods?
The Results
Recompose began as a graduate school thesis from founder Katrina Spade and turned into a full-scale funeral home that transforms human bodies into compost, allowing loved ones' remains to be used in gardens, forests, or other green spaces. From the seed of an idea, the company has designed an effective and respectful way to compost bodies, as well as helped to make the technique legal in several states.
Why Recompose Did It
"The question was: how do we take this process that will work for humans, because it works for livestock, and make it appropriate for humans, given the way we approach human death and ritual ceremony?" said Katrina Spade, the founder and CEO of Recompose.
"In the world of industrial composting, a number of people have said they're impressed that we did scale this down and get it to work well," said Lynne Carpenter-Boggs, a professor of sustainable and organic agriculture at Washington State University and an advisor to Recompose.
"With traditional funeral homes, you plan a funeral within a week or two, and it's done," said Morgan Yarborough, the company's service manager. "With us, we have that relationship with clients for a couple of months. They can see the vessel and the plant materials we use, but understanding that your person is in that vessel for over a month—that is really different for most people."
Why Human Composting Is a Winner
Traditional burial methods harm the environment: embalming buries gallons of toxic fluids underground with each body, while cremation causes about 360,000 metric tons of carbon dioxide each year. Composting methods for livestock carcasses were perfected in the past few decades, but composting a human body—especially in an urban environment without available farmland, and using composting materials and processes respectful to human experiences with death—hadn't yet been addressed.
At the beginning of Recompose's existence, composting as an after-death option was also illegal, thanks to restrictive laws on burial options in most states. In the decade since Spade wrote her graduate thesis, Recompose perfected a technique, called natural organic reduction, that breaks down human bodies in a contained and respectful way, while developing a suite of complementary funeral home services alongside that process. The company also worked with lawmakers in Washington to legalize human composting as an option in 2019. As of 2023, the practice is now also legal in California, Colorado, New York, Oregon, and Vermont.

What's Next
Recompose will continue running its full-service facility in Seattle while looking to open more funeral homes, including one in Denver. The company is also looking to license its technology to new partners, to be able to provide the services to more people in states where the process is now legal.
The Team
Katrina Spade, founder and CEO of Recompose; Lynne Carpenter-Boggs, a professor at the Department of Crop and Soil Sciences at Washington State University; and Morgan Yarborough, services manager at Recompose.
See the full list of Gizmodo Science Fair winners
Read more: Human Composting Is Changing the Landscape of Death Care—and It May Soon Be Legal Near You