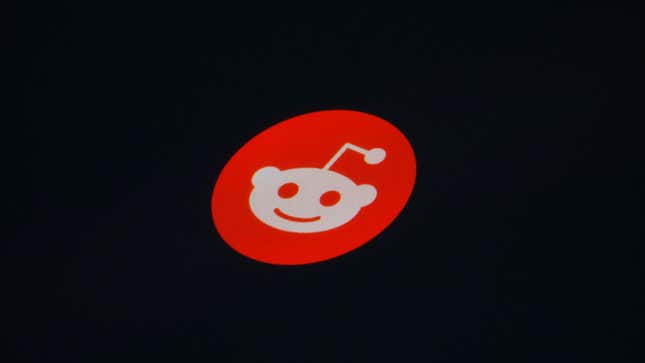 The United States Supreme Court declined to hear an appeal to a lawsuit attempting to hold Reddit liable for allegedly letting sexually explicit images of minors run amok on its site. Tuesday's decision marks the third time in less than a month the court has danced around high-profile cases that could open Section 230 of the Communications Decency Act—tech companies' top liability shield—up to new scrutiny. By declining to hear the case, SCOTUS left in place a lower court ruling which said Reddit cannot be held liable for violating sex trafficking laws when its users are the ones posting harmful images to the site.
Reddit Knowingly Downvoting Self | Future Tech
Legal experts speaking with Gizmodo say the Reddit case is further evidence the court would rather let Congress take action (or more likely inaction) when it comes to reshaping pivotal tech policy.
"At least for now, the court may be signaling that it really does think Congress is the body best suited to weigh the competing factors and make changes deemed appropriate to Section 230," Center for Democracy & Technology VP Samir Jain said in an interview. ACLU Surveillance and Cybersecurity Counsel Jennifer Stisa Granick similarly said the Reddit decision and other recent rulings suggest there's less appetite amongst justices to step in an upend the status quo. That cautious approach was far from certain just a few months ago. "They have not been activists about it [Section 230]," Granick said.
What was the Reddit sex trafficking case about?
The lawsuit brought before the court was filed by an unnamed woman and the parents of minors who claim Reddit benefited monetarily from underage girls who were pressured into taking sexually explicit images that were posted on sub-Reddits. The unnamed woman claims her former boyfriend took sexually explicit photos of her when she was 16, sometimes without her knowledge or consent, and then uploaded them to the site. The Jane Doe said it took Reddit moderators "several days" to remove the images and ban the abusive boyfriend. That lack of action forced the woman to take matters into her own hands and constantly monitor around 36 different subreddits where images of her were posted.
"Reddit's refusal to act has meant that for the past several years Jane Doe has been forced to log on to Reddit and spend hours looking through some of its darkest and most disturbing subreddits so that she can locate the posts of her underage self and then fight with Reddit to have them removed," the complaint alleged.
The lower court's ruling, left in place by SCOTUS, rests on Section 230, a 26-word provision written in 1996 that both prevents online platforms from facing lawsuits if users post something illegal and shields them from legal liability for moderating their own content.
The Reddit case is significant because it centers around the Fight Online Sex Trafficking Act,(FOSTA) a 2018 carveout to Section 230 which, in theory, makes it easier for people to bring civil sex-trafficking claims against internet companies. Plaintiffs tried to argue Reddit's advertising revenue meant the shared images of minors amounted to a "commercial sex act." Though the plaintiffs claimed Reddit "creates a thriving platform" for child exploitation material and "knowingly benefits from child sex trafficking," the lower court said victims bringing the case failed to show that the company actively participated in sex trafficking.
Reddit did not respond to Gizmodo's request for comment.
Big Tech notches a string of Section 230 wins
Tech companies hosting user-generated content have all let out a big collective sigh of relief over the past few weeks. Earlier this month, SCOTUS unanimously ruled in favor of tech companies in two cases, Gonzalez v. Google, and Twitter v. Taamneh, which both sought to narrow 230's scope to hold tech companies legally liable for hosting terrorist content on their platforms. In the first case, which was brought by the parents of a teenager who was killed during an ISIS attack, the court decided not to weigh in on 230 because the basis for the case was simply too weak. As for the Twitter case, Justice Clarence Thomas wrote in the majority opinion that the family of a victim who died during an ISIS attack at a nightclub had failed to demonstrate a direct link between tech companies, the content they host, and the actual physical attack that took place—hence the complaint had no standing.
Civil liberties groups like the ACLU and the Knight First Amendment Institute praised the court's decision on Google and Twitter and warned a narrowing of 230 protections could hamstring companies from removing harmful content and jeopardize free expression online.
"The [terrorist] attack was terrible and tragic, but imposing liability on the platforms in these circumstances would have had far-reaching implications for free speech online," Knight First Amendment Institute staff attorney Anna Diakun said in a statement.
The Reddit case follows a trend of ruling in favor of tech companies on matters related to the liability shield. Jain of the Center For Democracy & Technology said he wasn't surprised by the court's decision and said it would have been more surprising if justices had contradicted themselves just weeks after the Google and Twitter cases. Granick of the ACLU said the rulings provide some more clarity into the high court's philosophy on 230 but that uncertainty still remains about how justices will rule in a pair of upcoming cases involving Texas and Florida's so-called de-platforming laws. Those laws also attack Section 230—but from the opposite perspective, claiming social networks remove too much content.
Supreme Court Justices from all sides of the ideological spectrum seem uncomfortable with the thought of unilaterally reshaping a bedrock internet policy often referred to as "the backbone of the internet." During oral arguments for the Google and Twitter cases, multiple justices expressed frustrated confusion over the plaintiff's 230 arguments, with several suggesting Congress may be better equipped to make a decision.
"We're a court," Justice Elena Kagan said. "We really don't know about these sorts of things."