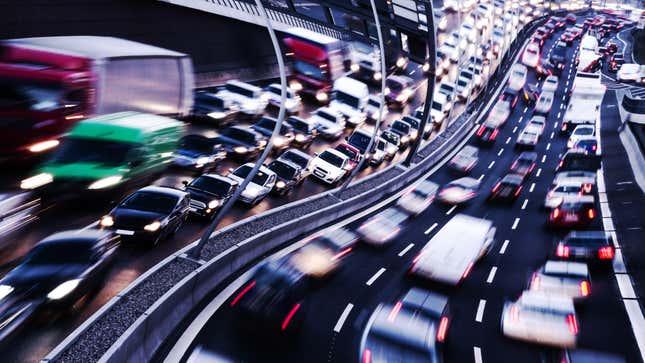 Police in New York recently managed to identify and apprehend a drug trafficker seemingly by magic. The perp in question, David Zayas, was traveling through the small upstate town of Scarsdale when he was pulled over by Westchester County police. When cops searched Zayas' vehicle they found a large amount of crack cocaine, a gun, and $34,000 in cash. The arrestee later pleaded guilty to a drug trafficking charge.

Taylor Lorenz Talks "Extremely Online"
How exactly did cops know Zayas fit the bill for drug trafficking?
Forbes reports that authorities used the services of a company called Rekor to analyze traffic patterns regionally and, in the course of that analysis, the program identified Zayas as suspicious.
For years, cops have used license plate reading systems to look out for drivers who might have an expired license or are wanted for prior violations. Now, however, AI integrations seem to be making the tech frighteningly good at identifying other kinds of criminality just by observing driver behavior.
Rekor describes itself as an AI-driven "roadway intelligence" platform and it contracts with police departments and other public agencies all across the country. It also works with private businesses. Using Rekor's software, New York cops were able to sift through a gigantic database of information culled from regional roadways by its county-wide ALPR [automatic license plate recognition] system. That system—which Forbes says is made up of 480 cameras distributed throughout the region—routinely scans 16 million vehicles a week, capturing identifying data points like a vehicle's license plate number, make, and model. By recording and reverse-engineering vehicle trajectories as they travel across the state, cops can apparently use software to assess whether particular routes are suspicious or not.
In this case, Rekor helped police to assess the route that Zayas' car was taking on a multi-year basis. The algorithm—which found that the driver was routinely making trips back and forth between Massachusetts and certain areas of upstate New York—determined that Zayas' routes were "known to be used by narcotics pushers and [involved]...conspicuously short stays," Forbes writes. As a result, the program deemed Zayas's activity consistent with that of a drug trafficker.
Artificial intelligence has been getting a lot of attention in recent months due to the disruptions it's made to the media and software industries but less attention has been paid to how this new technology will inevitably supercharge existing surveillance systems. If cops can already ID a drug trafficker with the click of a button, just think how good this tech will be in ten years' time. As regulations evolve, one would hope governments will figure out how to reasonably deploy this technology without leading us right off the cliff into Minority Report territory. I mean, they probably won't, but a guy can dream, can't he?