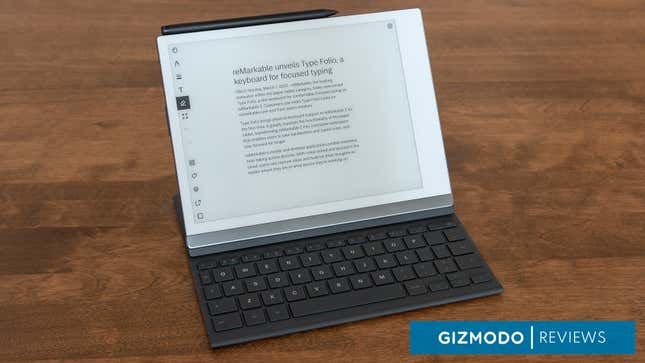 Unlike tablets, which now straddle the line between media consumption devices and pared down laptops, e-notes have always leaned more towards productivity, serving as a digital replacement for pen and paper. Today, the reMarkable 2 leans even farther into being a productivity tool with the new Type Folio keyboard case accessory, which replaces its on-screen keyboard with a physical one.

Asus ROG Flow Z13 Gaming Tablet Review
Devices with electronic paper screens from companies like E Ink have been available to consumers since as far back as 2004's Sony Librie, but for well over a decade, the technology was mostly used on devices like the Kobo and Amazon Kindle, designed for reading ebooks and other electronic documents. In 2018, the debut of the reMarkable tablet changed that. It was larger than most e-readers on the market, and came with a stylus allowing it to be used as a digital notepad as well.
Today, there are just as many e-note devices on the market as there are e-readers, but the reMarkable 2 (the company's latest model) remains one of the best options available, both for its flawless simulated pen on paper writing experience and for its software, which is frequently updated with new features. One of the most notable recent additions to the reMarkable 2's toolset is the ability to mix both handwritten notes and typed text in a document, but the functionality of that feature has been hampered by the limitations of the device's on-screen keyboard: an issue that reMarkable is now addressing with its Type Folio keyboard case.
A strong case for a more functional reMarkable case
One of my complaints when I reviewed the reMarkable 2 was that it felt a little heavier than the original model, thanks to a more premium finish mixing metal and plastic, which was so nice that I felt I needed to protect it with a case. So while I was happy to toss around the original reMarkable and cram it into a bag without any protection, my reMarkable 2 has lived in the company's leather Book Folio case. It gets the job done, but feels like it adds extra bulk to the e-note, with minimal added functionality.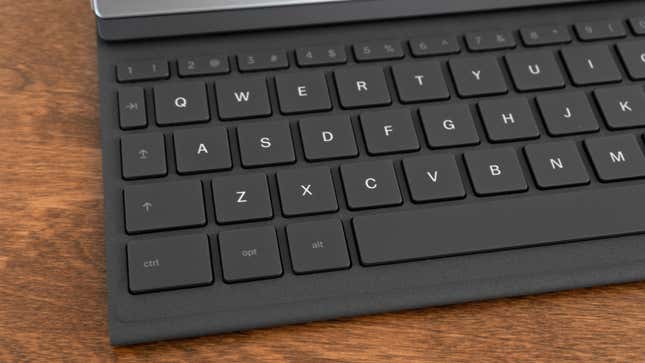 The new Type Folio case makes a stronger argument for not letting your reMarkable 2 run around naked, with the addition of a svelte laptop-style keyboard with full-size keys offering 1.3-millimeters of travel. I've tried a handful of different keyboard cases for various devices over the past few years, and while many offer a compromised typing experience in an effort to remain thin, the Type Folio does that while also feeling as good to type on as the keys on my MacBook Pro.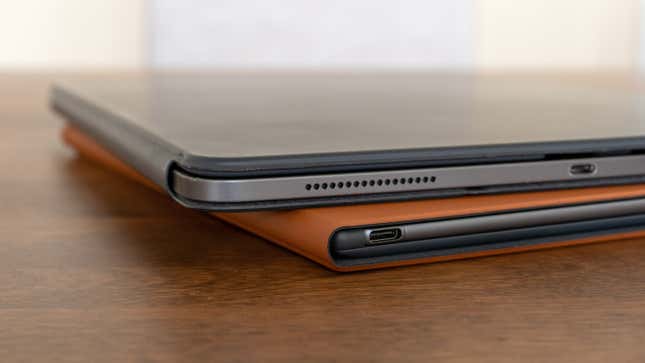 The accessory does add a bit of extra weight to the 404-gram reMarkable 2, but only a few millimeters of added thickness when it's all closed up.
Connectivity is all handled through magnets, which easily keep the e-note securely attached to the case, and when the Type Folio is connected and the keyboard deployed—I'll explain more later—the reMarkable 2 automatically switches to landscape mode.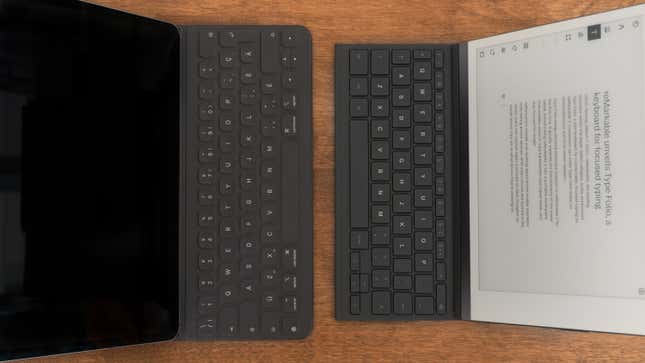 I do have a few complaints with the Type Folio. For starters, it features a squished compact layout, so while the individual keys might be full size, they may not be located exactly where touch typists expect to find them. As someone with gigantic paws, I find the Type Folio's layout to be a little cramped, but it's still very useable, and it's already my preferred tool for longer note-taking sessions, rather than the reMarkable's stylus. Without a doubt, it's also much better than typing using the e-note's on-screen software keyboard.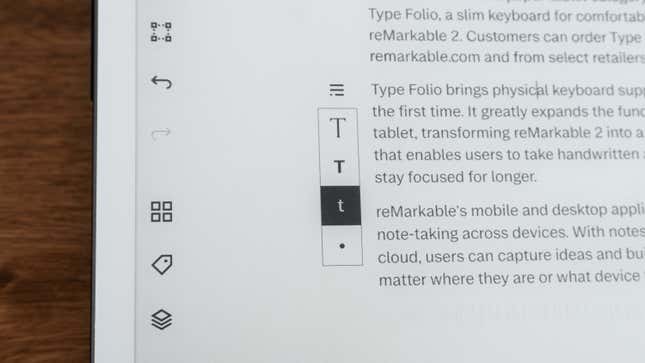 My biggest complaint with the Type Folio keyboard case is the reMarkable 2 itself. Over two years after its debut, the lack of any screen lighting is becoming harder and harder to ignore when other e-notes with comparable performance offer glowing screens that are visible no matter where and when you're using them. But it's the software that limits the potential of the new keyboard accessory. Text formatting on the reMarkable 2 is currently very basic, offering just three size options and the ability to switch to a bullet point list. reMarkable doesn't market the device as a word processor—it's for taking notes first and foremost—but the potential is there for it to become an even more useful tool.

In its current form, the reMarkable 2 paired with the new Type Folio is still a very useable distraction-free writing tool devoid of a web browser or social media access. It's reminiscent of purpose-built writing tools like the Freewrite Traveler, but as with that device, you'll have to switch to a laptop or PC with more capable software for extensive edits or formatting changes. I do expect reMarkable to improve and expand the formatting options for typed text in future updates, but for now it's very basic.
A tablet folio that actually hides your keyboard
Without a doubt, my favorite feature of the Type Folio case is a design that makes the keyboard completely disappear when you're not using it.
Unlike the keyboard folio cases—including some of Apple's pricier options for its iPads—that have your grease-covered keys pressed right up against your device's screen when closed, the keyboard on reMarkable's Type Folio disappears beneath the device, and is held closed using more magnets.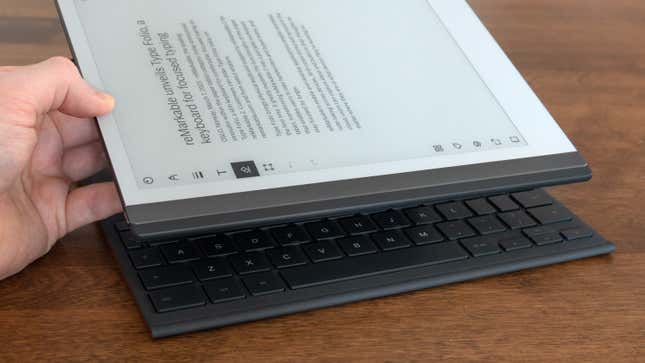 With the keyboard hidden away, the Type Folio works just like the reMarkable 2's standard Book Folio case, with a thin featureless lid that flips around to cover and protect the screen.
Is the reMarkable Type Folio worth the upgrade?
When you factor in the added cost of the stylus, the reMarkable 2 will set you back $378 to $428, depending on which pen option you choose. That's already in the price range of a cheap laptop or Chromebook, but the Type Folio case is an additional $199 on top of that (existing subscribers to the reMarkable Connect service will be offered a $50 discount on the accessory).
That pushes the price to at least $577, and there's no getting around how expensive that is given what the reMarkable 2 currently can't do. You can't watch movies on it, you can't listen to music or audiobooks, and you can't use it to put together a finalized, fully edited document like a report or an essay. If the added ability to type is what appeals to you most, you're probably better off sticking with a laptop.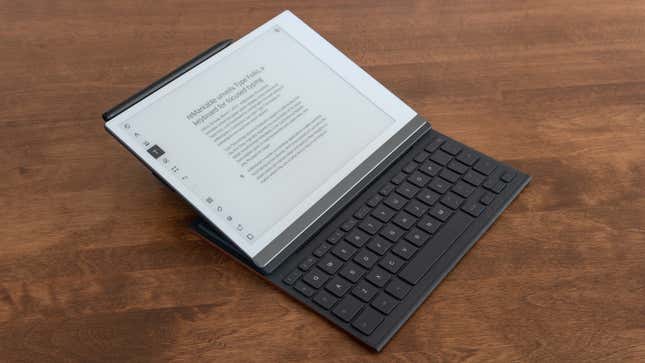 That being said, if you're already a devoted reMarkable 2 user, and can't imagine how you'd survive work life without it, the Type Folio could be a tempting upgrade. The stylus is a great tool for jotting down quick notes or annotating existing documents, but the new keyboard makes the reMarkable 2 a much better tool for taking detailed notes during an hours long meeting or presentation. And without the ability to connect a wireless alternative over Bluetooth, the Type Folio is really the only way to add this functionality to the reMarkable.
Its usefulness is limited right now, but seeing how reMarkable has improved its devices over the years through software updates, there's also some real potential here. So for the time being, maybe wait and see where reMarkable goes with this.
---
Want more of Gizmodo's consumer electronics picks? Check out our guides to the best phones, best laptops, best cameras, best televisions, and best tablets and eReaders. And if you want to know about the next big thing, see our guide to everything we know about the iPhone 15.