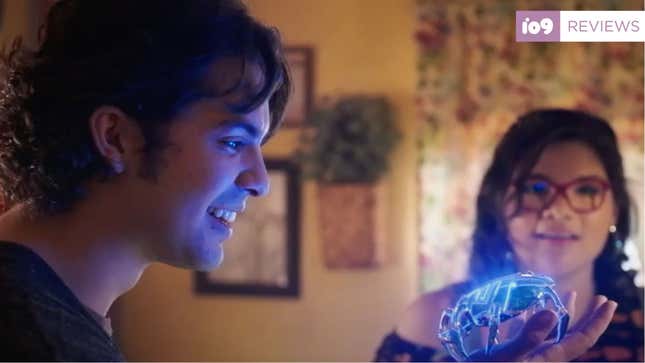 This week, DC Studios starts anew with Blue Beetle, officially kicking off the James Gunn and Peter Safran-led superhero slate in earnest with the studio's strongest film in quite a while.
Directed by Ángel Manuel Soto, Blue Beetle is a bombastic blast that evokes '90s-style action and offers a heartfelt origin for a hero the next era of DC moviemaking really needs. A total breath of fresh air—or a sigh of relief—for Warner Bros., its latest attempt at a DC Studios franchise universe lands a strong debut for a new generation. Starting with Gareth Dunnet-Alcocer's adaptation of Jaime Reyes' Blue Beetle run is a smart move; the relatively unknown DC hero works perfectly as a gateway into the new worlds of James Gunn's Gods and Monsters.
Xolo Maridueña (Cobra Kai) is a star in the making leading Soto's superhero debut. The sheer optimism of Maridueña's Jaime Reyes as he returns to Palmera City from Gotham's School of Law with a degree that doesn't get him the job he expected is instantly relatable, as he discovers that slip of paper his family worked so hard to help him get won't help them back. With gentrifying corporations at their door and a home on the line, Jaime steps up to help his family by any means possible. Even if that means being a pool boy at the Kord estate, owned by Palmera City's resident corporate tech overlord Victoria Kord (Susan Sarandon), who's running her brother Ted Kord's (the mysteriously missing Blue Beetle) company with aspirations to acquire more global resources for the "greater good." Yeah, like that's not a red flag when people say they're trying to use all the money for a greater good that benefits them, yet also happens to displace marginalized people.
When fate in the form of Ted's daughter Jenny (Bruna Marquezine) steps in to help Jaime climb the ranks at Kord from pool boy to tech-company prospect, Jaime jumps at the chance and gets handed a burger box of a deal. Jenny uses Jaime to sneak out (in said burger box) the Blue Beetle—a Scarab of otherworldly knowledge and tech her father researched that Victoria definitely wants to dissect so she can exploit its mega power juice. But before she realizes its slipped through her fingers, the sentient Blue Beetle's alien host Khaji-Da—an entity that imbues and controls the Scarab (voiced by Becky G), attaches itself to Jaime, granting him the blue exoskeleton armor and tech because it deems him worthy.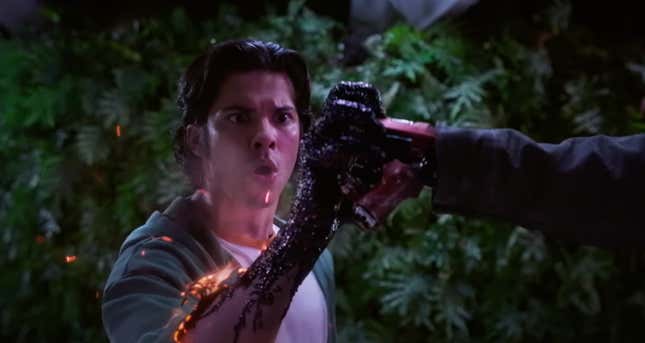 In scenes that are part Cronenberg and part memories I recognize from my own Mexican family household, the entire Reyes family witnesses Jaime's alien transformation. It's non-stop destruction and laughs led by reactions from Nana (Adriana Barraza), sister Milagro (Belissa Escobedo), and Tio Rudy (George Lopez) as they grapple with seeing the alien kid's meal toy turn body snatcher on our boy Jaime. There's very real fear from papa Alberto (Damián Alcázar) and Jaime's mother, Rocio (Elpidia Carrillo).
Soto's casting—full of notable Mexican icons that families will recognize from their films and novela work—is exceptional; there's even joyous Easter eggs from Chespirito's El Chapulín Colorado, a popular sitcom heroic character from Mexico. It was super cool to see Alcázar as the mechanic dad; my own Mexican mechanic dad showed me movies he starred in, like Luis Estrada's La Ley de Herodes. There's even a needle drop from Jaime's dad of "Gracias a la Vida," the beautiful song beloved by Latin Americans that speaks to appreciating the gifts found throughout life's journey no matter the hardships. I definitely teared up at it, and it happens before Jaime's transformation—which hits so close. Sometimes, something is handed to you when you want to make things better for your family that makes you feel othered as you learn to wield it, but even if those who got you where you are don't understand it—they still work to support you through it all.
The entire family ensemble in the film shines; they play more of a squad to Jaime as he dodges Victoria and the villainous Carapax (Raoul Max Trujillo), her Kord mech-suited body guard, who might have some traces of outer space power juicing his own armor up. It's fun to see Jaime determine what he's willing to do in sync with Khaji-Da as she learns about humanity, and for Jaime he draws the line at killing even if he gets beaten within an inch of his life. Victoria is propelled by evil plans to steal the alien tech to power a new army—a plot we've seen before—and I wish we'd gotten a bit more out of Carapax and Dr. Sanchez (a severely underused Harvey Guillén), rather than a few too many scenes of Sarandon's faux world liberation tirades as Victoria sets Carapax on Jaime and his family.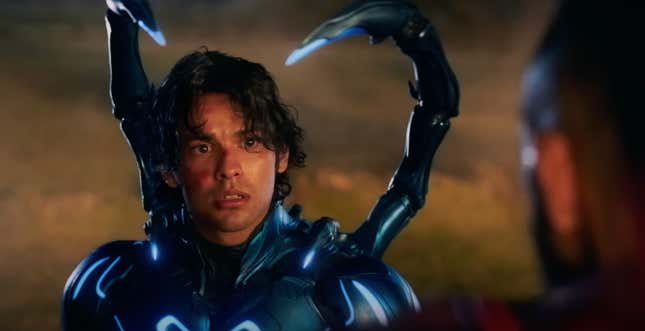 The Palmera City action set-pieces feel very Blade Runner meets Akira, but by the beach in a hybrid of Los Angeles meets Miami. They're just fun as two Mech-suited Latinos go head to head—Trujillo's Carapax at first seems like a typical strongman goon for Kord but as the story unfolds, you discover that there's more going on under the suit, namely that he's a former child soldier brought up by la Escuela de Las Americas, a nefarious real-life U.S. Army center that trained more than 60,000 soldiers and police from Latin America. Blue Beetle deftly weaves Jaime and his family's plight as an immigrant family into the superhero stakes, and occasionally goes to some dark places to draw on that pain that will really resonate with audiences from similar backgrounds. The film does not shy away from these hardships that have deep roots in generational trauma for many. Soto really does handle these very real and nuanced concepts with care and with an immense payoff—making Blue Beetle not just a compelling origin story in an industry that has seen origin stories time and time again, but a deeply meaningful and poignant story for a Latino hero in particular. Maridueña's Jaime Reyes is a great addition to our Latine cinematic heroic line up among the likes of Suicide Squad's antihero Diablo, Spider-Man's Miles Morales, and Marvel's America Chavez.
Blue Beetle really captures the Latin American familial experience especially for first-generation kids that yes, include generational triggers—but also the glimmers of hope that make life worth it through firm family foundations. Family is both Jaime's strength and Blue Beetle's strength as a movie, and every member of the Reyes family is a superhero in their own rights; they aren't just dangled to push Jaime into superhero-dom, they come with him on that journey. Their storylines are just as important to Blue Beetle as Jaime's is, showing how our experiences as marginalized folks aren't too different from what others experience under colonialist capitalism, and the strength we find in our community and families to fight for one another. Blue Beetle feels like a love letter to immigrant parents—those who are seen as invisible but keep the world running, and who are honored and recognized by those in the family who make it.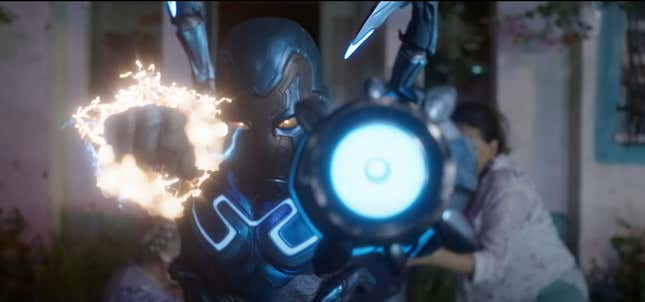 Here it's Jaime who makes it into the spotlight, a new young hero for the next era of the DC movieverse, whose Uncle Rudy—played with zany Mexican Doc Brown aplomb by George Lopez—names as their Blue Beetle with pride, knowing he will be known as a hero that represents them all. After a less-than-glorious conclusion to the old era of DC movies this year, Blue Beetle feels like the great new entry point to the new age Warner Bros. needs.
Blue Beetle hits theaters August 18.
---
This io9 review, which includes reactions for a major studio project, was published during the 2023 WGA and SAG-AFTRA strikes. Without the labor of writers and actors currently on strike, the films and TV celebrated here by fans wouldn't exist.
---
Want more io9 news? Check out when to expect the latest Marvel, Star Wars, and Star Trek releases, what's next for the DC Universe on film and TV, and everything you need to know about the future of Doctor Who.