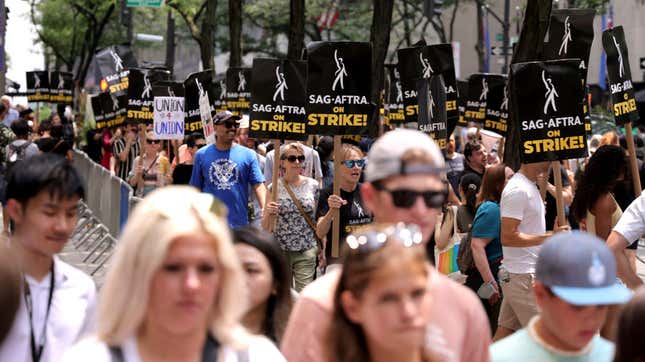 The ongoing WGA strike—in its third month of action as of writing—and last week's announcement that SAG-AFTRA, the wide-ranging actors union, would be joining it on strike, have created a labor reckoning in Hollywood not seen for over half a century. But that unprecedented moment has made for an equally unprecedented moment of confusion for people who operate in and around entertainment media.

As SAG-AFTRA's strike formally began this past Friday, July 14, many questions remained about how members and non-members could support the movement without going against the wishes of the union. But social media spent the weekend rife with confusion and misinformation, as people sought layers upon layers of clarification about how the strike impacted everyone from journalists working within the entertainment media landscape, to independent content creators and influencers, all the way down to members of the public who are simply just fans of the content being made by striking workers—past, present, and future. Discussions about reviewing or reacting to new and upcoming film and TV projects, to things as simple as cosplay or just talking about media at all online, as being equivalent to crossing a picket line came up for debate. So what can and can't be done during either SAG-AFTRA or the WGA's strike? Here's a brief primer.
What's the Difference Between Crossing a Picket Line and Scabbing?
Although the latter—the act of strikebreaking, colloquially and derogatorily known as "scabbing"—requires the former, not everyone forced to cross a picket line is breaking a strike. In fact, many people in the entertainment industry, from directors to producers to legions of support and technical staff who are unaffiliated with the striking unions, will have to cross picket lines in order to keep doing their own jobs. They, unlike WGA and SAG affiliated workers, are not on strike, but still have to work at studios that are being picketed, even if they themselves personally support the strike action.
Being a "scab" specifically usually means you are either a member of a striking union who continues to work anyway, or you're a non-union member who is hired by one of the picketed companies to do work that would replace a striking worker. Being a scab is shitty behavior! Don't do it! Not just because people will think you're shitty—rightfully so, because you are doing a shitty thing—but if you ever wanted to join one of the striking unions at some point in your career (and if you're doing paid work in those industries that would necessitate scabbing in the first place, there's a really good chance you'd want to be), strikebreaking is the quickest way to ensure you'll be barred from seeking membership with an affected union.
But the conversation around scabbing and crossing pickets has become more confusing in the combined WGA and SAG-AFTRA strikes, especially as the entertainment industry has seen the ethical murkiness of access journalism, influencers, and the rise of corporate fandom, a blurring of lines that has helped power the studios these workers are striking against to even greater heights—heights they have used to pressure their employees to work in the untenable situations that have lead to these strike actions in the first place. So right now, what can journalists, influencers, and fans actually do?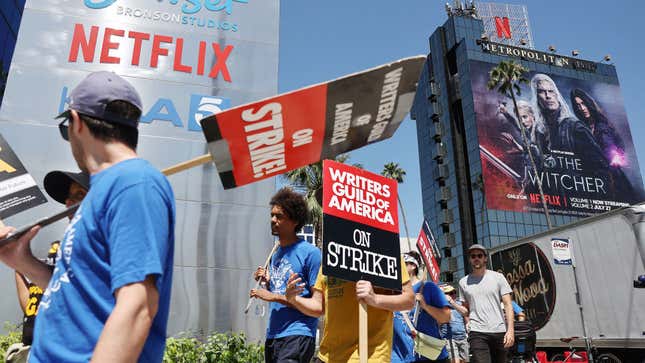 What Can Journalists Do During the Strikes?
For journalists, this is simple: their jobs. While some level of relationship with the affected studios in the SAG and WGA strikes is seen as a necessary aspect of that job in a corporate media environment—access to pre-release review screeners or screenings, relationships with public relations teams for comment requests or interview access with talent and executives, and so on—journalists are not part of the studio apparatus. They're not employed by them, they are not paid by them, their role is certainly not to act as an extension of their marketing plans.
Journalists are critics and reporters: they review and examine the work made by these studios independently of them, they report the news and inform their audiences. Are there people out there who ethically complicate those relationships for their own gain? Absolutely. Is that an excuse to call every journalist a shill, or in the case of a labor action like the current strikes, a scab? No. Don't do it, it's dumb, and undermines solidarity between workers who come from industries that have a long history of unionized labor, especially in this current moment where studios would definitely love to enact more influence and control over both work forces.
In fact, you might know that multiple newsrooms, are affiliated with the WGA as well. GMG Union for example, the union that represents Gizmodo and its sister sites, is unionized with the Writer's Guild of America, East, as are unions affiliated with media companies such as Vox, Hearst, and more. The reason these newsrooms aren't on strike as well—and aren't crossing a picket line by continuing to work—since the WGA strike began on May 2 this year is that they have their own separately negotiated contracts from the striking screenwriters. It's specifically the contract between the WGA and the Alliance of Motion Picture and Television Producers, or AMPTP, that is affected. In the case of the SAG-AFTRA strike, this also applies, including broadcast journalists (i.e., reporters and anchors who appear on television) who are members of the union. Their contracts are separate from the TV and Theatrical contract being negotiated with the AMPTP, so they can continue to work.
That doesn't stop them from showing solidarity with either strike though, either as private individuals or as journalists looking to highlight the unions' struggles to their audiences. Affected actors or screenwriters can't talk to you to promote struck work as that would go against their union's strike agreements. But they can, and could be willing to, discuss the impact of the strike with you in an interview.
What Can Influencers Do During the Strikes?
Influencers—people who leverage an audience through social media and other channels to negotiate and execute brand deals and other marketing plans—actually do have separate rules to follow during the ongoing strikes, especially if those influencers are already members of SAG-AFTRA or the WGA. SAG has already released guidelines for influencer members, as defined on its site and who have already signed specific agreements and waivers for influencer work with the union—about what kinds of work they can still perform while the union is on strike. This includes already contractually obligated work, even if that work is with a struck company.
What influencers who have signed agreements and waivers with SAG-AFTRA can't do largely aligns with other members of the union: they can't pursue new deals with struck companies, and they cannot perform promotional work for those companies at events like premieres or San Diego Comic-Con, and they can't discuss content from struck companies on social media, whether it's paid or unpaid. This also applies to independent influencers who intend on seeking membership with SAG in the future: "Any non-member seeking future membership in SAG-AFTRA who performs covered work or services for a struck company during the strike will not be admitted into membership in SAG-AFTRA," SAG-AFTRA's site states.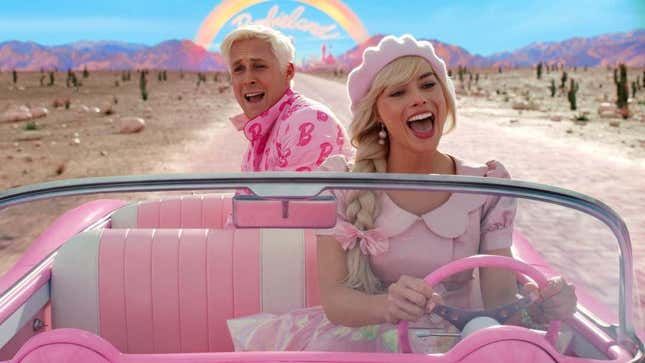 What Can Fans Do During the Strikes?
We live in an age of fandom—from people who just love Marvel movies to fans who have made independent careers out of podcasting or content creation, fansites, and fanfic, there are people all over the world who now suddenly find the series they love or the movies they're looking forward to impacted by these strikes. Even if you've made a career out it, you're not obligated to follow any of the specifically mentioned above guidelines unless you intend to eventually join one of the impacted unions.
Talk about that new episode of Secret Invasion, do a podcast about Ahsoka, cosplay at SDCC (of your own personal volition—if you've made a career out of being a cosplay influencer that has worked with studios or other companies before, it's likely better to not pursue that promotional work during the strike, whether you're unionized or not, for the reasons laid out above), whatever you want. Or don't if you feel uncomfortable about it—the point is you aren't obligated to follow strike guidelines. Neither the WGA nor SAG-AFTRA have called for consumer boycotts of media from the struck companies, which means...
Can I Still Watch New Movies or Current TV Shows?
Yes, you can go do your Barbenheimer double feature or binge your way through The Witcher season 3. Like I said above, neither the WGA nor SAG-AFTRA have currently called for a consumer boycott of material from the AMPTP. In fact, members of both unions have explicitly noted that this is currently unlikely to happen, and individual people shouldn't consider doing boycotts as a way of solidarity anyway—dips in audience response and engagement could be seen as leverage by the studios to use against the unions, while demand for the fruits of their labor can show support.
But What If I Want to Join SAG or the WGA Some Day?
You can still do all the above as a consumer—Barbenheimer away. The only thing that matters if you're pursuing a career in the fields covered by SAG-AFTRA and the WGA is that you don't perform work for any of the struck companies in any capacity, or promote that work in paid and unpaid capacities in the case of influencers. Doing so will see you blacklisted from joining in the future.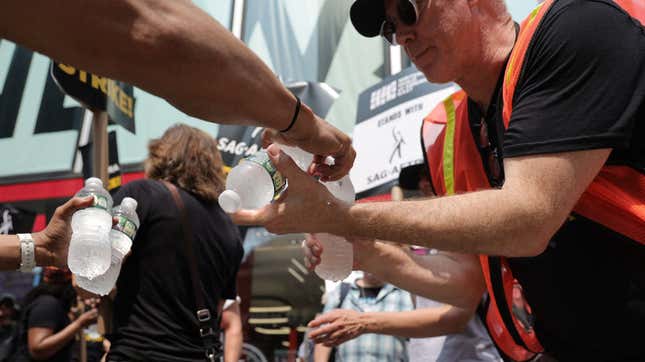 What Can I Do to Help During the Strikes?
Both the WGA and SAG-AFTRA have asked audiences who want to help to do so both digitally and physically. People interested in joining a local picket line or in donating food and water to strike participants can check both the WGA and SAG-AFTRA picket schedules for local event timings, and work with strike captains on site to see how they can best lend support in person.
Beyond that, you can donate to fundraisers like the Entertainment Community Fund for both WGA and SAG-AFTRA, and both unions have publicly accessible social media toolkits filled with graphics, sample posts, and hashtags to build support around across sites like Twitter, Facebook, TikTok, and Instagram—or share messages from each union's own social platforms with your audiences. For independent content creators, influencers, and members of the media, the Freelance Solidarity Project offers some guidelines and calls to action, including a statement to attach to media created during the strikes to show support and acknowledge the shared labor struggles in this nigh-on unprecedented moment in Hollywood.
---
Want more io9 news? Check out when to expect the latest Marvel, Star Wars, and Star Trek releases, what's next for the DC Universe on film and TV, and everything you need to know about the future of Doctor Who.