Like many people who live in New York and possess an enthusiastic appreciation for carbohydrates, I eat a lot of bagels. They are one of the things I will miss most about the city should I ever leave. I put them ahead of dollar slices, bodega cats, and free entertainment, like that time I saw the Winklevii on the subway.
Imagine my delight, then, when I discovered that my neighborhood bagel spot, Bagel Pub, has its own app. In my mind, the benefits were immediately clear: I could pay someone to bring a bagel to my doorstep, and I could help support the little guy instead of ordering from Seamless. Sure, I could walk a few blocks south of my apartment and order in person, but I don't really like moving, particularly while hungover, which happens to be best time to eat a bagel.
And you know what? I've used it a few times now, and it lived up to these expectations. I will definitely keep ordering from this app.
It's not particularly pretty, but it's functional. It gives you everything you need—there's an option to customize your own salad!—and as a frequent customer of this place, I can confirm that the online menu is very close to its in-store counterpart. It also tells me that credit card transactions are encrypted, which is great, although I like bagels so much I would probably still order even if they weren't, because I'm not too bright. Perhaps most importantly, the delivery is speedy, and the bagel shop hasn't once fucked up my order. The app also awards returning customers a 10 percent discount, which is nice. (I was too hungover to remember that offer last time I ordered.)

G/O Media may get a commission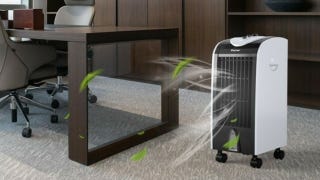 Save $10
Evaporative Portable Air Conditioner Cooler with Filter Knob
There are, however, a few downsides. There's a $12 delivery minimum, which means I have to order a fancy juice, a coffee, and an expensive bagel to get my food. There's also a horrible, minutes-long liminal period between an order placement and an order confirmation, when the screen simply says, "Your order isn't confirmed yet." I also think there might be a time restriction, because I tried to order lunch late in the afternoon once, and it didn't work.

But for certain occasions—when it's pouring, when I am too hungover to lift my head off of the pillow, when I'm with another person, the entire month of February—this app is great. Good job, Bagel Pub.

Also, when I was conducting research for this review, I discovered a famous cat named Bagel who has no eyelids, as well as something called a seaweed bagel. Congratulations to us all.